Jennifer Silverberg
Robert Cook, a resident at the Mark Twain, in his room. He was released from prison in 2012 and now works as a warehouse manager.
The Mark Twain Hotel — despite its long and controversial history — is still gorgeous on the outside. Intricate, cream-colored terra-cotta bands wrap three sides of the former luxury hotel, including the entirety of the second floor. Griffins and cherubs stare down at loiterers on the sidewalk in front of the entrance. Above the doors are the words "The Maryland" written in gold foil — the original name when it opened in 1907.
One of the tenants, a stout 45-year-old woman named C.J., sits on a concrete bench across the street from the building. Using two weathered fingers, she drags on the minuscule remains of a bummed cigarette.
C.J. (all the residents are identified by first names or pseudonyms) says she's a former heroin addict, a habit she picked up after leaving the military. She's been living in the Mark Twain for the past three weeks.
"I feel safe here," she says.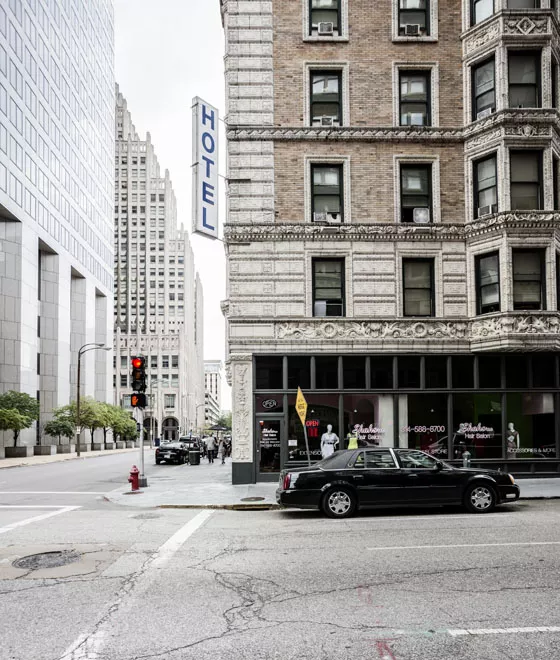 Jennifer Silverberg
The corner of Pine and North 9th Streets.
Her arms and face are sunburned from hours spent working in a gravel pit for $40 a day. It's a good job that pays under the table, she says. She uses the money to pay rent on her 185-square-foot room, along with her veteran's disability pay. When those resources dry up, at her doorstep is the heart of downtown St. Louis — a great place to panhandle.
"You have to use a key card to get in," she says, ticking off amenities that were unimaginable to her last month, when she lived in a vacant house on the near north riverfront. "You got a lock to your own door, a security check, a security officer at the front. So it is a safe environment, it's just..."
She pauses, scratching at a scarred right knee that she says is mostly titanium, the result of a bullet she says she caught in Iraq while serving with the Marine Corps.
"I wish they would reopen it the way it used to be to be," she continues with a sigh. "When they accepted everybody, no matter what their background was."
Rising eight stories above the corner of Pine and North Ninth streets, the Mark Twain Hotel was once an respectable establishment that rented rooms for less than $3 a day — about $75 in today's dollars. But things changed sometime after World War II, when it transitioned into single-room occupancy housing. For decades it housed blue-collar workers, ex-cons, new transplants and, increasingly, drug dealers and prostitutes.
Building owner Amos Harris bought and renovated the Mark Twain during the mid-'90s when it was little more than a flophouse. He retained the single-room occupancy model, and though he drove out the open drug dealing and sex work, the hotel's 232 units remain home to the city's poorest workers, the elderly, disabled and mentally handicapped. It is also home to a high concentration of felons. According to a database maintained by the Missouri State Highway Patrol, 38 registered sex offenders currently reside there.
"A lot of folks had criminal records, and so they couldn't get apartments," says Harris. "Very few folks in St. Louis will allow those with felony records. So we kind of targeted a community that couldn't get housing otherwise." At least, that's the way things used to be at the Mark Twain. As C.J. and other residents will attest, an important shift is happening at the storied hotel.
"My husband," C.J. says, "they don't allow felons or sex offenders here anymore. I was here a few years ago, and they would accept everybody. They accepted you as long as you could pay the bill."
In early February Harris quietly instructed the building's management to no longer consider applications from prospective tenants with felony convictions. That goes for those on the state or federal sex-offender registries as well — guys like C.J.'s husband. Management isn't kicking out current tenants, but recently released convicts with serious records can no longer turn here.
Not everyone feels sympathy for these men and women. For obvious reasons, the Mark Twain has a bad reputation among its downtown neighbors. Restaurateur Justin Shire pulled his business out of the neighborhood as a direct result of the hotel.
"One of the things I wonder is, how many perpetrators of crimes downtown live or recently lived at the Mark Twain," he wrote in a letter to the St. Louis Post-Dispatch in 2010. "It's my personal belief that as long as institutions like the Mark Twain are based downtown, it will be difficult for downtown to attract and (more importantly) retain residents and businesses."
Jennifer Silverberg
Upstairs.
Phyllis Young, the alderwoman for downtown's 7th Ward for the past 29 years, acknowledges that every so often, debate over the hotel rears its head once more.
"Some years ago, there were all kinds of concerns because people were going online and finding that sexual offenders were living there," she says. "But there hasn't been, as far as I know, significant issues of crime that have come to my attention. The police are watching it."
Back outside the hotel, C.J. is joined on the bench by Rob, a trim man with a baritone voice and graying hair. He's been living at the Mark Twain for six months and has a job at a nearby gas station. He's got a clean record. Like C.J., he was briefly homeless before finding refuge at the hotel.
"Most places around here are $1,200, at the least, that's what they're building up to as far as downtown is concerned," he says. "This is going to have a major impact."
For now, tenants like Rob and C.J. are not in jeopardy. But the changes are sparking rumors among residents that soon rates will be increased, or that the building will be sold to the Saint Louis University School of Law. (SLU tells Riverfront Times it has no such plans, but this rumor persists.) And Harris wants the hotel to cater to a very different market in the near future: St. Louis' growing population of tech workers.
Rob worries evictions are coming.
"The city is squeezing," he says. "When you come out onto the streets, you just can't get into an apartment, you can't get a job, it's really, really hard. It's a high probability that they will not be able to go anywhere else."
Rob, C.J. and many other Mark Twain residents have, at one time or another, stayed at Reverend Larry Rice's embattled New Life Evangelistic Center, a homeless shelter on Locust Street seven blocks west. None of them want to go back. And yet Rob guarantees one thing about Mark Twain's most borderline residents, should the hotel close its doors to them.
"They're going stay downtown."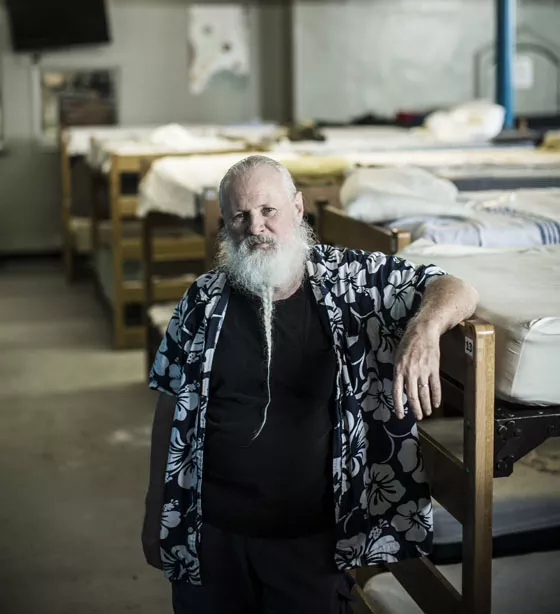 Jennifer Silverberg
Tom Burnham, director of shelter services at Peter & Paul Community Services.
There are still some signs of the Mark Twain's past grandeur. Through the front doors is the original marble tiling that the building's earliest residents crossed on their way in from the bustle of early twentieth-century downtown St. Louis.
In the lobby, there are two rows of black-and-white portraits of the hotel's longest tenured residents. There's a bald man in a button-down shirt smoking a pipe in his small room. In another, a grinning man wearing a leather jacket flashes ten gold rings — one on each finger — in front of the lobby staircase. A few of the people in these photos still live here.
The rest of the lobby is relentlessly uniform. Everything is painted white. A desk for the night-shift security guard is tucked against a wall. There are vending machines and a small table with a microwave on it. On another wall is a bank of three elevators (one is out of order) set in a shimmering expanse of old white marble. Each car is about the size of a broom closet. Cameras watch from the ceiling.
Donald, a 69-year-old former cab driver, crams into one of the tiny elevators to get to his second-floor room. He's been living here since June after he lost his taxi job. He soon found himself homeless and staying at the New Life shelter. Donald does not have any felonies on his record, so he was able to take a room at the Mark Twain.
"I used to drive by here all the time, but never even once thought of staying there," he says.
The interior of the second-floor hallway — like the rest of the building — is painted white, including the exposed pipes running along the ceiling. The only color comes from the purple carpet, cleaned once a week. Tenants can get linen and cleaning services in their rooms every two weeks, no extra charge.
Some 60 percent of these units have their own bathrooms, and the rest rely on a single bathroom and shower room per floor.
Donald's room is just big enough to comfortably hold a full-size bed and a low dresser, which serves as a desk for his stacks of library books and folders. Three button-down shirts and a pair of pants hang off a metal bar near the dressers. He keeps a beat-up Bible on the nightstand.
"Compared to Larry Rice's place, it's the Ritz," he says.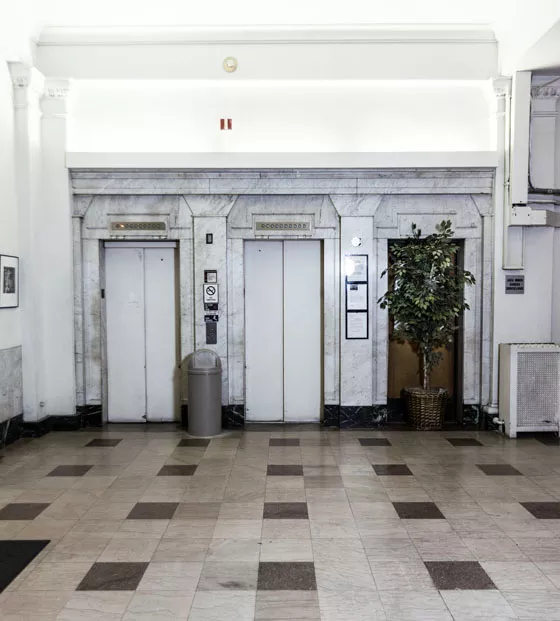 Jennifer Silverberg
The original marble from 1907.
Donald, a Vietnam veteran, says he will likely move to permanent housing next month. His $110 per week rent is covered by Project HERO (Housing, Employment & Recovery Opportunities), an initiative of the housing nonprofit St. Patrick's Center, designed to put homeless veterans into real apartments.
There is no air conditioning, and two open windows provide little relief from the summer humidity. They overlook North Ninth Street, and Donald says the street noise keeps him awake most nights. Afternoon conversation drifts into the room from residents loitering near the front entrance.
Back downstairs at the front door, a 54-year-old ex-con in a Cardinals cap named Keith shoots the breeze with an elderly man on a motorized scooter.
"For me, it's convenient," says Keith. He's lived here since 2006, arriving shortly after serving a fifteen-year sentence for crimes he declines to describe. "I live by myself. I don't like company at my apartment. I have no desire to move."
For most of the twentieth century, men like Donald and Keith would have found many options in St. Louis like the Mark Twain Hotel. Fifty years ago, cities teemed with rooming houses. Hotels provided a cheap urban sanctuary with access to public transit, and without the pricey hassles of down payments, security deposits and utility bills.
The Mark Twain isn't the only example of a local low-income or SRO housing facility to change its residency standards in recent history. In 2009, after the Salvation Army completed a two-year renovation of downtown's Railton Apartments, it too stopped allowing felons and sex offenders. Developers bought other places, like the old Ford Apartments near Soldiers Memorial, and gutted it to build lofts. The housing drought created by the disappearing rooms is felt most acutely by felons, who are not eligible for federal housing assistance.
"In 1970 there were probably a dozen residential hotels downtown, and the city was covered with boarding houses," says Thomas Burnham, director of shelter services at Peter & Paul Community Services in Soulard.
Zoning laws and suburban sprawl steadily erased hotels like the Mark Twain from the city, while publicly funded housing projects — like Pruitt-Igoe and, more recently, the Blumeyer high rises — became legendary failures.
"We have categorically decimated the private-sector, single-room occupancy housing, at the same time the government has withdrawn funding for public housing," says Burnham. "We don't have 10 percent today of what we had in 1970.
"To me, the loss of SRO housing is probably the biggest single factor in St. Louis that created a lot of the homelessness we see."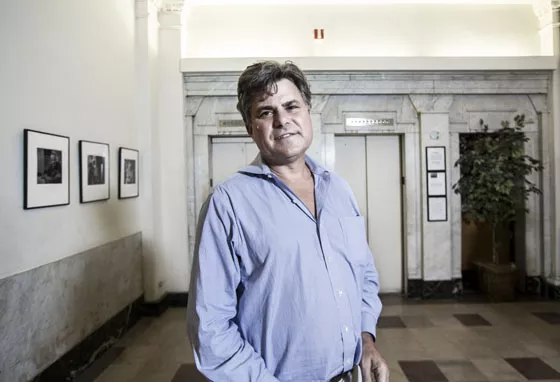 Jennifer Silverberg
Building owner Amos Harris.
When Amos Harris bought the Mark Twain Hotel, he promptly moved into a dilapidated room on the eighth floor and lived there for more than a year.
"I was starting over," the 55-year-old says.
The son of a TIME journalist, Harris moved from his birthplace in New York City to St. Louis in 1992. His New York real estate business was floundering in the housing market crash of the 1980s.
"I had cratered, lost a ton of money, had a giant negative net worth," he recalls.
While traveling to St. Louis to hash out some financing on a development deal in north city, Harris took a look around downtown. He liked what he saw: a glut of cheap, historic buildings ready for redevelopment.
"This was something I could do to recreate my life."
Harris approached the (unaffiliated) Mark Twain Bank for the $400,000 to buy the Mark Twain Hotel, which at the time was crawling with drug peddlers, hookers and cockroaches.
"The lenders just closed their eyes and believed," he says. "They lent me the bulk of the money, and I was able to beg, barter and steal the rest."
The building's former owner passed on some advice: Keep the fire escape greased so that prostitutes couldn't climb into the building from outside.
At first Harris and his building manager, Ishwinder Arora, acted as their own security team. Along with a few other employees, they walked the hallways and kept their eyes out for trouble.
"But that was too much liability on the landlord," recalls Arora. "We realized that was not the way to go, so we hired licensed security officers back in '98."
Cameras now record residents' comings and goings on every floor, and security guards make hourly rounds. Harris got the building up to code, installing sprinklers and a fire alarm system. Altogether, he estimates he's done $9 million in renovations.
Harris is no longer the broke out-of-towner living on the eighth floor. He's president of local development company Brady Capital and runs the local branch of the Connecticut-based Spinnaker Real Estate Partners. He was the brains behind the old Dillard's building renovation into the Laurel Apartments. He's the man who transformed the brutal eyesore of St. Louis Centre into the glistening Mercantile Exchange entertainment district. His next baby, the $13 million National Blues Museum, is set to open Memorial Day weekend in 2015.
Harris now lives on the top floor of the old United Missouri Bank Building, two blocks from the Mark Twain.
"I'm proud of it. I think the building serves a need," he says. "But when you have a bunch of folks that have felonies and criminal records, you wind up taking risks that maybe you don't want to take."
Jennifer Silverberg
Heidi Moore, head of the Criminal Justice Ministry's Release to Rent program.
On a recent Sunday, C.J.'s husband, James, gets to enjoy a four-hour recreation pass from the prisonlike environment of the St. Louis Community Release Center, also known as the Honor Center, where he currently lives. He spends most of his time there locked in a special wing reserved for sex offenders.
C.J. leans her cheek against her husband's bare shoulder. His black hair is pulled into a tight ponytail, and he's wearing a gray tank top and cargo shorts, donated clothes he picked up at the St. Patrick's Center. They met while squatting in a vacant house in 2012.
James says he was the one who convinced C.J. to move into the hotel.
"I wanted to get her off the street," he says. "Out of abandoned buildings, somewhere I knew she would be all right while I'm at the Honor Center locked down."
The Mark Twain Hotel was once a godsend for sex offenders like James. He can't leave the Honor Center until he finds living arrangements that conform to the litany of restrictions — a process known as acquiring a "home plan." The hotel used to fit the bill perfectly. Though it's within walking distance of Citygarden — where scores of children play in the fountains on hot summer days — the Mark Twain sits inside a bubble, 1,000 feet away from all the places he is mandated by law to avoid for the rest of his life.
James was convicted in 2007 and sentenced to six years in prison for molesting a four-year-old girl. He claims he was framed by the toddler's mother. About a year after getting paroled in 2011, James took C.J. and fled to Mississippi, where he was arrested this year and extradited to Missouri for failing to register as a sex offender. He has another five years' probation, and he's been housed in the St. Louis Community Release Center since June.
He says he's trying to straighten out his life.
"I'm doing everything that I possibly can right now to get us a home, to be together, to get a job," he says. "So I can show myself and show my family and her that I can change."
Pulling up a registry of St. Louis' sex offenders takes no more effort than Googling the nearest takeout restaurant. Operated by the Missouri State Highway Patrol, the official online database places a blue dot on the map where offenders work and red dots where they live. Black stick figures demarcate where schools, daycares and parks with playground equipment are located.
But the map can tell another story. The single red dot where the Mark Twain Hotel sits lists the largest concentration of sex offenders in the downtown area, outside of the Honor Center. Blue dots — sex offenders' job locations — are most dense between Market Street and Washington Avenue, within 2,000 feet of the Mark Twain Hotel.
The pattern flips as you move farther away from the riverfront. Suddenly, red dots begin showing up in heavy groups, and the blue dots grow scarce.
"It's hard because they're changing around rules, making it hard on people like us," James says. "If we have to locate outside of St. Louis in the county, if we have a job downtown — that's a long distance. "
Many sex offenders move out to south and north counties in search of a home, but there's always the danger of being thrown out the moment a neighbor checks the registry. Complicating matters further, there aren't many organizations or transitional housing programs that will assist sex offenders or felons in finding housing. One that does, the St. Louis Archdiocese-affiliated Criminal Justice Ministry, helps about 60 transitioning ex-cons find a home each year.
"You're making these people homeless by not allowing them to live there," says Heidi Moore, a former Missouri probation and parole officer who now coordinates CJM's Release to Rent program. She has sent numerous clients to the Mark Twain Hotel for short-term stays while she wrangled potential landlords. "No one's replacing what they're closing."
Sister Carleen Reck, the executive director of CJM, has watched for decades as conditions worsen for felons and sex offenders on the outside. She estimates that around 300 prisoners are released into the St. Louis area each month. CJM has resources to assist a tiny part of that population, and Reck says it's in the public's interest to keep these men and women off the streets.
"We will have a safer community if we collaborate and help these ex-offenders and sex offenders to live in places that are good for them — with supervision. And until we help to do that instead of fighting it, this community won't be any safer," she says.
For James and C.J., no answers lie on the horizon. They enjoy the next few hours together, doing their best to avoid children on the sidewalk. Like the weeks before, James will spend the coming days looking for work and calling anyone he knows who can help him move out of the Honor Center. As it stands he'll likely remain at the halfway house until his parole runs out in a few years. After that, he'll be out on the streets.
"I understand it's the owner's building," he says of the Mark Twain. "Anybody like that can do pretty much what they want to do."
Jennifer Silverberg
Residents' mail in the Mark Twain Hotel.
Outside the Mark Twain Hotel, Amos Harris leans against the passenger door of a BMW station wagon (one that turns out not to belong to him), dressed casually in a blue, striped collar shirt and shorts, his graying hair tousled and flipped to the side. Entering the building, he stops for a moment to gaze at the hanging portraits of his first tenants. He points to the picture of the man with the pipe.
"Remember this guy, Bunty?" he says to Arora, using the building manager's nickname.
"I remember most of these guys," Arora says.
"What was his name?"
"Steve?"
"I remember him. He was..."
"A legal practitioner or something."
"A professor," Harris concludes. "He lived here. He'd obviously fallen on hard times."
Police have been called to the Mark Twain 155 times since January 2013. The majority are simply noted as "disturbances."
"The Mark Twain has one of the highest incidences of police service calls in all of downtown," says Harris. "In part that's because we, as a management, are very on top of it. We call for anything."
Records also show three calls for assault, one for an armed robbery, one for a sexual offense and one for a sudden death. Forty-nine calls for assistance have been made since February of this year, when Harris changed the hotel's residency restrictions. Those include two attempted suicides, a sudden death and a report of shots fired. The calls are on pace to match last year's, and the disruptions at the Mark Twain ripple into the neighborhood.
In 2010 a rash of violent incidents drove Lebanese restaurant Labeebee's from its location in the basement of the hotel.
"The Mark Twain has been the site of extreme crimes also in the past 9 months, including a violent rape between three men and one woman, and many, many arrests," wrote owner Justin Shire in his letter to the St. Louis Post-Dispatch. "We finally contacted the city and they filed a Cease and Desist order, but no progress has been made since. After two years, we terminated our lease and left on May 31."
Shortly after Labeebee's pulled up stakes, a 40-year-old man stabbed his 67-year-old dad to death on Father's Day in one of the rooms, prompting a fresh batch of negative attention in the press and a "nuisance property" designation from the city. In 2012, a 22-year-old man jumped to his death from the eighth floor. He landed on the sidewalk directly in front of the popular calzone restaurant Sauce on the Side.
"I've never been that close to something like that before," says Daniel Porzel, the restaurant's co-owner.
But he says aside from that, things have been quiet.
"The tenants have been super nice," he says.
Nevertheless, after nearly twenty years, Harris has decided the situation is untenable. The way he sees it, the problem is density: Cramming 200-plus residents into an eight-floor building is a powder keg waiting to blow.
"With that kind of level of concentration of poverty, if you get somebody that's going to start selling drugs out of their room, you're fucked. You have to get on that fast, because it can have a domino effect in this population."
But there are other factors contributing to Harris' decision to make radical changes to the Mark Twain Hotel. In February the Land Use Restriction agreement he signed in 1995 which accompanied the state's low income tax credits expired, meaning there are no longer any restrictions on income level for new tenants. (The law provides a three-year grace period to protect low-income tenants from unfair eviction and rate hikes.) Though the state awarded the Mark Twain another $3 million in 2013, Harris turned the money down because it wasn't enough to cover renovations to the building's service elevator and roof, among others needed repairs. Instead, Harris is toying with a new idea: He's gathering market research on whether St. Louis' start-up scene — like Arch Grants accelerator program or Launch Code's apprenticeships — could attract high tech workers in need of dirt-cheap, well-maintained rooms for three or four months at a time.
"The downtown has started to change. We've started thinking, 'With this kind of entrepreneurial culture, is there a role for the building? Would it make sense to start trying to convert the building to that kind of use?' So we're sticking our toe in the water," he says.
Harris insists that he's not planning on raising the rents on his current tenants or selling the building. Instead, he says, he wants to find a way to keep the building partially low income, perhaps splitting the hotel into sections.
"We're putting together a presentation and going out and pitching the idea," he says.
But it's already clear that the hotel will no longer be a place felons can count on. Though he maintains it's for the best, Harris knows that courting the tech industry could ultimately hurt the people he chose to help when he bought the building seventeen years ago.
"If we're successful in making this change, there's going to be fewer of these kinds of units available for the kind of people who live there now. I think about it a lot, but it increasingly doesn't fit where it is now, from a community perspective. The challenge is to find a place where I could replace the Mark Twain Hotel."
Harris says he sometimes wonders if he could create another single-room occupancy hotel someplace else in the St. Louis region, or maybe split the population of the Mark Twain into four separate buildings with 50 units each.
"The key is to find an area that is both well-served by public transportation and where you're not bringing down the overall value of the neighborhood," he says.
But that's just speculation, and the changes at the hotel are already under way. Harris says he wants to start making presentations to St. Louis' burgeoning tech community in the coming weeks.
"We're not married to the idea, but we're going to feel our way through it, maybe take a floor, two floors, and see if we can lease it. If we have strong response, we'll try it," Harris says. "I'm not interested in letting the building just continue to deteriorate. I feel like we're making a difference here, but it's time to change."
Follow Danny Wicentowski on Twitter at @D_Towski. E-mail the author at Danny.Wicentowski@RiverfrontTimes.com