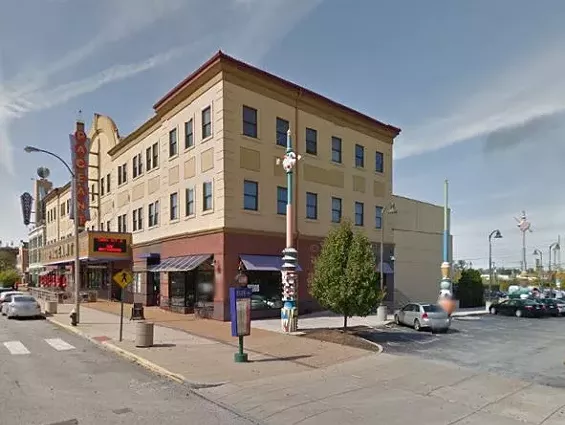 Google Maps
The corner where a man was randomly attacked by teens who posted the video on Facebook.
"Go ahead."
At the sound of those two words, spoken calmly by someone filming what's about to happen on a phone, a group of teens began to punch and kick a man in the Delmar Loop Sunday in what appears to be a random but orchestrated attack.
A group of about six teens wallop a man trying to walk to a Metro stop several times before running toward their friend with the camera and celebrating gleefully. They later posted the video to Facebook, where it went viral before being taken down.
The victim told KMOV (Channel 4) he'd never met the young people who blindsided him near the Pageant in broad daylight. He suffered a concussion and had to get nineteen stitches after the attack.
St. Louis police have said they're investigating the short and brutal video.
See also: Knockout King: Kids call it a game. Academics call it a bogus trend. Cops call it murder.
Reddit user britneymisspelled posted two screenshots from the video of the teen who first hit the victim and the teen who filmed the whole thing go down:
Follow Lindsay Toler on Twitter at @StLouisLindsay. E-mail the author at Lindsay.Toler@RiverfrontTimes.com.