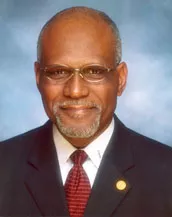 County Executive Charlie Dooley.
With just 36 hours left before the primary elections, County Executive Charlie Dooley's campaign team tweeted a sexist attack against a supporter of challenger Steve Stenger.
The tweet, which the campaign admits was poorly worded, refers to one of Stenger's supporters, attorney Jane Dueker, as a "trick," a derogatory term for women who are seen to sexually manipulate men and analogous to other slurs, including hoe, slut and bitch.
Linda Goldstein, Dooley's campaign communications director, says the campaign never intended to insult Dueker and will not be apologizing.
"She's trying to distract them from the issues at hand," Goldstein tells Daily RFT. "In my opinion, she had a disingenuous response to this unintentional wording, and by having this type of response, she is simply calling more attention to Stenger's outrageous comments."
See also: Dooley Attack Ad Accuses Stenger of Defending Human Trafficking Ring
The Dooley campaign launched an attack ad on Stenger last month accusing him of supporting a human-trafficking ring. Stenger, who was a lawyer defending the convicted traffickers as clients fourteen years ago, is quoted in a newspaper article saying about the victims, "This was a lifestyle they chose."
Dueker, who says Dooley's attack ad was one of the "sleezy, unfounded attacks they've hurled at Councilman Stenger regarding women," says Dooley's refusal to apologize is another example of his administration avoiding responsibility and accountability.
"It reveals, I believe, an indifference to women and reinforces the fact that their campaign has been about politics and not about women," Dueker tells Daily RFT. "I don't tell like a victim. It says more about them than it says about me, and I think voters, especially women, should take a look at this."
Dueker says she doubts she was called a trick by accident.
"It's difficult to believe that it is unintentional when they refuse to remove it and they refuse to apologize," she says. "They meant to say it, and they refuse to take responsibility for it, and that is unfortunately typical."
Goldstein says Dueker is only making the campaign's tweet into a big deal in order to distract voters.
"This is an excuse, this is a distraction from the 'blame the victim' mentality and comments that Steve Stenger made about thirteen-year-old girls forced into prostitution," Goldstein says. "It's trying to distract people from the issues at hand. She's trying to make herself a victim when the true victims of sex trafficking, that's a different story."
Here's the offending tweet:
Dueker quickly hit back with a few tweets of her own, eventually gathering a following people who were offended by the use of the word "trick." Not everyone was ready to declare that Dooley had resorted to blatantly sexist name calling to win Tuesday's primary. Just last week, Dooley accused the
St. Louis Post-Dispatch
opinion page of racism for printing a cartoon of Dooley painting over his "The Buck Stops Here" desk sign so it reads, "The Buck Stops." Dooley argued the cartoon was referring to stereotypical black characters in minstrel shows in the 1800s. The paper's editorial editor Tony Messenger denied any racial meaning behind the cartoon, saying it referred only to the popular saying originated by Harry S. Truman.
See also:
County Executive Dooley Says St. Louis Post-Dispatch Political Cartoon of Him is Racist
Follow Lindsay Toler on Twitter at @StLouisLindsay. E-mail the author at Lindsay.Toler@RiverfrontTimes.com.