A 46-year-old grandmother was walking her three young grandchildren in the Wells-Goodfellow neighborhood when a gunfight broke out and sent a fatal stray bullet straight into her chest.
Juliette Cleveland-Davis and her grandchildren -- a seven-year-old girl, a five-year-old boy and a four-year-old boy -- stumbled upon a gun battle at 7:45 p.m. Wednesday night while walking north in the 1900 block of Hodiamont Avenue, according to the St. Louis police. The family was just a third of a mile from Cleveland-Davis' home in the 5900 block of Highland Avenue.
See also: Man Bites, Strangles Lauren Bach to Death in the Bathtub (Homicide No. 53)
All three children were unharmed and are back in the custody of parents and guardians.
Police said they're searching for the two men who opened fire on a nearby group of people, causing them to return fire. Cleveland-Davis was struck in the chest during the gun battle, and she was pronounced dead at the hospital.
There have been at least 71 homicides in St. Louis city in 2014, according to police records. This time last year, police reported 57 homicides.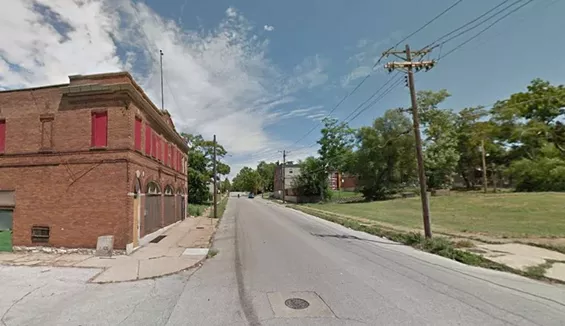 Google Maps
The 1900 block of Hodiamont.
Here's the full report from police:
Incident: Homicide

Location: 1900 block of Hodiamont

Date/Time: 7/30/14 @ 19:45

Victim #1: Juliette Cleveland-Davis, 46-year old black female of the 5900 block of Highland

Victim #2: 7-year old black female

Victim #3: 5-year old black male

Victim #4: 4-year old black male

Suspect(s): Two black males

Officers responded to the above location for a "shooting" and upon arrival, located Victim #1 lying outside on the ground, unconscious. Victim #1 had sustained a gunshot wound to the chest and was conveyed to a hospital, where she was pronounced deceased. Investigation revealed Victim #1 was walking north on Hodiamont with her three grandchildren when two suspects began firing gunshots at a group of people. These subjects then returned gunfire and during the exchange, Victim #1 was struck. The three juvenile victims were located uninjured and released to their parents/guardians. The investigation is ongoing.
Follow Lindsay Toler on Twitter at @StLouisLindsay. E-mail the author at Lindsay.Toler@RiverfrontTimes.com.