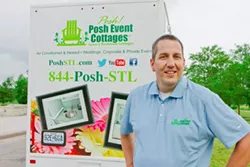 Gregory Haug
A Shrewsbury police detective is starting a luxury porta-potty business.
Imagine you are hosting a fabulously fancy outdoor party.
Consider it a Gatsby-level shindig: The male guests are tuxedo'd, the women are stunning and the shrimp cocktails never run out. Attendees catch up on the latest yacht gossip while a string quartet lays down the Bach, as is proper.
But the problem with an outdoor party is the bathroom. Where can your guests relieve their refined bodily waste products? In a porta-potty, like a band of commoners?! Perish the thought, old chum, because a Shrewsbury police detective has solved that problem by offering "luxury restroom cottages" to St. Louis' party elite, with luxury pricing to match.
See also: Behold the Waking Nightmare of Juggalo Port-a-Potties
Gregory Haug, a decorated, ten-year veteran of the Shrewsbury police department, is the president and CEO of Posh Event Cottages. The company owns two fifteen-foot trailers that each house separate bathrooms for men and women. Their interiors feature faux hardwood floors, porcelain toilets and air conditioning, all the makings of a "luxurious spalike experience," according to the website.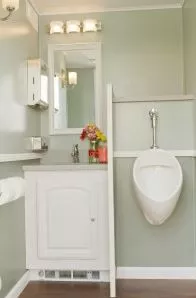 Posh Event Cottages
The interior of one of the "cottages."
But the height of lavatory luxury doesn't come cheap. The price ranges from $1,700 per event for "non-peak" times and $1,950 for the rest of the year. That includes setup and delivery, but for another $200 the company will provide "concierge service" to keep the bathroom in tip-top shape during the party.
However, our favorite aspect of Posh Event Cottages is its website, where you can read "profiles" of both bathroom trailers, which also have names. For instance, "Rose" -- who weighs 4,200-pounds and loves private parties -- is looking for "Fun on the weekends."
Haug came up with the idea for luxury potties after pondering the phrase "Think Oprah Winfrey having a party," according the St. Louis Business Journal. Apparently, the thought of Oprah's bathroom accommodations inspired Haug to bring a restroom renaissance to St. Louis.
"There really is no middle ground in restroom business, you have these luxurious cottages or those ugly construction site potties," says Haug in a press release. "If you are going all out and spending $1,000 on ice sculptures and another $1,000 on the cake, then the rest of the wedding or event has to come up to the same level."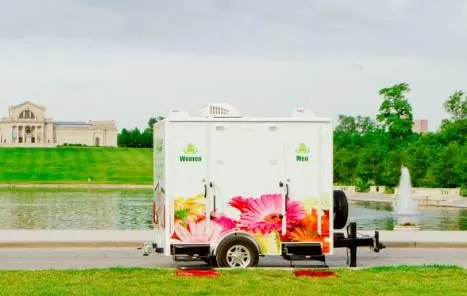 Posh Event Cottages
This is "Daisy," in which fancy people can take fancy poops.
Haug isn't giving up his day job as police detective, at least not yet. In fact, he's decided to hire other police officers to assist with setting up the cottage. For now, he'll be splitting time between the mean streets of Shewsbury and pampering the potty breaks of the wealthy.
Follow Danny Wicentowski on Twitter at @D_Towski. E-mail the author at Danny.Wicentowski@RiverfrontTimes.com