Jon Gitchoff
"Oh, it's the World Naked Bike Ride? How handy, I seem to have misplaced my clothes..."
This weekend St. Louisans discarded society's rules (and their clothes) and hit the streets two wheels at a time, riding in the seventh annual World Naked Bike Ride.
The ride's compound mission, which advocates simultaneously for cyclist safety, positive body image and sustainable travel options, brings all sorts of interesting St. Louis characters out from the fringes: the eco-warriors, the sex-positive feminists, the experimenting college students, the die-hard cyclists, the creepers and so many more.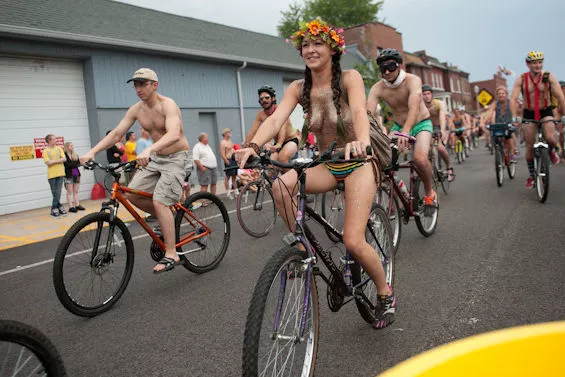 Jon Gitchoff
The 2014 World Naked Bike Ride in St. Louis.
The ride's organizers encourage participants to bare as much as they dare. Many riders wore costumes or body paint that either strategically hid or daringly accentuated their naughtiest bits.
Daily RFT selected the best photos of riders stripping down and pedaling out. Here are our favorites:
Jon Gitchoff
Peek-a-boo! You think it's going to be a nipple, but it's not.
See also: World Naked Bike Ride 2014 Rolls Through St. Louis July 26 (NSFW)
Caroline Yoo
This guy's bare ass comes with a mission.
Just in case you're reading this at work, we've saved the most naked folks for the next pages. Click for page two.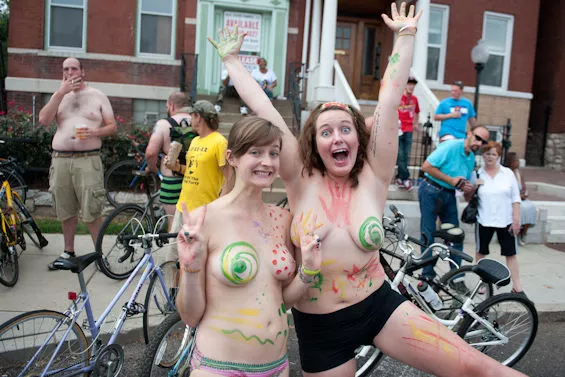 Jon Gitchoff
One seems more excited than the other, but both seem pretty naked.
See more photos: The Nicest Naughty Bits at the 2014 World Naked Bike Ride (NSFW)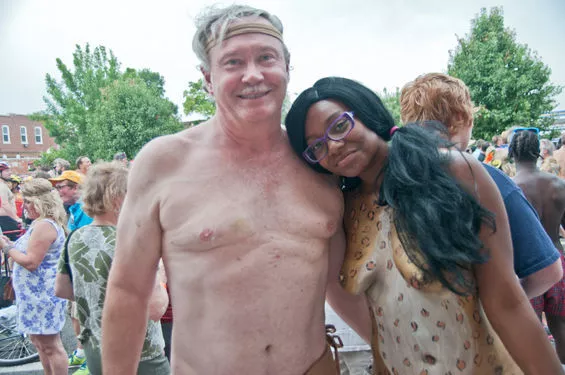 Caroline Yoo
Guess what her spirit animal is.
Jon Gitchoff
Caution: Objects behind the tape may be larger than they appear.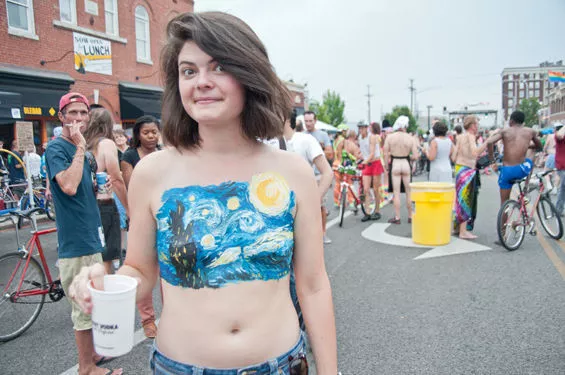 Caroline Yoo
We think she should dress like this all the time. How about "The Scream" next year?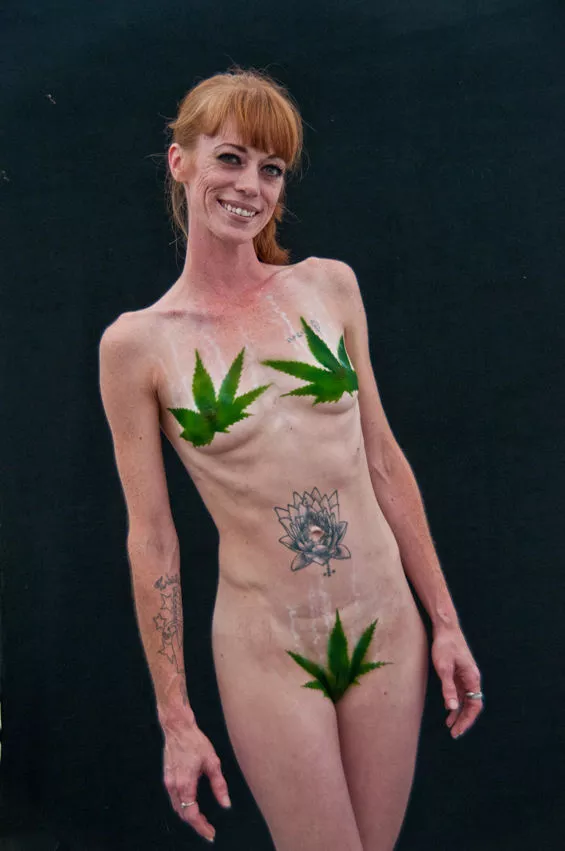 Caroline Yoo
That is some strategically placed body paint.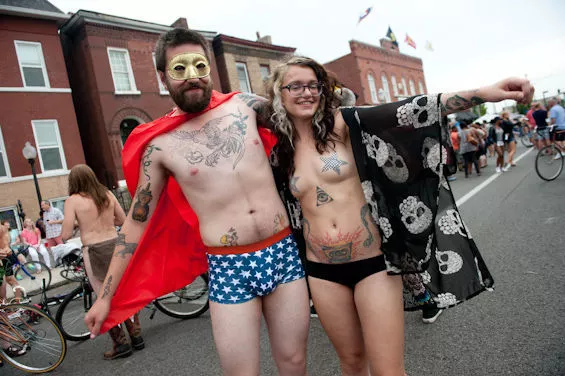 Jon Gitchoff
They're superheroes and their mortal enemy is shirts.
Caroline Yoo
Everybody cop a feel!
Caroline Yoo
Any day where you body-paint your nipples is a good day.
Even more photos on page three!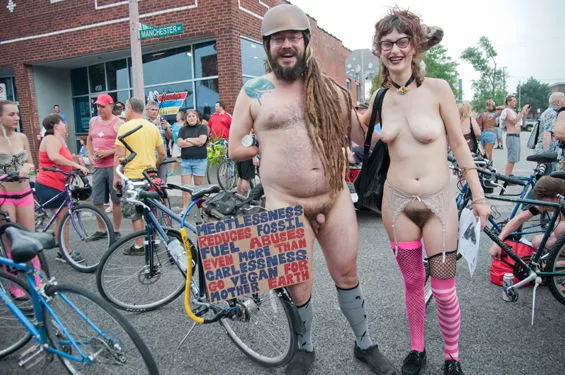 Caroline Yoo
Sorry, we're trying to read your sign, but we keep getting...distracted.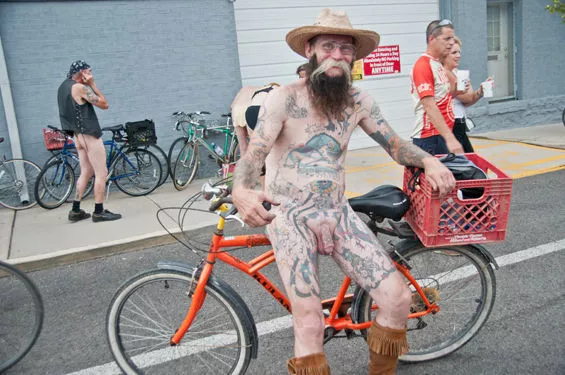 Caroline Yoo
Meet your new hero.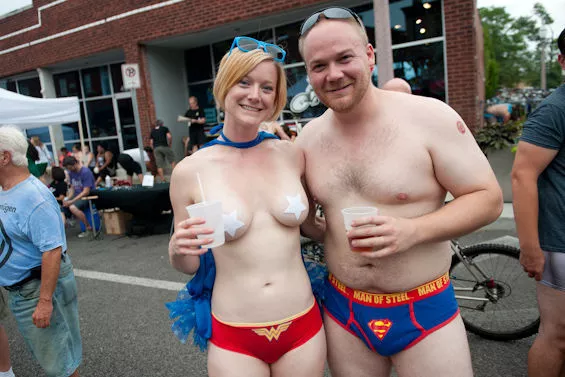 Jon Gitchoff
Their superpower is shirtlessness.
Caroline Yoo
Chains don't count as clothes, right?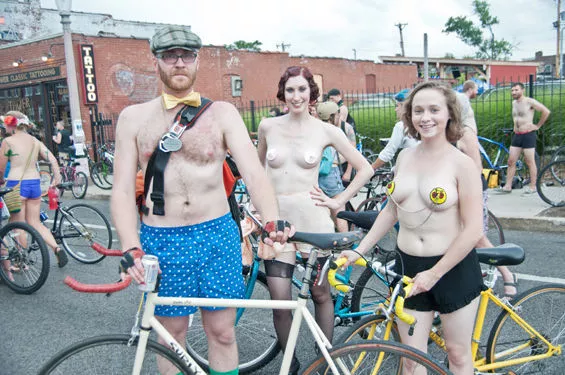 Caroline Yoo
This is what happens when you bring the cast of Downtown Abbey to the World Naked Bike Ride.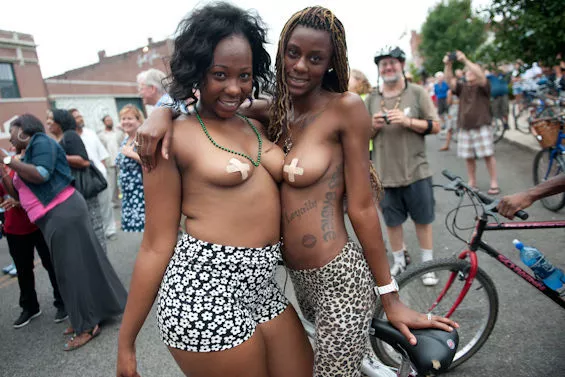 Jon Gitchoff
Are those band-aids?
Follow Lindsay Toler on Twitter at @StLouisLindsay. E-mail the author at Lindsay.Toler@RiverfrontTimes.com.