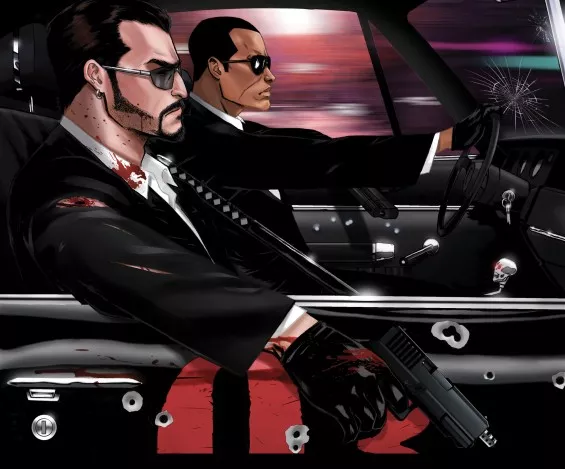 Courtesy of Matthew Scott Krentz
When we launched the annual Riverfront Times MasterMind Awards in 2008, we set out to seed a few innovative projects that would help shape St. Louis creatively and culturally. And even though all of our award winners have been talented and successful, we had no idea that one of the first MasterMind recipients would go on to conquer film and comic books on such a noteworthy scale.
But that's exactly what 2008 MasterMind winner Matthew Scott Krentz has been doing. With his writing and production partner, Vernon Whitlock III, Krentz has his fingerprints all over Hollywood. From the critically acclaimed, award-winning film Streetballers to scripts for major studios, the team already has made its mark on the film industry.
But Comic-Con International? That's a whole new level of success.
See also: - Wizard World Inc.: A roving comic con looks to corner the geek market - Slideshow: Wizard World St. Louis Comic Con 2014
Krentz, originally from Webster Groves but now living in Kansas City, and Whitlock, who resides in Lake Saint Louis, are in San Diego this week to debut their graphic novel Blaze Brothers at Comic-Con International, the granddaddy of all comic-book conventions. In Blaze Brothers, Krentz and Whitlock have created the kind shoot-'em-up, knock-'em-down whirlwind story of identity, violence and family that Comic-Con fans crave.
From blazebrothers.com:
Two orphaned half brothers, Jack and Billy Blaze, reared by an exiled Chinese martial arts Master and trained as deadly assassins by a secret US Black Ops force, resign their commission after a botched mission leaves them both near death. The two gun-toting, sword-wielding brothers resurface as high level debt collectors, working exclusively for a vicious Japanese crime lord, Mr. Yamamoto. Believing that the Blaze Brothers have dishonored him, he places a two million dollar bounty on their heads. In an attempt to clear their names, the Blaze Brothers must battle every hitman, assassin, and gang member in the city.
Check out the trailer about the series. Warning: violence and coarse language is ahead:
"After more than four years of production on the novel and series, the goal was always to premiere the title at San Diego Comic-Con," Krentz tells Daily RFT in an email, "so it's pretty awesome to be attending this year."
Though digital issues of Blaze Brothers have been available for a few months through iTunes, Amazon, ComiXology and more, Krentz and Whitlock now are celebrating their new deal with major comics publishing house IDW. Krentz says that IDW will publish a 104-page print edition on September 10, with volume two on the way in early 2015.
Read a special-edition, Comic-Con-ONLY issue of Blaze Brothers on page two.
Comic-Con International (a.k.a., San Diego Comic-Con) is known as a launchpad for all forms of entertainment, including comic books, films, video games and television shows, so it's no surprise that Krentz and Whitlock are anticipating even more action for Blaze Brothers.
"We have some good meetings lined up and should have some news after the convention in regards to media/film-related Blaze Brothers activity," Krentz tells us.
In the meantime, Krentz and Whitlock are busy chatting with fans and leading expert panels at Comic-Con. Moreover, the team is signing coveted special editions of Blaze Brothers No. 1 during the convention on Saturday, but Riverfront Times readers have a special opportunity to read the issue in its entirety below:
Blaze Brothers Special Edition NO 1 (Limited Edition for SDCC and Riverfront Times)
Keep up with Blaze Brothers on Facebook or on blazebrothers.com.