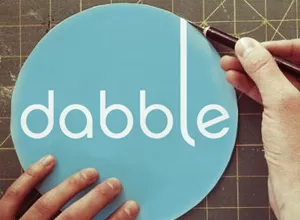 Dabble
Thanks to a $50,000 Arch Grant, Dabble is moving to St. Louis.
Ever wish you could learn a new skill, trade or hobby without shelling out the big bucks for a weeks-long class?
Or better yet, have you mastered a skill, trade or hobby so well that you think people should pay you to teach them?
Then you should know about Dabble. After three years and over 2,000 classes in Chicago, the startup that matches experts with students looking for cheap, one-time classes, has moved to St. Louis, thanks to a $50,000 Arch Grant.
See also: Growing Plates Into Plants: Arch Grants Bring Colombian Startup's Big Idea to St. Louis
After launching in 2011 in Chicago, Dabble "teachers" currently offer more than 170 courses on subjects like lei-making, knife throwing, screenprinting, meditation and more. In St. Louis, Dabble CEO Jay Swoboda wants to hit that number after a year, so he's recruiting teachers, the types of people he says are "graphic designers by day but badass pasta makers by night."
"Stop being awesome in your own kitchen and start sharing your skills with someone else," Swoboda tells Daily RFT, using a cooking class as an example. In Chicago, teachers offered classes on Thai cooking, pie making and urban foraging. "It's a really easy way to try something new. We take down all the barriers to entry."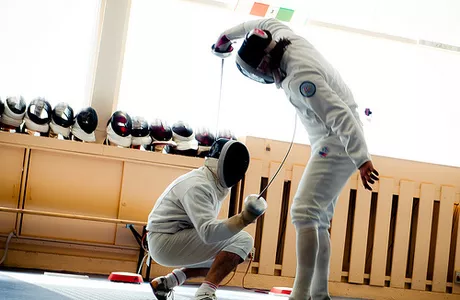 Dabble
Dabblers take a fencing class.
Here's how Dabble works: Teachers join the site and upload classes they'd like to teach, whether it's book-binding, leather working or shooting a gun. They find a place, choose a time and publish the class announcement on Dabble. Students find courses they want to take and pay about $20 per class. A percentage of that cash goes to Dabble, and the rest goes to the teacher.
Students can also suggest classes they'd like to see, offer their space to teachers who need a venue and rate the classes they've taken.
"We want people to get out there, get off the couch," says Swoboda. "We have this digital-detox thing going. People need to connect offline. There are so many people whose social skills just suck. They don't know how to interact with people."
Swoboda sees Dabble as a place for people to earn some extra cash, not unlike Lyft's ride-sharing approach to transportation. The idea is to use the resources you've got, whether it's a car or the ability to breakdance, and monetize them, he says.
"You don't have to put up a Craigslist class and hope people show up and don't cancel at the last minute," says Swoboda. "We serve as this very friendly platform. We're a new marketing tool for small businesses."
Dabble was one of twenty startups to win an Arch Grant, a non-equity grant designed to attract tech talent to St. Louis. After years based in Chicago, the startup is using the money to hire a St. Louis staff member and is running operations out of the T-Rex incubator downtown.
"The combination of having deep local connections and a receptive audience made it clear that we had to bring Dabble to St. Louis," says Swoboda. "The city is so full of energy, curiosity and talent -- so ripe for what Dabble offers. We believe Dabble will set deep roots in St. Louis, and Arch Grants made it possible."
Follow Lindsay Toler on Twitter at @StLouisLindsay. E-mail the author at Lindsay.Toler@RiverfrontTimes.com.