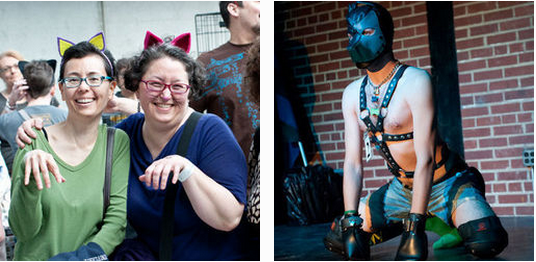 Caroline Yoo, Jon Gitchoff
In the most serendipitous of schedule sync-ups, the St. Louis debut of two nationally renowned, animal-themed events -- the Internet Cat Video Festival and the International Puppy Contest -- made last weekend an historic and exciting one for the city.
Both events let animal lovers glory in the public exhibition of what might typically be a private pleasure, whether it's the chance to lolz at YouTube clips of kitties or to compete in paraphilic puppy play dressed in kinky leather straps.
Internet Cat Video Festival
All photos by Caroline Yoo
Meow, THIS is how you get into the spirit of a cat video festival!
Cat lovers found the Internet Cat Video Festival at the Contemporary Art Museum was the purrrfect event. The festival kicked-off with the winning video from the first-ever St. Louis Cat Video Contest: a short, tightly-edited clip of Cricket the cat ringing a bell for treats.
See also: VIDEO: Cricket the Kitty Wins Internet Cat Film Festival Contest with Mad Bell-Ringing Skills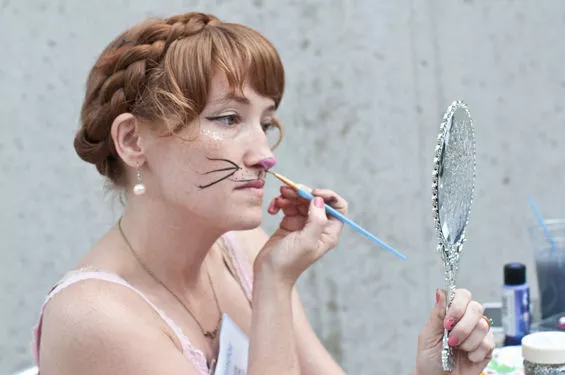 Mimicking the fastidious grooming habits of a fellow feline.
Then feline enthusiasts sporting ears, tails, whiskers and collars got a chance to see this year's collection of the best clips from the Cannes of cat videos, the Internet Cat Video Festival, originally founded in Minneapolis.
See also: The Internet Cat Video Festival is Coming to St. Louis, LOLZ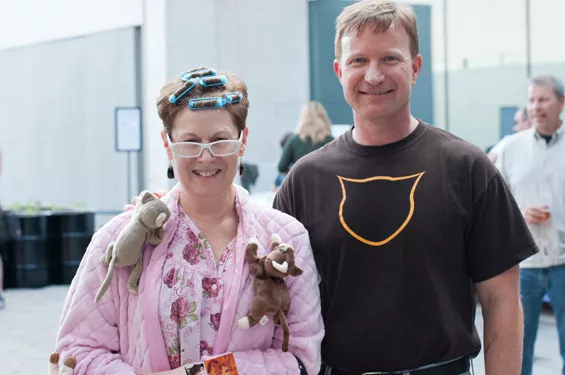 This is the woman every "Cat Lady" wants to be.
She's been waiting for a chance to bust out that pink collar.
More purrrrrfect photos from the Internet Cat Film Festival on page two! And more from the International Puppy Contest after that...
See all photos: Fantastic Feline Faces at the Internet Cat Video Festival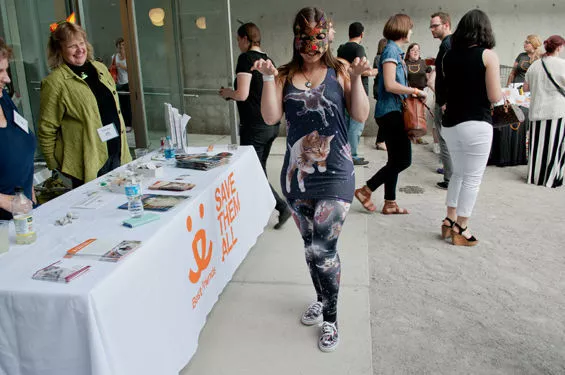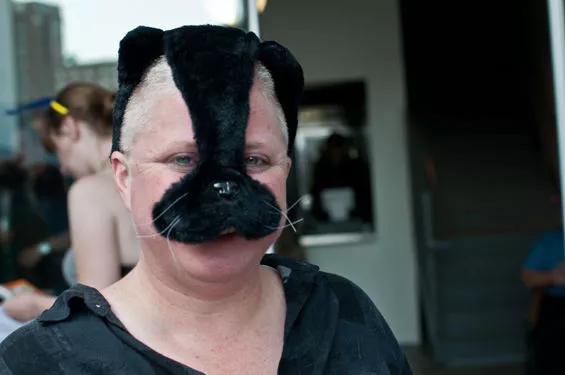 And now on to dogs! Caution, cubicle dwellers: photos ahead are kinky and may not be appropriate for all offices. International Puppy Contest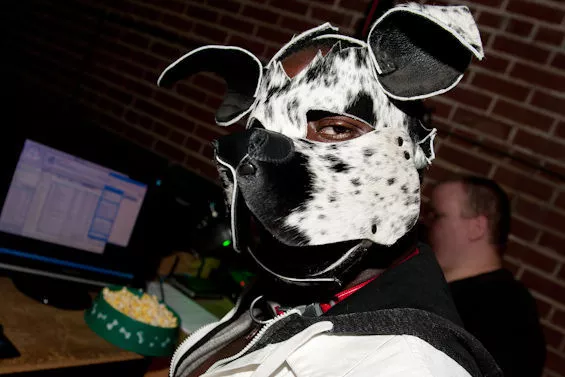 All photos by Jon Gitchoff
Living the puppy life at the International Puppy Contest.
At the International Puppy Contest, Pup Figaro took the title over three other human pup contestants at the Bad Dog bar & Grill. The event moved to St. Louis this year after two years in Tampa, Florida.
See also: Kinky Puppy Contest Moves to Bad Dog Bar & Grill (NSFW)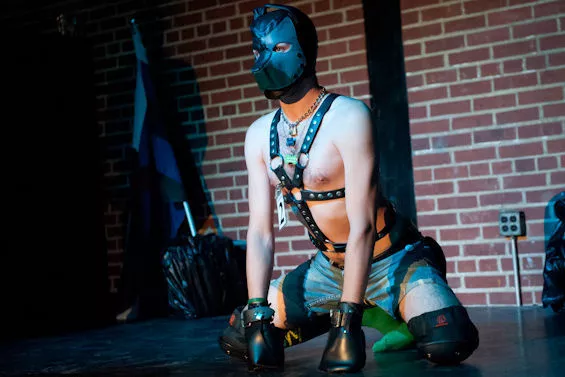 A "pup" competes at Bad Dog Bar & Grill.
"Pups" fetishize the playful enthusiasm of dogs, barking, romping around on all fours or playing fetch -- sometimes with a partner, or "trainer," and sometimes as "strays," or alone.
"It's just a carefree life, there's no stress. That's what puppy play is about," Christopher Roth, co-owner of the contest and a manager at Bad Dog, told Daily RFT. "For the majority of the pups I know, sex isn't involved in their play."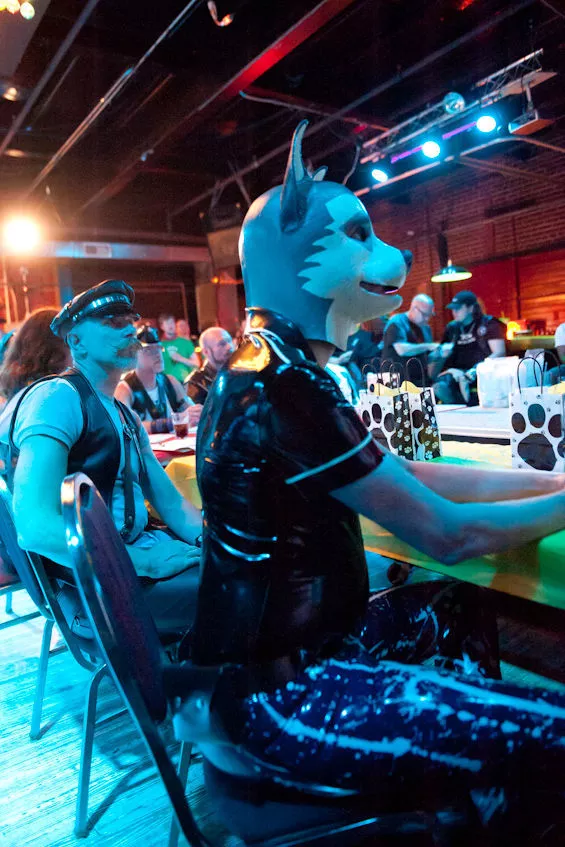 This competition is ruff!
See all photos: NSFW: 2015 International Puppy Contest at Bad Dog Bar & Grill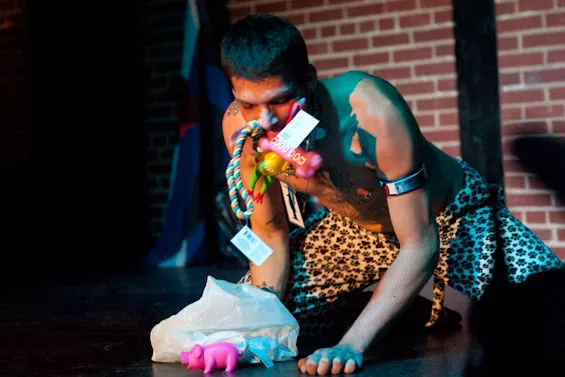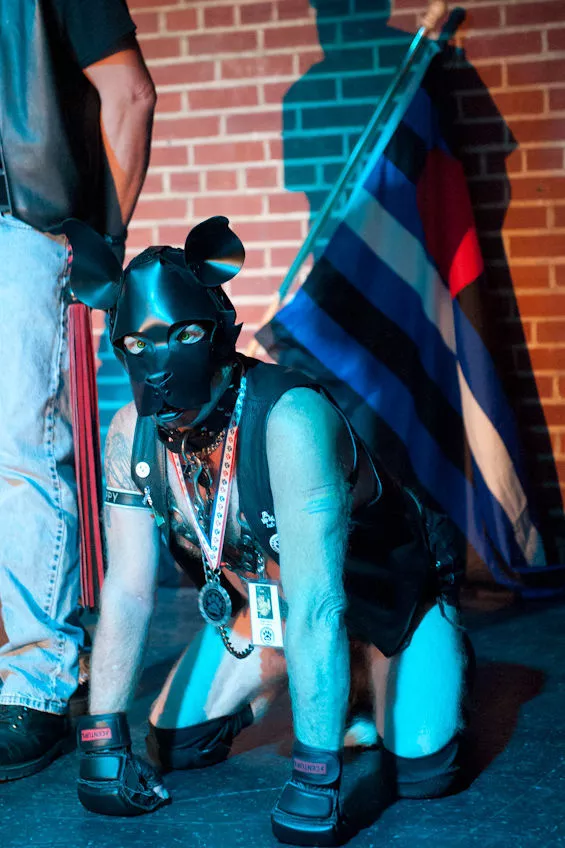 Follow Lindsay Toler on Twitter at @StLouisLindsay. E-mail the author at Lindsay.Toler@RiverfrontTimes.com.