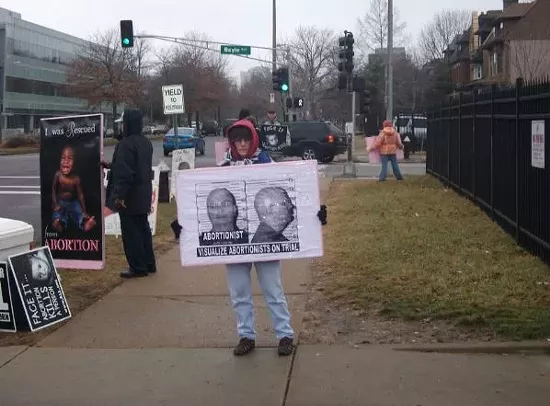 Planned Parenthood
Protesters from the "40 Days for Life" campaign regularly demonstrate outside Planned Parenthood's Central West End clinic.
When is one woman's free speech another woman's harassment?
The question continues to fester at the front gates of Planned Parenthood clinics across the county. That includes Columbia, Missouri, where last week lawyers successfully defended an anti-abortion protester charged with trespassing on the local Planned Parenthood clinic's property.
"This case was brought with no evidence that Kathy trespassed," says attorney Daniel Baker, whose client, New Bloomfield-resident Kathy Forck, had been cited for crossing the clinic's property line during a "40 Days for Life" sidewalk protest on July 24, 2012.
"Kathy is out there and trying to provide an alternative," Baker adds. "She's out there to help, to love these women and pray for these women, and to express her First Amendment right to free speech."
See also: Gov. Nixon Vetoes Abortion Bill, Missouri Women Escape Three-Day Waiting Period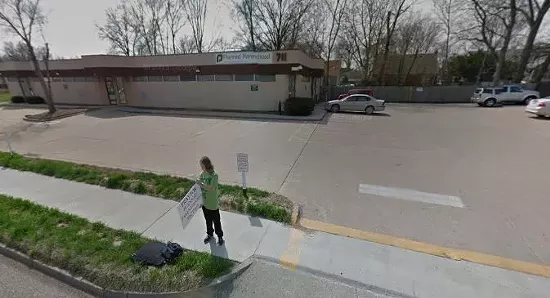 Google maps
The entrance to the Columbia, Missouri Planned Parenthood where Kathy Forck was accused of trespassing in 2012.
According to Baker, Columbia police cited Forck -- who directs the Columbia-chapter of the anti-abortion "40 Days for Life" campaign -- after two Planned Parenthood staffers told an officer they'd witnessed her crossing the property line. Baker tells Daily RFT that Forck was simply trying to hand a truck driver a bottle of water on a scorchingly hot summer day. The municipal court found her guilty in 2012, but the charge was dropped upon appeal to a circuit court judge last week.
The ruling came down to simple interpretation of law, and it appears that Columbia prosecutors had no material evidence, such as surveillance footage, to prove Forck had actually trespassed.
Though the Columbia-location Planned Parenthood does not perform abortions, Forck told the Columbia News Tribune that she would "continue to pray there until the clinic closes" due to its connection to abortion providers. Missouri's only abortion facility is the Planned Parenthood clinic in St. Louis' Central West End.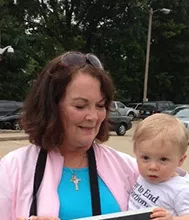 "I'm not saying that it isn't legal," Forck continued. "I don't know of any time when abortion is the best choice."
In a statement, Planned Parenthood of Kansas and Mid-Missouri Interim President and CEO Ron Ellifrits says the organization is "disappointed in yesterday's decision to acquit Kathy Forck of trespassing charges related to protests outside our Columbia Health Center."
The statement continues: "We will continue our efforts to ensure that our patients have the right to access our services without the constant harassment of Forck and her group."
See also: Planned Parenthood: "40 Days For Life" Anti-Abortion Protesters Are Harassing Our Patients
Other states are trying to find legal ways to implement so-called "buffer zones" around the entrances to clinics. Though the U.S. Supreme Court struck down Massachusetts' 35-foot buffer zone in June, the states' lawmakers introduced a new buffer zone bill last week. Supporters claim the bill will lay reasonably narrow restrictions on protester's free speech rights.
No such buffer zone law appears to be heading Missouri's way anytime soon -- for abortion service providers, that is. In May, the Creve Coeur City Council unanimously passed an ordinance blocking anti-Monsanto protesters from distributing literature in front of the company's headquarters.
Follow Danny Wicentowski on Twitter at @D_Towski. E-mail the author at Danny.Wicentowski@RiverfrontTimes.com