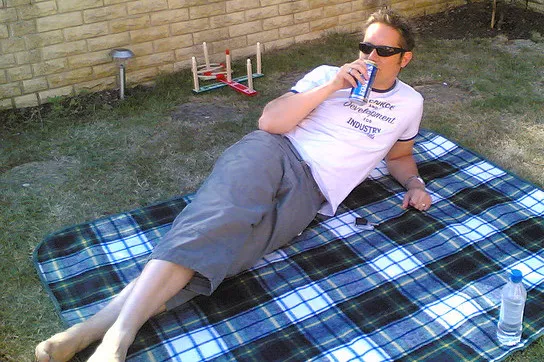 Now this is how you spend a summer polar vortex, St. Louis.
If only the polar vortex came every summer -- and never in the winter.
After a demoralizing and brutal winter under the icy thumb of the polar vortex, St. Louis is feeling a similar weather pattern that's capping summer temperatures at a pleasant 80 degrees.
It's not exactly a polar vortex, because the air mass cooling us off is coming from western Canada, not directly from the arctic, meteorologists tell the Associated Press. But with temperatures this nice, who cares?
See also: 25 Reasons to Love Summer in St. Louis
In honor of the season's uncharacteristically lovely weather, Daily RFT whipped up ten outdoor activities -- the kind that St. Louisans endure in the dog days of summer but that are so much more fun without sweat rags and dehydration.
Here are our suggestions for the best way to enjoy this week's "polar vortex":
1. Go to Grant's Farm.
When the weather got cooler, all of St. Louis seemed to have the same idea: LET'S GO TO THE ZOO! And while we support that idea -- especially for anyone who hasn't seen the new River's Edge exhibit -- it means that Forest Park, and especially the zoo itself, are jam-packed. So why not hop just over the city boundary to Grant's Farm, feed some baby goats, admire the Budweiser Clydesdales and then knock back a beer while listening to polka music? It's like being in some rich beer-lover's private zoo.
2. Take a carriage ride downtown.
Horse-and-carriage rides may be nixed from downtown soon, so this week's unusually cool weather is your last chance to ride in comfort.
City health director Pam Walker was walking her dog downtown Saturday night when she saw a horse that looked like it was suffering from heatstroke, according to the
St. Louis Post-Dispatch
. This week, she's been pushing to ban the practice over the protests of the horses owners: Luckily, there's no 102 degree heat index this week.
See also: RIP King the Clydesdale: Tilles Park Winter Wonderland Carriage Horse Dies During Ride
3. Wait in line at Crown Candy Kitchen.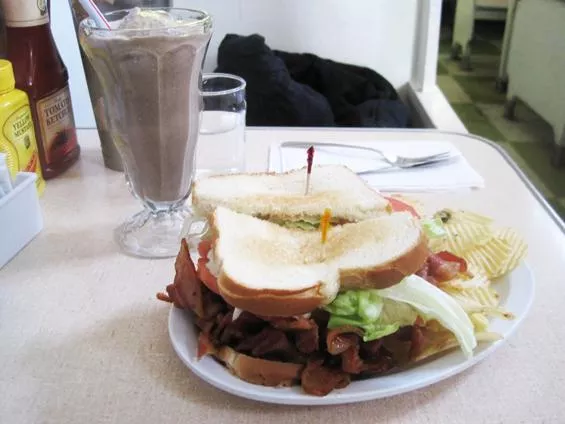 If there's ever been a week to endure the long line of hungry, loyal customers outside this north-side delight, it's this week. You won't mind the wait with cool breezes blowing and the sun shining, and once you're inside, BLTs with mounds of bacon await. Don't forget to try the malts!
4. Make the world greener.
Let the fruits of your labor be actual fruit. Gateway Greening maintains a record 220 community gardens across the city, thanks to thousands of volunteer gardeners. Pitch in on your own nearby neighborhood garden or help train and direct youngsters at one of the 90 youth-run gardens in town. With the weather this nice, you'll have no excuse!
See also: 6 Ways to Spend Summer Making St. Louis a Better Place
5. See a movie outside.
This cool summer weather is supposed to turn into rain by the weekend, so may we suggest heading out of the city for a weeknight showing of Mary Poppins in Grafton, Illinois. The adorable Piasa Winery and Pub shows movies at 7 p.m. every Wednesday all summer long. This week's flick features the all-knowing nanny and her dancing chimney sweep, and upcoming movies include Clueless, Teenage Mutant Ninja Turtles and Rocky Horror Picture Show.
Five more on page two! 6. Salvage the city.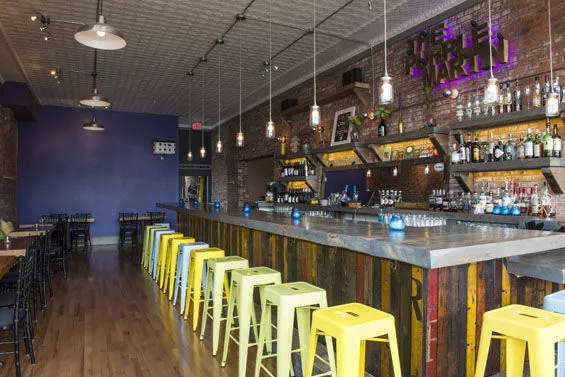 Corey Woodruff
Did you know that the Purple Martin's bar is made from Refab materials?
Join Refab's demolition crew and get first pick of the reusable materials they salvage from buildings that would otherwise have been indiscriminately demolished. Some thief recently robbed the nonprofit of the tools needed to turn vacant buildings into reusable materials, so Refab can use all the help it can get. Spend a cool summer polar vortex day swinging a sledgehammer and wearing a hard hat.
See also: Refab, "Sustainable Deconstruction" Nonprofit, Robbed of $10,000 Worth of Tools
7. See The Addams Family at the Muny. As magical as St. Louis' outdoor musical theater venue is, it can also be sticky sweaty sitting in those seats as the summer sun sets. It gets so hot, in fact, that the amphitheater recently built fans to cool the air.
But the summer polar vortex arrives just in time to bring near-fall temps for this week's production of The Addams Family, a musical remake of everyone's favorite spooky-yet-relatable family. Don't have a ticket? Pack a picnic and get in line early to nab one of the theater's free seats in the back.
8. Get high.
Elevate your view of St. Louis by spending a cool summer afternoon on one of the city's best rooftop patios. Snack on something delicious while laughing at the summer suckers sweating their tuckuses off.
See also: The Best Rooftop Patios in St. Louis
9. Take your dog out.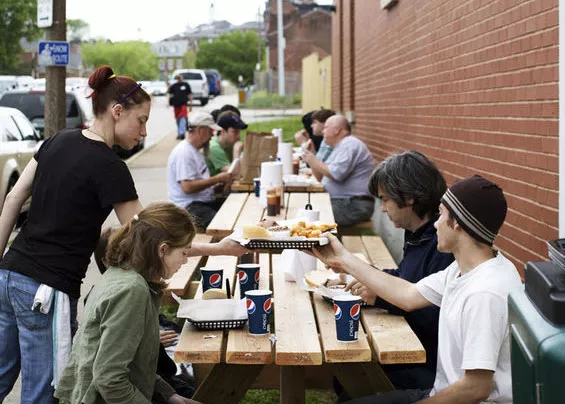 Jennifer Silverberg
Bogart's.
When it gets crazy hot in the STL, it gets dangerous to leave Fido outside for too long. But with this unexpectedly lovely weather, maybe this is the perfect time for a special lunch -- just for the two of you.
See also: The Best Dog-Friendly Restaurant Patios in St. Louis
Bogart's Smokehouse welcomes dogs on the patio. Not only is the Ninth Street location a perfect people-watching spot, your dog will re-fall in love with you if you give it some table scraps.
10. Play soccer. Or go for a run. Or do yoga. Or Rollerblade. Whatever physical activity you've been putting off this summer because of the heat, you officially have no excuse this week. Besides, without any World Cup games in your life, maybe it's time to re-create some of your favorite moments from the cup? We'd avoid biting your opponents, though.
See also: How to Feed Your Soccer Addiction in St. Louis When the World Cup is Over
Follow Lindsay Toler on Twitter at @StLouisLindsay. E-mail the author at Lindsay.Toler@RiverfrontTimes.com.