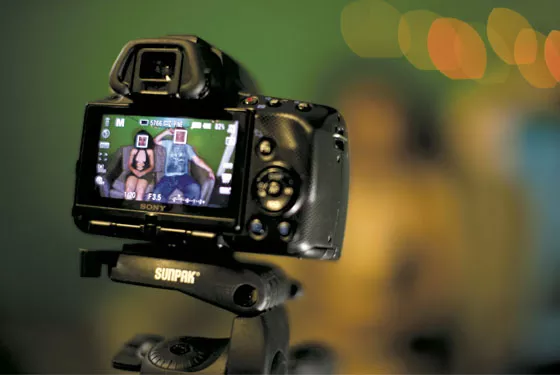 Editor's note: As a condition to reporting this story, Riverfront Times agreed to change the names of the actors interviewed and depicted on the following pages. The story also contains descriptions of sex that some readers might find offensive.
Jenny can't believe what she's about to do. It feels too surreal to be actually happening. But that other-worldliness is what spurs the nineteen-year-old to get out of her car and walk into Utopia Studios in south St. Louis.
Inside the noise is deafening. Several rock bands are practicing behind closed doors in rented rehearsal rooms. Jenny looks around the lobby for direction, but there's no sign, no assistant holding a clipboard — just a mishmash of arcade games and vintage advertisements that look as if they were dug up from a hip thrift shop. It doesn't seem like a place where pornos are filmed, whatever that might look like, so Jenny takes out her cell phone and calls Sam Arcobasso, the budding porn producer she met online.
"I'm here," she shouts over the din.
"I'm running a little late," Sam responds. "But Corey's there. I'll call him and tell him to come meet you."
Dressed in a sweater jacket that seems too heavy for the balmy, 80-degree weather outside, Jenny waits with her phone clutched tightly in her hand. A few minutes later, Corey, a stocky 24-year-old photographer in ripped-up jeans and a Pantera T-shirt, emerges from one of the studio rooms and introduces himself to the first-timer.
"Come in and meet the others," he says.
Sitting on a couch in a windowless room are two other aspiring porn actors who, like Jenny, responded to an ad on Craiglist titled "STL actors needed for porno." They are Kelly, a 31-year-old whose slight body almost makes her look like a teenager, and Rory, a middle-aged blond with a farmer's tan. None has ever appeared in an adult film before, but in just a few minutes the three are supposed to engage in a ménage à trois in front of a camera. As Corey sets up the lights for the shoot, the three awkwardly make their introductions. Jenny asks Rory his age.
"I'm 43. You?"
"I'm nineteen."
"Oh, really? That's around my kids' ages."
Jenny can't hide her unease. She excuses herself and asks Corey to have a word outside.
"I wasn't told the guy was gonna be in his forties!" she angrily whispers.
Just then Sam arrives. A bit more businesslike in his appearance than Corey, he's dressed in khakis and an oversized dress shirt. Apprised of the dilemma, the porno producer with about ten amateur films under his belt adroitly offers a solution.
"Are you comfortable having sex with just the girl?" he asks Jenny in his calm, monotone voice.
"Yeah. I can do that," she says.
Sam turns to Corey. "So how about if we do one girl-on-girl scene, and then we do a guy-on-girl with the other two?" he says, motioning toward Kelly and Rory.
Corey likes the idea. Although it would take more time to do two films, he and his business partner could potentially make a little more money for their fledgling startup, STL Adult Films LLC.
"Let's do it," says Corey, and they all go back into the room. But first there are some quick business matters to address.Jenny takes out her driver's license to prove she's over the age of eighteen and holds it up next to her face as Corey snaps a photo. Kelly does the same. Next, the two look into the video camera and recite a testimonial.
"I am not on drugs, I am not intoxicated, and I don't feel pressured to do this," Jenny says, going by a script that Corey provides. Kelly does the same.
At last it's time to get to work. And because there is no bed on the bare-bones budget set, the women will have to perform their sex scene on a raggedy couch.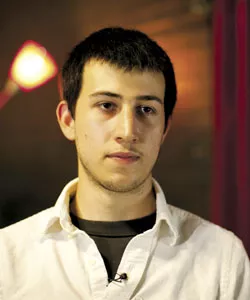 Studio Torno
Sam Arcobasso, porn seems like it's in high demand "and the competition around here is slim to none. So it seemed like an easy business to get into."
"It's important to be comfortable, so maybe you guys can talk to each other, kiss, feel each other," Corey suggests.
Jenny and Kelly take the advice and engage in a hushed conversation. Then they start kissing. Both take to each other without any signs of awkwardness. It almost seems natural.
After a few minutes, Corey is ready.
"One of you needs to decide who's gonna be the lead, the one who kind of initiates and takes charge," Corey says.
The women look at each other and shrug.
"I can," Kelly says.
"There ya go. Let's do this," says Corey.
The two strip down to bra and panties and begin kissing and feeling each other up on the couch. It's straight to the point. There's no pizza-delivery scene in this film. Kelly unclasps Jenny's bra and starts licking her breasts.
Taking it all in from a corner of the room is Rory. Though he's just been rejected by the younger Jenny, he's anxious to begin his scene with Kelly.
"It's something I've always wanted to do. Bucket list, ya know?" he says of the chance to star in his first porno. But there's a problem. The shoot between Jenny and Kelly got off to a late start. Now Rory is running late for work.
"My boss just texted me asking where I'm at," he announces during a break in Jenny and Kelly's taping. "I'm gonna have to be out of here by 2:30, and that's cutting it. I didn't know this was gonna take so long."
It's already 1 p.m. and the girl-on-girl scene is nowhere near finished.
"I thought we had you until four?" Sam says.
Rory shrugs. "My boss is texting me, man," he says.
"All right, we'll get this done quick," Corey says.
The women are now having full-on, hardcore sex. Despite being rookies, both appear to be extremely comfortable performing in front of the lights, cameras and strangers. Corey hovers around them with his camera like a drone, swooping in and out to get different angles and extreme close-ups of nether regions. In the process he strains a muscle in the back of his thigh and stifles a scream, not wanting to ruin any good footage.
After about 40 minutes of shooting, Corey needs a break. He says he has a bad sinus infection and the hot lights aren't helping much.
"I'll be back in five," he says.
The girls sit back, relax and remain completely naked on the couch. "It really wasn't as bad as I thought it was," Jenny says. "I was nervous, especially coming up here. And then the people and the lights. But once we got going, all of that sort of just left my consciousness. It's just sex. It's a video, but people see naked bodies all the time. Who cares?"
Kelly agrees.
"I was nervous, too. But it went away," she says.
Corey comes back in. It's time to get back to work.
"OK, we're gonna have to wrap this up soon, so we need an orgasm scene," he tells the girls. "I know it's your first time and there's people here, but if you can bust a nut, then by all means, please do. If not, please fake it as best as you can. With guys, you can easily see it, obviously. That's not the case with girl-on-girl, so we need to illustrate it more."
It's here that Kelly has a confession to make: She's never had an orgasm.
"That's OK," Corey assures her. "We can just fake it. Kelly? Can you go down on Jenny, and let's finish this thing."
Kelly does as requested and Jenny gives a convincing orgasm crescendo, squeezing her breasts and moaning for the camera.
"Great! You both did a great job," Corey says after the cut.
"Really great. Awesome!" Sam adds with a few claps.
The two women have just successfully completed their first porno scene. For their work this afternoon they stand to earn between $50 and $100, that is, if Corey and Sam can sell the film to their distributor. But since today's film was shot solely on spec, Jenny and Kelly leave with little more than a promissory note for future payment. Regardless, Jenny is enthusiastic to shoot more scenes and sees experimenting with pornography as part of her personality.
"Sex has always been natural for me," she says. "I've always been comfortable with my sexuality. I'm the one who my friends always come to for sex advice."
She's also aware that others aren't as open-minded as she is when it comes to porn.
"I don't think it's completely possible to have a normal life and a porno life," she says. "I'm just gonna keep it low-key, do some films with these guys, and see how it goes."
Besides, she adds: "It's way more interesting than my retail job."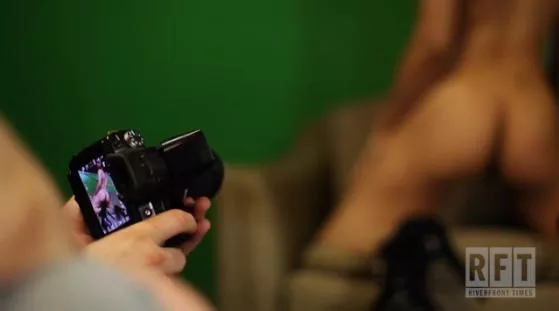 Sam Arcobasso planned on making a career of kicking ass — not filming it.
A competitive kickboxer since his early teens, he won a couple of lightweight titles and eventually turned pro. Yet after just a few years, the sport was taking its toll on his body. Sam had already suffered several concussions when he woke up two years ago with a pinched nerve. He could have continued training and tried to make a career out of kickboxing, but the constant pain made him reconsider his career goals.
"I just got tired of waking up and feeling like I was in my forties," says the now-22-year-old. "But I didn't want to be in some office doing a nine-to-five. That's just not me."
Sam wanted a career where he could be his own boss, make his own schedule and wouldn't need a lot of initial capital. Porn was the answer.
"It just seemed like it's in high demand, and the competition around here is slim to none," Sam explains. "So it seemed like an easy business to get into."
But if Sam was about to make porn, he'd need somebody who knew his way around a camera. So he put an ad on Craigslist looking for a filmmaker willing to make adult films. Corey, a freelance photographer who often checks the site for jobs, came across the ad and didn't know what to think of it. It sounded intriguing, but...
"It's not exactly something I can put in my portfolio," explains Corey, who asked that Riverfront Times not use his last name for fear that it might affect his commercial photography work. (Editor's note: It has come to our attention that some readers are concluding that the Corey in this article is Corey Woodruff, a freelance photographer who frequently contributes to Riverfront Times. The two Coreys are not the same.)
A month later Corey saw the ad again and decided to respond. After a few emails, he met Sam for the first time.
"He wasn't a creepy old guy like I assumed," Corey says. "He wasn't a creepy young guy like I kind of assumed after I figured out he wasn't old. I was like, 'Yeah, sure. You seem like a fairly level-headed guy — not in this to be a fucking weirdo. I'm down. Why not? Let's make some money.'"
The newbies started by doing their homework online, entering search terms into Google such as "how to make pornos legally" and "how to get into the porn business."
Legality, as it turns out, is not much of a problem. Provided the performers are over the age of eighteen and are not coerced, having sex on camera for money is generally considered protected speech by the Supreme Court. As for pointers on getting into the industry, they found all their answers — and more — on the website of Homegrown Video, the self-described "pioneers of amateur porn since 1982."
In addition to buying and hosting homemade adult films, Homegrown Video also provides its filmmakers with business contracts and model-release forms. The site even offers filming tips on everything from how to use the zoom lens to when to kill the camera. "Don't just cut after the pop shot," reads one such instruction on the company's website. "We want to see the post sex glow. These after sex reality moments are priceless, and you miss them by shutting the camera off too soon after the pop."
To get around copyright issues, Homegrown Video asks its producers not to add music to their clips, so there's no need to edit in that stereotypical porno bass guitar. Additionally, Homegrown Video doesn't require that the actors in its films have sexy good looks. They don't need foot-long penises or DD breasts, either. In fact, ordinary folk is just what it's after (though the company might pay a bit more for the next Ron Jeremy or Jenna Jameson).
Homegrown Video is what Dan Miller, executive managing editor of adult-film trade pub Xbiz, calls a "legacy company." By taking user-submitted films and paying for them, the site puts out a large volume of videos that truly are amateur pornos.
"They've been very successful in their niche because they've identified something that was a strength of theirs and they stuck with it," Miller says. "Other companies market themselves as first-time performers, not 'professional' talent. But as far as soliciting home movies and accepting them and releasing them, they're the only ones doing that."
RFT file photo
Doin' it old school: '90s Lake St. Louis amateur-erotica pioneers Tom and Suzi Wahl.
Homegrown Video's amateur content also lets it circumvent industry formalities. For example, when an HIV scare temporarily shut down the big California studios last year, Homegrown Video kept on humming.
"True amateur porn, the kind that Homegrown Video was founded on, comes from people who are typically in very committed relationships, people who are not having sex with every other person in Porn Valley, USA," Homegrown Video president Farrell Timlake said at the time. "For them, the transmission of any sort of STDs is not an issue."
(Sam and Corey ask their actors to get checked at a free clinic beforehand and bring the document to the shoot.)
And while it's no guarantee that Homegrown Video will buy any of their films, Sam and Corey say they've yet to be turned down. The two each keep a third of the proceeds from the sale of their films and divide the rest among the actors. Girl-on-girl videos pay between $300 and $600. Male-female videos fetch $400 to $700, with a $50 for each bonus "cumshot."
"But the real money is in orgy scenes," Sam says. Five or more people having sex in one film can fetch $1,300 to $2,000. "As soon as we can get enough people together, we're gonna do one."
To be sure, Sam and Corey's STL Adult Films isn't the first amateur porno outfit to hit St. Louis. In the 1990s a Lake Saint Louis couple — Tom and Suzi Wahl — made a name for themselves when police raided their house after hearing about them filming and distributing their homemade porn flicks. (No charges were ever filed.) And more recent user-submitted adult videos made in St. Louis can be found online with a few select search terms. But, for the most part, locally made pornos are nearly impossible to find.
"Everything we get is made on the coasts. We don't get anything made in the Midwest," says Steve Kleinhan, owner of adult store Pure Pleasure. "Normally, stuff made in the Midwest isn't as hardcore as what's on the coasts. I've never even heard of anybody making anything here, other than some amateur stuff."
Sam and Corey want to change that. Yes, their films feature amateur actors, but they try to make the finished product as polished as possible. They set up lighting. They have a hair and makeup artist on call.
"A lot of amateur porn is really amateur," Corey says. "You have pornos where a guy basically just sets up a camcorder on a tripod and has sex with his girlfriend. Our videos aren't like that. We make professional porn with amateur actors."
And Corey does his best trying to make the amateur actors perform like professionals. It's not always easy. Corey recalls having to cut a doggy-style scene because the male actor had bum knees. He's had other actors bow out because they got a charley horse during a more acrobatic performance. Still, at the end of the day, Corey says directing the rookies can be just as rewarding as filming them.
"It kind of does bring a little bit of joy trying to tell people how to fuck like porn stars," he says. "You feel like you've done something with your day instructing them how to have better sex."
In an industrial stretch of Bridgeton, six people are squeezed into a tiny motel room that's dominated by a king-size bed whose garish comforter features images of Mt. Rushmore, the Gateway Arch and other U.S. landmarks.
"Can't beat shooting a porno in a Motel 6," says Corey. "I mean it. Porn made in California has those big houses with pools and Italian leather couches. Here in the Midwest — we have Motel 6."
Jenny sits on the bed, about to star in her second adult film. But this time, she won't have to reject the male star. Instead, she'll be performing with her boyfriend, Pete.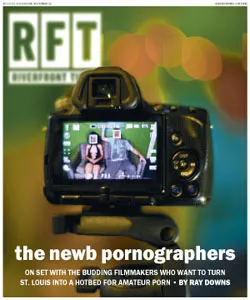 Studio Torno
The cover of the July 17, 2014, Riverfront Times.
Jenny and Pete say they get off on the idea of doing porn because it involves have sex with other people. Or rather, it involves Jenny having sex with other people — because Pete is only allowed to have sex with her. Pete says he's into watching his girlfriend having sex with other men. Jenny, however, stresses that she doesn't do it solely for him.
"I like that he likes it, but I want to do this for my own excitement," she says.
As Jenny poses for Corey's still shots, easily following directions like "stick your butt out" and "play with your clit," Pete is in the bathroom, trying to get ready.
"He's a little nervous," Sam explains. "First time. It's always hard for the guys."
Stage fright, in fact, is one of the biggest challenges in finding male talent.
"We get responses to our ads and they say they're interested," Sam explains. "But a lot of them just don't show up. I think they get nervous and have second thoughts."
And quite often, even when the male talent does arrive, things don't go so smoothly.
Pete, a lanky twenty-year-old, who with his skinny jeans and shaggy hair looks like he should be playing a guitar in a dive bar, emerges from the bathroom.
"You good?" Corey asks him.
"Yeah," Pete mutters, feigning a smile.
Jenny gives her boyfriend a concerned look.
"It's gonna be fine," she tells him, exuding the confidence of a more seasoned professional. "Just come over here. It's just like we always do."
"You OK? Sure you're ready?" Corey says.
"We're good!" Jenny quickly answers.
The couple begins in typical porno fashion. They strip. They kiss. Jenny goes down on Pete. The room is completely silent except for a slight slurping sound. Pete lets out a muffled sigh, and Corey kills the camera.
"You need to be more vocal," Corey instructs Pete. "Don't go overboard, but make it sound like you're enjoying it. Tell her you're gonna fuck her in the mouth or something."
"Just do like you normally do," Jenny tells Pete.
"And grab her hair — you got hands, buddy!" Corey scolds. He looks over at his business partner, Sam.
"We need to start writing scripts or something," he says. Sam nods in agreement.
Jenny and Pete are going to need more direction, Corey decides, so he draws up a game plan that goes something like this: begin with a blowjob, progress into a 69 position, have Jenny go on top, transition into doggy-style and then the climax.
All parties agree, and Corey grabs his camera. But now there's another problem.
"You're looking a little floppy there, buddy" Corey says. Pete shrugs, embarrassed.
"It's not that I'm nervous," he says. "I'm just into certain things, you know?"
"Like what?"
"He likes choking," Jenny says.
"We can't do that. Homegrown doesn't want violence in the video," Sam explains.
"Grabbing hair and light spanking is as far as we can go," Corey adds.
But that's no reason Pete can't choke Jenny off-camera to get in the mood. And in order to accommodate the couple, Sam and Corey decide to give them some time to warm up.
A few minutes later, Pete is ready. But the choke-play might have gotten him too riled up. A few moments into the blowjob, Pete pushes Jenny's head back and grabs his penis, squeezing it hard as he stares up at the ceiling.
"Fuck," Corey says.
"Sorry, man," Pete replies.
"How come you didn't tell me?" asks Jenny.
"I tried to pull your hair."
"No, you didn't!"
"Guys, it's totally fine," Corey interrupts. "Happens all the time. Don't worry, Pete. Really. It's cool."
Pete, eager to correct the situation, offers a solution: "I can go again."
"Umm...are you sure?" Jenny says.
"Yes. I just need a little time," he says.
"Great! That would be great!" Sam says. "Let's break for lunch, and get back to it."
Pete re-energizes with some McDonald's hamburgers, which aren't exactly an aphrodisiac. It takes more than eight hours for Pete to stay hard long enough to get adequate footage for the 30- to 40-minute porno.
At the end of the day, a tired and worn out Pete gives up. He can't cum. This was supposed to be a creampie video — where the man ejaculates inside the woman and the camera films the semen dripping out between her legs. After ten hours of work, it looks like the goal of the day's shoot won't be accomplished. That is, until Jenny saves the day.
"We can make fake cum," she says. "Just mix a little flour with water. There are recipes online. It looks real."
A quick trip to the supermarket for flour, and the climax is salvaged. Pete fakes an orgasm, Jenny inserts the flour and water mixture into her vagina and, voilà, creampie.
"Genius," Corey exclaims. "I had no fucking idea."
Two weeks after the Motel 6 shoot, Sam and Corey are back at Utopia Studios. This time they plan to do two shoots: a girl-on-girl scene and a guy-on-girl scene. A threesome would bring in more money from Homegrown Video, but that's not possible — one of the women is the guy's sister.
"We were both looking for odd jobs on Craigslist, and my cousin was like, 'Hey, you should check this out,'" says Phoebe, a twenty-year-old part-time stripper who is about to star in her first adult film.
"It's not a lot of money, but I work in the sex industry and I really enjoy it," she says, adding, "and I really need to save up for a car."
Phoebe's brother, Patrick, is also a first-timer. But the 25-year-old says porno is something he's serious about getting into.
"I really want to work in porn," he says with a smile. "I think I can be really good at it."
Unfortunately for the aspiring porn star siblings, the other female is a no-show. Not wanting to waste the money they spent on the studio rental, Sam gets on the phone to find another male performer.
"Would you be OK having sex with a 43-year-old?" he asks Phoebe.
"Sure," she says, explaining that it wouldn't be much different than the guys she gives lap dances to at the strip club.
When Rory arrives, he has better luck this time. Phoebe looks him over and agrees to have sex with him. But there are a few conditions.
"I do guys, but I'm really more of a lesbian," says Phoebe. For her, that means no blowjobs. She's also not into doggy-style.
"I just don't like the way it feels," she explains.
Corey tries to hide his disappointment. Only fetish porn could get away with such radical scenarios as "no blowjob" and "no doggy-style." But not wanting to be forceful, he goes with the flow.
"No problem," he says. "We don't want you to do anything you're uncomfortable with. So just do whatever you feel you're OK with doing."
Phoebe, unlike the other females in Sam and Corey's films, is really going for the porn-star look, wearing a see-through negligee, stiletto heels and heavy eyeliner. But the bombshell appearance clashes with her onscreen reticence. Once she and Rory begin, it's clear she's uncomfortable. The kisses are restrained. The petting looks mechanical.
"Are you OK?" Corey asks. "We can stop."
"No, it's fine. I came all the way down here," she answers. But she is anxious about her brother being nearby.
"Is he still out there?" she asks. Sam confirms he is — playing video games in the lobby.
The general sense of unease is exacerbated by the heat in the studio. The air conditioner and fans had to be turned off because they were interfering with the sound. But then a few minutes later, a speed-metal band with a passionate drummer started playing at full volume in the adjacent studio.
Still, Phoebe insists on continuing.
"Rory, why don't you go down on her for a while?" Corey says.
Rory does as instructed. For a while Phoebe is back in the groove, despite the blaring lights inside the blazing studio.
But getting to the next step — penetration — proves to be impossible. It just won't go in. Phoebe is not into it. Everything about the situation looks awkward: the lack of sexiness in the act, the drastic age difference between the two performers and, especially, Phoebe's obvious discomfort.
Corey calls off the shoot.
"I'm sorry," Phoebe says. "I just haven't been with a guy in three years. I guess I wasn't ready."
"Don't be sorry," Corey says. "It's totally understandable. If you want to try again another day, that's cool. If you want to."
"Yeah, maybe next week," she says.
Phoebe leaves with her brother. Rory, ever eager, tells Sam and Corey he could be available again. Just call him.
"I'm always around," he says as he leaves.
Sam sighs. Both he and Corey are disappointed. They probably won't be able to sell the video from the shoot. It'll be chalked up as a loss.
"Sometimes they go good. Sometimes they don't," Sam says.
After expenses, he and Corey figure they make about $12 an hour producing their films.
"It's way better than cleaning carpets for the same amount of money," Sam says.
Corey agrees, though he notes that STL Adult Films has yet to blossom into a full-time gig.
"The trick," he says, "is being able to do the work consistently."
Follow Ray Downs on Twitter:
E-mail him at Ray.Downs@RiverfrontTimes.com.