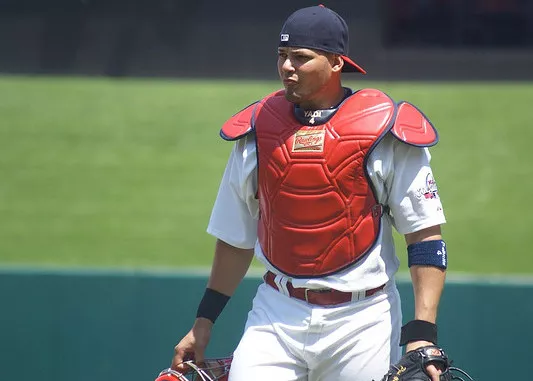 Fans of the St. Louis Cardinals, a.k.a. the best fans in baseball, were devastated to hear the team's linchpin and catcher Yadier Molina will be out for months after tearing a ligament in his thumb.
Molina was sliding into third base foot-first when he injured his hand, ending his hopes of playing in Tuesday's All-Star Game. The ball club announced that Molina will return after surgery and months of recovery.
See also: The 6 Best Yadier Molina Quotes From That New York Times Profile
When the news broke that Molina needs up to twelve weeks off, St. Louis sports took to Twitter with their wails of despair:
Ever superstitious, baseball fans started looking outside Busch Stadium for something (or someone) to blame. The easy target? Jonathan Lucroy, the Milwaukee Brewers catcher who released a tongue-in-cheek, mud-slinging ad in his campaign for All-Star catcher -- a title Molina's held for six straight games.
After all, Lucroy unleashed an anti-Cardinals video to unseat Molina from his earned spot in the All-Star Game weeks before Molina was injured.
See also: Milwaukee Brewers' All-Star Game Ad Proves Everyone is Jealous of the St. Louis Cardinals
That couldn't be a coincidence, Cards fans said on Twitter: When word officially came down that Lucroy was going to start in Tuesday's 2014 All-Star Game, the best fans in baseball weren't going to let him forget who won the fan vote:
Milwaukee Brewers fans had plenty to say about Molina's injury. Read the smack talk on the next page.
As Cardinals fans were thinking about the Brewers, Brewers fans were thinking about them back. Brewers fans were quick to jump on Molina's injury, simultaneously celebrating the ascension of their hometown catcher and the despair of the Cardinals fans: Brewers fans reveling in Molina's bad luck just rubbed salt in Cardinals fans already-painful wounds: So Cards fans were already feeling understandably sensitive when they got another blow: During color commentary at Saturday's game between the two teams, former MLB player Gabe Kapler said it was "poetic justice" that Lucroy would start in the All-Star Game. And another round of Twitter fury began. Wary of incurring the wrath of the best fans in baseball, Kapler send out a Twitter apology, saying he didn't mean to take joy in an injury:
But not everybody blamed Lucroy for Molina's bum thumb. Many looked to a galaxy far, far away for the answer:
Jon Gitchoff
The Force was not with Yadi on Star Wars night.
See also: St. Louis Cardinals, These are the Star Wars Fans You've Been Looking For [PHOTOS]
In the end, neither the Milwaukee Brewers or George Lucas are to blame for the beloved Yadi's injury. No one is. And as the weekend died down -- and the fever-pitch Twitter feuds with them -- fans got back on Twitter to wish the newly-DL'd Molina a happy 32nd birthday on Sunday.
Follow Lindsay Toler on Twitter at @StLouisLindsay. E-mail the author at Lindsay.Toler@RiverfrontTimes.com.