Levi Nance Photography
Victoria Burwell performs burlesque as "Vera Valentinaa" -- a fact she claims rankled her corporate bosses.
The way she tells it, Victoria Burwell arrived at her job Monday morning in good spirits. Hired in February by the Lindell Strip apartments, the strikingly blonde 25-year-old had risen to become the leasing and marketing manager, heading a team of consultants and assistants who gave tours to prospective residents -- mostly college students.
"I was on time for work, we'd had a great leasing week and everything seemed to be fine and dandy," she recalls. "Then they called me into the office and asked me, 'Do you dance outside of work?'"
What happened next ripped the tassels right off Burwell's day: She claims a corporate human resource officer began interrogating her over the phone about her other job -- as burlesque dancer "Vera Valentinaa." Burwell says she was accused of "soliciting" a resident to attend one of her shows during an apartment tour.
"She fired me over the phone," Burwell says. "She said, basically, 'We're going to have to let you go on the basis of impropriety since your outside ventures are a negative reflection on our company.'"
See also: Slideshow: Burlesque Meets the Muppets at Plush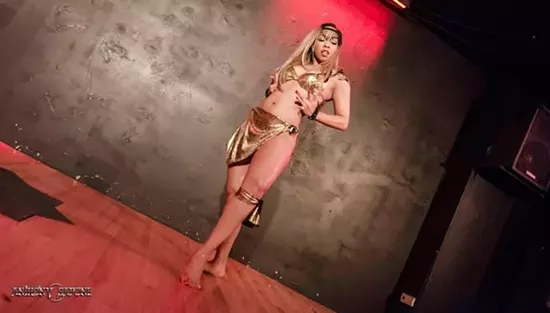 Burwell says the Lindell Strip terminated her without severance pay and gave her seven days to vacate the apartment whose rent was factored into her salary.
The justification for the firing provided by the HR officer went like this: A prospective resident and his mother had been taking a tour of an apartment, led by Burwell. Afterward, when the mother stepped out of the leasing office, Burwell supposedly invited the son to a burlesque show. The son told his mother about it, and she discovered Burwell's Facebook page as Vera Valentinaa. Then she sent screenshots to the corporate headquarters of Asset Campus Housing, the Houston-based company that owns the Lindell Strip.
Burwell disputes every detail of the story. She tells Daily RFT that, as a manager, she hasn't led an apartment tour herself in months.
"I want people to understand, burlesque is an art form, and it's not something that anybody should be ashamed of," she says. "I shouldn't be fired for partaking in an art."
For reference, here's a clip of Burwell performing as Vera Valentinaa with the Randy Dandies troupe during the "Game of Thongs" show last year at Plush.
Vera Valentinaa - Calypso from Michael Pearce on Vimeo.
Burwell has been wowing crowds as Vera Valentinaa in St. Louis since 2011, and she was a founding member of the Hoochie Coochie Girls. Currently, she takes the stage four to five times a month in productions across the county, and also moonlights as a tap-dance teacher. She thinks someone must have recognized her at her day job and then ratted her out. She's seen the same thing happen to other dancers.
"It only takes one person to look at it and say, 'She's a stripper, how can she manage four high-rise apartment complexes downtown?'"
We reached out to Asset Campus Housing and tried to get in touch with the corporate HR officer who fired Burwell. Multiple messages left for her at the corporate HQ in Houston were not returned.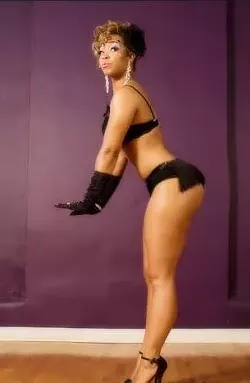 Virginia Harold
Burwell didn't give apartment tours in this outfit, but that didn't matter to her bosses, she says.
"Burlesque is considered by some people to be dirty or distasteful. Quite a number of my friends have had to hide their identities," says Mimi Le Yu, a mainstay of the St. Louis burlesque scene and founder and producer of the Randy Dandies troupe.
The way Le Yu sees it, burlesque is more than just thrusting body parts at an audience.
"We're usually telling a story, being cheeky, telling a joke within a song," she says. "There is sexuality in burlesque, absolutely, but we're about getting the audience to cheer and to laugh and to relax, and to see the funny about sex."
The danger of being outed forces dancers to hide their identities on separate social-media accounts, and horror stories of lost jobs abound in the burlesque communities. Other women have allegedly had their burlesque identity brought up at child-custody hearings.
See also: Slideshow: Game of Thongs at Plush (NSFW)
Lola Van Ella, an internationally recognized burlesque performer, producer and educator, argues that cases like Burwell's shouldn't devolve into splitting hairs over burlesque and stripping. She sees the issue as a persecution of sexuality in general.
"What I do is not commercial stripping, I am not selling physical sex, but I absolutely believe that work that I do can be put into the category of sex," says Van Ella, who teaches the craft at the St. Louis-based Van Ella Studios. "I know what I do is sensual and sexual by nature, but it can be theater, political satire, feminist satire and musical.
"If the roles were reversed, and Victoria was a man, this wouldn't have come up," Van Ella suggests. "If she was doing Cabaret or Hair, where there's a nude scene, would they have fired her for that?"
For Burwell, the next step is getting a lawyer and moving back in with her parents.
"This kind of thing shouldn't happen to anybody, whether it's doing burlesque or posing for a magazine," she says. "Your personal life is your personal life."
Follow Danny Wicentowski on Twitter at @D_Towski. E-mail the author at Danny.Wicentowski@RiverfrontTimes.com