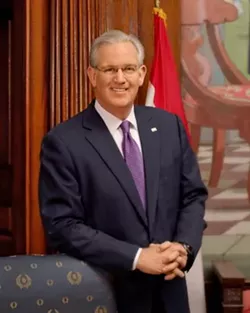 Courtesy of the Governor's Office
Governor Nixon vetoed an abortion bill he called "insulting to women."
Missouri governor Jay Nixon didn't mince words in his Wednesday veto of a mandated 72-hour waiting period for women seeking abortions.
The waiting period "serves no demonstrable purpose other than to create emotional and financial hardships for women who have undoubtedly already spent considerable time wrestling with perhaps the most difficult decision they may ever have to make," wrote Nixon, delivering one of several gubernatorial face-slaps to the conservative-dominated legislature that passed the bill in May.
Nixon's three-page takedown of the bill (which you can read after the jump) immediately drew national media attention for its unequivocally blunt language, but there's something else worth noting: His arguments against the waiting period mirror those of Missouri women who've spent years fighting the same "misguided paternalism" Nixon derided in the veto message.
See also: As Legislature Debates Health Care, Voter ID, Politician Asks: Just How Dumb Are Women?
"Governor Nixon understands this bill it for what it is, which is dangerous and bad for Missouri women," says M'Evie Mead, director of statewide organizing for Planned Parenthood in Missouri, which operates the state's only abortion facility in the Central West End. "It's a much needed statement of protection for women's health after a couple tough Supreme Court rulings this week."
Mead is referring to this week's U.S. Supreme Court ruling that corporations like Hobby Lobby can refuse to pay for for contraceptive health care on religious grounds, a decision that certainly pleased Missouri's religiously inclined D.C. representatives.
But yesterday's veto showed that common sense may still exist. Nixon broke down his reasoning into three main points:
First, Missouri already mandates a 24-hour waiting period for women seeking abortion. During a required in-person doctor's visit, women are also subjected to verbal and printed information about the physical development of a fetus and the pain the fetus will suffer during the abortion, which is actually a highly complex and disputed subject in medical science. The current law also says women must be given printed materials prominently stating that life begins at conception and that "Abortion will terminate the life of a separate, unique, living human being."
But for Nixon, the bill's most telling flaw is that it provides no exception for victims of incest and rape. If the bill were to become law, Missouri would join South Dakota as the only state to employ such a blanket policy on women seeking abortions. On this point, Nixon lowers the boom with full force:
This glaring omission is wholly insensitive to women who find themselves in horrific circumstances, and demonstrates a callous disregard for their wellbeing. It victimizes these women by prolonging their nightmare...Underlying this bill, and the expansion of the governmental interference it would it would mandate, is a paternalistic presumption that rape and incest victims are somehow unable to grasp the horror that has befallen them, and that government must force them to take more time to come to grips with their plight.
See also: Gov. Nixon Criticizes Abortion Bill for Not Protecting Rape, Incest Victims
However, an exception for rape and incest victims wouldn't have put the bill in Nixon's good graces. His final point is the same one that women have been shouting from the rooftops all year: At its core, the bill presumes women are stupid, flippant and frivolous with their bodies and "are unable to make up their own minds without further government intervention."
"This is insulting to women," Nixon writes, "particularly in light of what the law already requires."
Yet, Nixon hasn't killed this bill permanently. It can still become law if legislators can muster the votes to override the veto during the September veto session. The bill was easily passed by both the House and Senate in May.
"This is an irreversible and permanent decision, and taking the time to think about the consequences is not unreasonable or a burden," says Republican senator David Sater in a statement. He's vowed to fight the governor's veto. "I firmly believe that most Missourians do not think three days is too much time to decide whether to bring a child into this world."
Continue to read the full text of Nixon's veto message.
Follow Danny Wicentowski on Twitter at @D_Towski. E-mail the author at Danny.Wicentowski@RiverfrontTimes.com