Does this make you randy, Chicago?
An ad campaign designed to reach the sex-crazed youth of Chicago is taking lessons from the casual-dating app Tinder to direct them to St. Louis' landmarks, neighborhoods and museums -- and to have sex in those places!
To be fair, the ads don't literally advise exhibitionist boning, but you'd be forgiven for thinking so: Use your smartphone to log onto WeekendQuickie.com, and you'll find taglines like "You'll enjoy it even more on the top" accompanying a photo of the Arch, or "Let's start with some heavy petting before we get wild" attached to Grant's Farm.
The campaign's tone is clearly aiming for tongue-in-cheek. Unfortunately, it's nearly 100 percent tongue.
See also: St. Louis Entrepreneur Gets You High on Love with Weed-Friendly Dating Site, My420Mate
Designed by local advertising firm H&L Partners, the reportedly $50,000 campaign is backed by the St. Louis Convention and Visitors Commission. Banners hawking the website began appearing on commuter trains in Chicago in mid-June, and they'll stay there through July.
This isn't the first time the CVS teamed up with H&L Partners to lure Chicagoans to St. Louis. In 2010, Chicago's mass transit commuters were bombarded with messages about a Windy City resident who'd been kidnapped and taken to a secret location. Of course, the whole thing was a guerrilla-marketing campaign and the "secret location" was St. Louis.
It's true: You can be sex-blinded by science.
If you can move past the barely functional double entendres, Weekend Quickie's ability to sort through St. Louis' many attractions is actually a pretty neat idea: It lifts the intuitive, split-second decision-making flow from Tinder's endless catalog of shirtless bros and duck-faced party girls, allowing you to easily parse a couple dozen museums, restaurants and night-life spots with a right swipe ("Hit it") or a left swipe ("Forget it").
The website is designed to be viewed only on mobile devices, but we've collected a few of Weekend Quickie's, um, "sexiest" St. Louis destinations for your amorous getaway.
Hey, copywriter: Did you mix your ad copy with your Craigslist causal encounters post?
See also: Naughty List: Missouri Ranks 5th in the U.S. for Longest Duration During Sex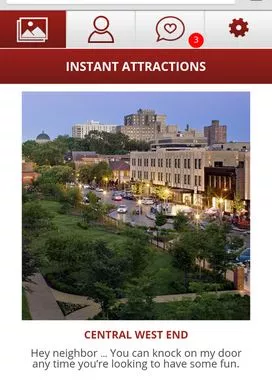 Continue for more sexualized tourist advice from Weekend Quickie.
See also: Girls Ask Guys: St. Louis Startup Will Answer All Your Embarrassing Sex, Dating Questions
We presume "I'm checking you out" was considered too highbrow for Weekend Quickie.
See also: Milwaukee Brewers' All-Star Game Ad Proves Everyone is Jealous of the St. Louis Cardinals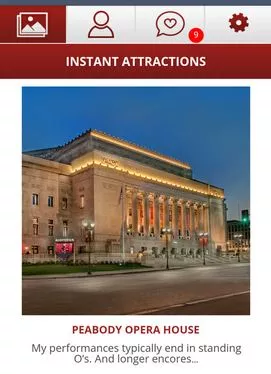 Congratulations, H&L Partners: You used opera to make a sloppy seconds joke. Bravo.
See also: St. Louis Native Guides Singles Through Online Dating With New Service "Profile Wingman"
Translation: Hey baby, are you aroused by Simpsons memorabilia?
Follow Danny Wicentowski on Twitter at @D_Towski. E-mail the author at Danny.Wicentowski@RiverfrontTimes.com