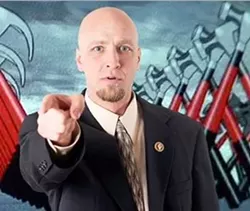 Luke Lamb, shown here in a campaign banner from last year. He's running for Greene County Sheriff now.
Luke Lamb has a history of fighting the law -- and winning.
Lamb is running as a "constitutional Sheriff's candidate" in Greene County, Illinois, selling himself as an advocate for a more limited system of police intervention. He made a name for himself in 2011 for filming a cop drinking beer after a traffic stop, and he popped up again in 2013 for hanging an "Impeach Obama" banner over a highway overpass. But now he's managed to piss off the very same sheriff's office he's running for.
Indeed, current Greene County Sheriff Robert McMillen didn't appreciate Lamb using Facebook to allegedly advise a juror to "Nullify, nullify, nullify!" and to "Hang the jury, if necessary" in a traffic case in January. Lamb is now facing a felony for unlawful communication with a juror, a charge his lawyer has stated "reeks of small-town political retribution."
See also: Luke Lamb: Snarky Anti-Establishment Activist Gets Away With Overpass Protest (VIDEO)
"Jury tampering is a pretty rare occurrence," observes Washington University law professor Peter Joy, explaining that such cases usually involve a person trying to influence the decision of a particular juror in a specific case -- a direct bribe or threat, for example.
"At the opposite end of the spectrum is someone who writes a letter to the editor or an op-ed where they say, 'I believe juries should be skeptical in criminal cases and strike out against the state,'" Joy says. "It's voicing a point of view, and that's clearly protected as political speech."
Lamb is due in court tomorrow for his next hearing, where he hopes the judge will reconsider the felony charge.
Though Lamb and his lawyers declined Daily RFT's request for comment, the case's legal filings include a copy of the allegedly damning Facebook posts:
Essentially, prosecutors maintain that Lamb -- posting as "Lou Clam" -- was trying to talk Mark Boston, the juror, into performing what's known as "jury nullification," a legal power that allows a jury to refuse to enforce a law it considers unjust. Jury nullification is a popular idea among some libertarians, like Lamb.
But after Boston replied to the comment, Lamb's enthusiasm for jury nullification started getting kind of weird. Here's the rest of the exchange:
We're wondering the same thing, Thomas.
The posts eventually caught the eye of Deputy Sheriff Cliff Elliott, who passed the info up to his boss, McMillen, who will be competing against Lamb for Greene County Sheriff in the November 5 election.
Lamb's attorney, Patrick Watts of St. Louis, told the Telegraph in March that his client's initial comments about jury nullification were made in jest, adding that Lamb's other posts demonstrated "he was leaving any decision about the individual case up to the juror."
"The juror was already intending to investigate the issue of jury nullification on his own and Mr. Lamb knew this," Watts claimed further. "Thus, Mr. Lamb had no intent to influence because the juror was already 'influenced' prior to his selection as a juror."
See also: Hilarious Video of Speeder Trying to Bust Cop for Drinking & Driving
As for Boston, he and the jury he was serving on unanimously acquitted the person accused of speeding in a school zone. Boston later submitted an affidavit stating he had not read Lamb's Facebook posts anywhere near the courthouse and that the jury's ruling was based on the prosecution's weak evidence.
Joy predicts Lamb's case could hinge on whether the judge interprets the Facebook posts on the basic facts of the law -- that is, did Lamb simply intend to influence the juror? Though Lamb claims he didn't know any details of the case when he made his first comment, Joy thinks he could be still found guilty since his posts do demonstrate intent, and that could be enough to support the felony charge.
Lamb's attorneys argue that the posts constitute political speech, comparing the Facebook posts to a politician yelling "Nullify, nullify, nullify!" through a bullhorn at a political rally. That sort of political speech is highly protected by the First Amendment.
"This is the first case of this nature that I've heard of," Joy admits. "Oftentimes you see people who believe that a defendant is guilty holding signs outside a courtroom, and those are clearly communications that relate to specific cases. The law is really clear on that that, that's not going to amount to anything like jury tampering."
Update, July 3: On Wednesday, a Greene County Judge denied Lamb's lawyers' motion to reconsider the felony charge, meaning that a jury will decide if Lamb's Facebook posts constitute jury tampering. The trial date will be set sometime in October.
Lamb's attorney Patrick Watts released this statement:
Going into this Fourth of July weekend, I am unfortunately reminded by the felony charges pressed against Mr. Lamb for his public political statements - charges spearheaded by his political opponent - that sometimes the people who are most proud of waving our flag, are the very same people who are the least capable of understanding its meaning.
Daily RFT has reached out to Greene County Sheriff Robert McMillen, and we'll update further if we hear back.
Follow Danny Wicentowski on Twitter at @D_Towski. E-mail the author at [email protected]