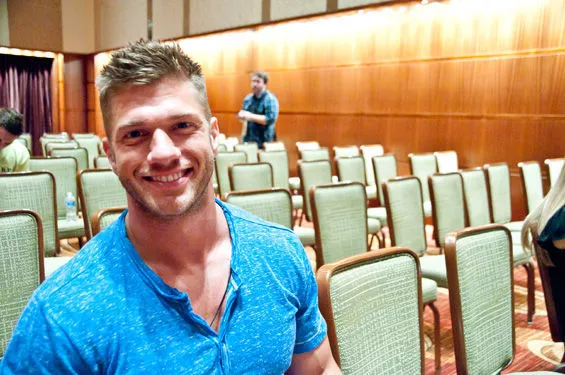 Caroline Yoo
The area's most eligible eye candy auditioned for The Bachelor this past weekend.
Love was in the air Friday afternoon on the sixth floor of the Four Seasons Hotel, where a total of 208 single ladies and gents auditioned for the upcoming season of The Bachelor and The Bachelorette -- 209 of them to be exact, if you include a painfully out-of-place Daily RFT writer.
The St. Louis casting call was part of the producers' nationwide search for men and women "ready to find true love" on future seasons of both shows. Despite the fact that very few bachelors and bachelorettes attain happily-ever-after endings, most of the contestants I met -- drawn from Missouri, Illinois and even as far away as Arkansas -- told me yes, they are ready to try anything, even reality television, to find love.
See also: Photo Slideshow: 'The Bachelor' Casting Call Fashion
Caroline Yoo
Like most auditions, The Bachelor's casting call involved lots of waiting around.
Though the audition wasn't officially scheduled to start until for 4 p.m., twenty or so well-dressed men and women were already scattered about the sixth floor ballroom, filling out forms and quietly chatting, when I arrived at 3:30 p.m. A couple of production assistants greeted me and handed me a packet of forms to read through and sign, and cheerily instructed me to sit in a chair on the left side of the room.
Let's talk about those forms for a moment: It turns out that finding true love requires quite a bit of paperwork. The six-page contestant questionnaire is available to download off the show's website, but it didn't appear that many people knew that. Two dozen auditioners were hunched over their laps or seated at tables, scribbling their hopes, wants, dating histories and dreams with ballpoint pens. The result was that the scene inside the ballroom looked a high school prom crossed with the SATs.
Caroline Yoo
Alas, cheating off someone else's paper won't help your chances on this test. Probably.
Ever the Boy Scout, I had taken the time to prepare my answers, fashioning a dating profile that, I felt, fairly and accurately represented my romantic goals for The Bachelor.

I confess I may have been suffering from hunger-related delusions while coming up with some of my answers.
See also: St. Louis Women Are Some of Least Choosy On Online Dating Sites: Study
After signing the legal contracts, I returned to the producers at the ballroom entrance and handed in my questionnaire, which was added to a stack. One producer then walked me near the balcony window to snap some closeup and body-length photos, and then instructed me to sit on the right side of the ballroom and wait to be called for the individual interviews.
I found a seat next to a tan, athletically built man in a powder blue T-shirt and dark jeans. He introduced himself as Ryan, a 30-year-old traveling salesman from Springfield.
"I've been very busy with a job and career. It's a very busy job, I play baseball, I work out, I own a house, but it's tough to just go and find women," he says. He's a big fan of The Bachelor, and says he knows what the show is (and isn't) looking for in a male contestant. "Some people are hesitant. But a couple seasons ago, the guy, you could tell he was ready. I think that's what they're looking for. A guy who knows what he wants and is willing to take that step if he meets the right one."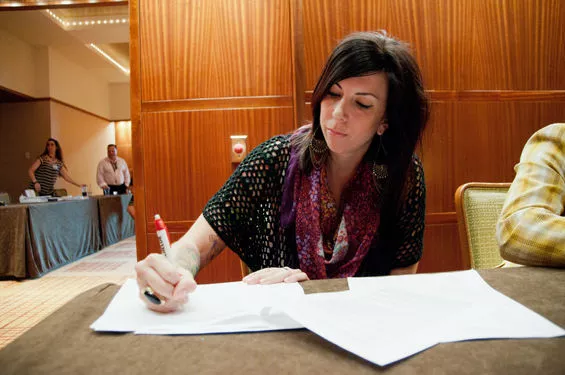 Every ten minutes or so, a producer walks in to call the next four people to the back rooms for the interviews. It's not long before Ryan and I are sitting at the front row along with two women from St. Louis, Christina and Megan. Both are disillusioned veterans of the local dating scene.
"On my 30th birthday I got a picture of a penis from a guy I don't know," laughs Megan, a blonde in a light orange dress. She and Christina had seen promos for the local audition and decided to go together. "So I thought, 'Why not?' This must me better than online dating."
"You always watch the show and it looks like so much fun, you think 'I wish I could do that,'" agrees Christina, a brunette 35-year-old project manager for a construction contractor. "Well, I could do that. There's nothing to say it couldn't be. But you still have to put yourself out there and do it."
"People are looking to hook up," bemoans Megan, describing the state of dating culture in the real world. "It's hard to find people that really want the same thing you do, a relationship, someone to spend time with."
"It seems really hard to find," she says. "Or I find them 25 years old or 48 years old. I don't know where the ones in their 30's are. That's my problem."
A few minutes later a producer walked in, pointed at Ryan, Megan, Christina and me, and lead us out of the ballroom for the actual casting call.
Continue for the thrilling conclusion to Daily RFT's reality-show audition.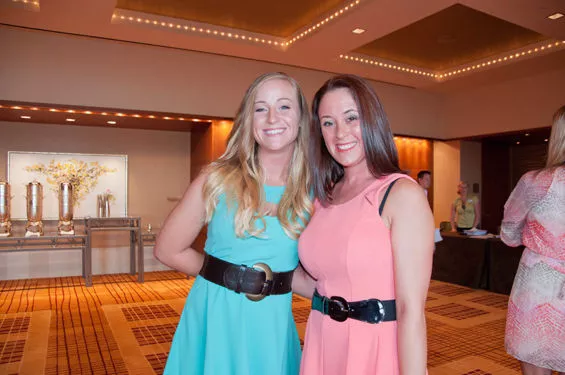 After another few minutes spent waiting together in a hallway, the four of us were individually called into separate rooms for the interviews.
Now, I wish I could describe the actual interview process -- but the non-disclosure paperwork I signed guaranteed all sorts of violent legal action for revealing The Bachelor's inner workings. In general, I can say that I was asked about my dating history and my feelings about wanting to be on the show.
After about five minutes of questioning, the producer shook my hand and told me that they would contact me in four to six weeks if I made the cut.
See also: Seven St. Louis Guys and Gals You've Probably Dated
I returned to the ballroom to find around 40 people scribbling away at their applications. I sat down next to Kyle, a hunky construction worker filling out his paperwork in the rear of the ballroom. He was wearing a grease- and dirt-stained yellow T-shirt, mud-encrusted cargo shorts and work boots.
"I figure if you're in an interview with people actually doing this show, why not be as real as possible?" he said, explaining he came to the hotel after a day spent crawling around underneath houses to repair termite damage.
Caroline Yoo
This guy put the "real" in reality show.
I stuck around talking to other hopefuls still awaiting their turn. Lauren, a 25-year-old college senior from St. Charles, confessed she's only had one boyfriend in her entire life, but she's always watched The Bachelor and The Bachelorette. "I love all the different locations they go to, all the women and the men they find." she says. "I do want to get eventually married some some day, or meet somebody some day. I would love to be on the show."
Across the room sits David, a 24-year-old recent transplant to St. Louis from Kansas City wearing a patterned yellow sports jacket. He says it's rough dating as a guy living alone in a new city.
"Dating in the real world hasn't worked very well so far, so I thought I'd give this an opportunity, take a chance," he says. "I am a fan of the show, and knowing they go through such a rigorous screening process, I don't believe that they would put people on the show that aren't very good potential matches. It doesn't always work out, but with so many people applying and so few people getting on the show, they have to know what they're doing."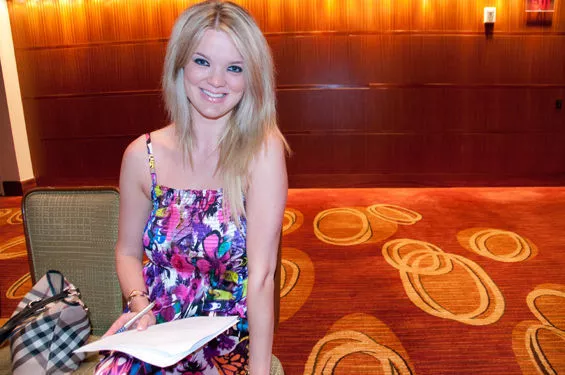 See also: RFT Music Writer Auditions for The Voice, Still Hates Adam Levine
The Bachelor's casting call lacked the snaking lines and high-stakes performance anxiety of The Voice's Chaifetz Arena-set auditions last summer. Even so, there was something odd about the whole experience. It was like a mixer where attractive, smart and available singles ignore their thoroughly dateable counterparts just feet away. I didn't observe much in the way of interaction between contestants, let alone flirting. But really, that's to be expected. It's like Christina says, describing her mindset of how she'll behave if she winds up on The Bachelor or The Bachelorette:
"Just because you're with these people doesn't mean they have to like you," she says. "Because that's not what you're there for -- to make friends."
Follow Danny Wicentowski on Twitter at @D_Towski. E-mail the author at Danny.Wicentowski@RiverfrontTimes.com