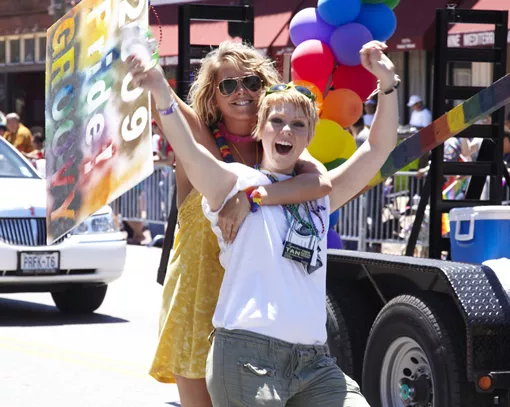 Steve Truesdell
It's pride time!
Happy pride, St. Louis!
Now in its 35th year, PrideFest St. Louis kicks off at 11 a.m. Saturday with the official wreath-laying ceremony on the steps of Soldiers Memorial. The gay-pride festival also honors LGBT troops with an official military entry in the Wells Fargo Grand Pride Parade, the city's second-largest parade, on Sunday.
"In my lifetime, I never thought I would witness the gay community being allowed, by law, to serve their country openly, and have pride in doing so, in the U.S. Armed Forces," says Master Sergeant Steve Zeiger, who leads the wreath-laying ceremony. "This is how it is supposed to be. We are truly living what our constitution declares."
See also: Journalist Refuses to Cover Pride Event at Fort Leonard Wood, "Comes Out" as Anti-LGBT
With four stages, dozens of participating community partners and side parties at St. Louis' local gay bars, this year's celebration is destined to be a great time. If you need more convincing, here are five reasons to celebrate Pride in 2014:
1. Manila Luzon is coming.
How can any fan of RuPaul's Drag Race forget Manila Luzon, the Filipina glamazon who's not afraid to stretch Asian stereotypes to get a laugh? Luzon's fierce fashions and sparkling wit earned her the first runner-up spot on RuPaul's seminal competition show and thousands of fans around the world, including here in St. Louis.
Luzon -- named after the capital of the Philippines, Manila, and its largest island, Luzon -- will emcee the Bud Light Main Stage at downtown's PrideFest Saturday night, where she'll introduce performers the Eric Himan Band, Ariana & the Rose and Alex Newell.
See also: Six Glee Performances that Make Us Want to See Alex Newell at PrideFest
Luzon can do more than just sissy that walk. After releasing her first single, "Hot Couture," in 2011, she partnered with Cazwell and rapped in her new song "Helen Keller," featuring Richie Beretta and Roxy.
And speaking of RuPaul, one of her greatest rivals, Lady Bunny of Wigstock fame, will be emceeing the Monsanto Stage Saturday from 1 to 4 p.m.
There are lots more reasons to have pride! Keep clicking for four more. 2. Tower Grove Pride is still going strong.
via Facebook
We want to be inside you, too, Tower Grove Pride.
You don't have to go downtown to celebrate Pride. Angelo Olegna is keeping the tradition alive in Tower Grove after PrideFest moved downtown last year.
"Pride can be more of a citywide affair," Olegna tells Daily RFT. "We have a pretty substantial gay community. We don't have to concentrate everything in one spot." In 2013 more than 1,000 revelers attended the neighborhood pride event, spending about $10,000 on local and independent artists and vendors.
See also: Tower Grove Pride: Neighborhood Group Promoting Alternative Festivities to Downtown
Tower Grove Pride, which is only on Saturday, kicks off at 9 a.m. with a picnic at the Tower Grove Farmers' Market followed by a Big Gay Block Party at South Grand and Hartford. As day turns into night, get ready for the Grand Drag show, hosted by Suzy Cydal and Mary Shino.
3. It's an historic year for gay rights in America.
Arkansas, Oregon and Pennsylvania became the 17th, 18th and 19th states (plus Washington D.C.) to allow gay marriage just last month. Then on Wednesday, Indiana followed suit. All 31 of the other states that ban gay marriage, including Missouri, have legal challenges pending.
Even more notably, the federal appellate courts issued their first ruling on gay marriage. The 10th Circuit Court of Appeals agreed 2-1 with Utah's ruling to strike down the ban on gay marriage that voters approved in 2004.
2014 also marks the 45th anniversary of the Stonewall riots, which launched the gay-rights movement.
Two more reasons, on page three. 4. It's also been an historic year for gay rights in St. Louis.
Just this week four gay couples married in the mayor's office in a top-secret ceremony designed to directly challenge Missouri's voter-approved ban on same-sex marriage. The attorney general is suing St. Louis' recorder of deeds for issuing the marriage licenses, but for now, they're still legal.
See also: Meet the First Four Gay Couples to Marry in St. Louis (PHOTOS)
That's not the only legal challenge to the marriage-rights issue pending in St. Louis. Eight gay couples and the ACLU have also sued for the freedom to marry.
And St. Louis made national headlines this year when the Rams drafted the first out gay man into the NFL. Michael Sam, who played for the University of Missouri, celebrated signing his contract with a night out in two of the Grove's gay bars, Just John and Siam. (Unfortunately, he won't be at PrideFest this year since he already had a wedding scheduled this weekend.)
"St. Louis is a driving force behind progressive change in the state of Missouri, and I really hope we'll start taking them forward a little bit," Olegna tells Daily RFT. "It's not going to come from suburban St. Charles. It's exciting when we decide to kick it up a notch."
5. Find a gay-friendly church, business, volunteer opportunity, etc.
Pride weekend is a great time to find community organizations that support LGBTQ rights. Whether you're looking for a new house of worship, a place to volunteer, a place to shop or a new restaurant, dozens of groups will be out all PrideFest.
Maybe we're just biased because we'll be there, too, as official sponsors. Come visit the Riverfront Times booth at PrideFest at Tucker Boulevard and Pine Street, near the Bud Light Beer Garden!
Follow Lindsay Toler on Twitter at @StLouisLindsay. E-mail the author at Lindsay.Toler@RiverfrontTimes.com.