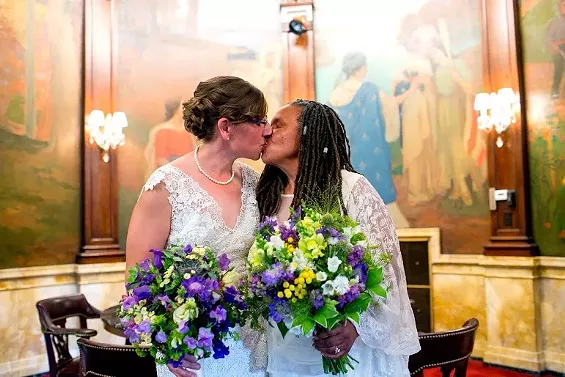 Courtesy Mayor Slay's Office
Miranda Duschack and Mimo Davis get hitched.
They're here. They're queer. And now they're married.
Gay marriage arrived suddenly in Missouri on Wednesday night when four gay couples wed in Mayor Francis Slay's office in a top-secret ceremony.
Each bride and groom knew they'd be jumping head first into a contentious and litigious public debate. By 7:30 a.m. the morning after the weddings, Attorney General Chris Koster was already asking for a temporary restraining order to stop the city from marrying more same-sex couples in violation of the Missouri Constitution.
See also: Four Gay Couples Just Got Married in St. Louis to Challenge Missouri's Ban
Despite the upcoming legal challenge, the four marriage certificates issued to gay couples Wednesday night remain valid, making those couples the only ones married in Missouri. Meet the only four same-sex couples to be married in the Show-Me State:
John Durnell & Richard Eaton
All Photos via Mayor Slay's Office
John Durnell and Richard Eaton.
John Durnell could hardly keep from crying Thursday morning as he addressed reporters, city staff and supporters as a newly married man.
"Knowing we are truly recognized as a married couple is truly amazing," Durnell says. Durnell and Eaton, who have been in a committed relationship for 39 years, were the first to wed in the mayor's office. Durnell, 63, spent his career restoring and building homes, and Eaton, 75, is a retired Missouri public school educator, teacher, counselor and a retired psychologist.
The couple has lived together in Soulard since 1981. They've volunteered with several community organizations, including Soulard Neighborhood Housing Corporation, Peter & Paul Housing Corporation, Forest Park Southeast Housing Corporation, Soulard Restoration Group, the Human Rights Commission, PROMO and the ACLU. Both are also heavily involved at their church, Lafayette Park United Methodist Church.
Keep clicking to meet three more couples. Tod Martin & David Gray
Tod Martin and David Gray pose outside city hall, where they were married on June 25.
The next couple to marry Wednesday night was Tod Martin and David Gray, who've been together in a committed relationship since 1991. Martin and Gray got engaged a year ago, when the U.S. Supreme Court overthrew the Defense of Marriage Act, and they have lived in Tower Grove South since 1997.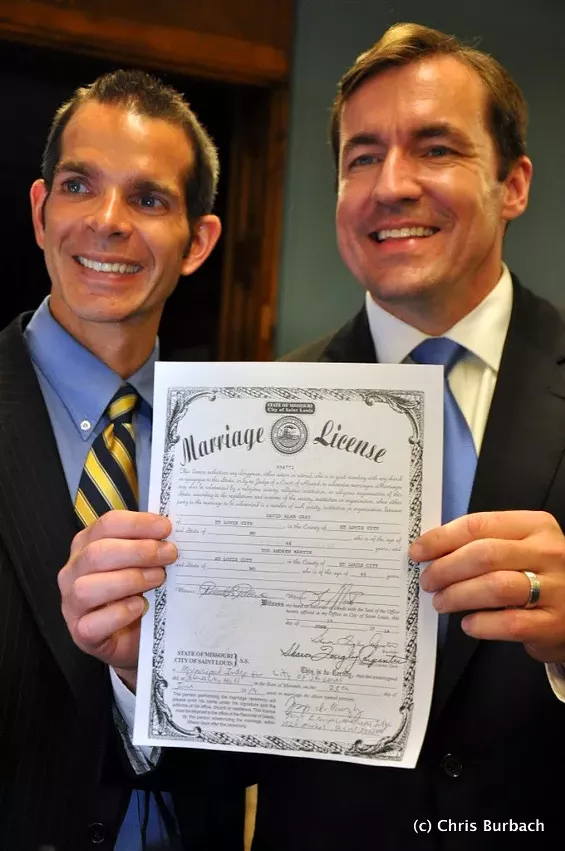 Who says paperwork isn't romantic?
Gray, an avid racing cyclist, graduated with a degree in electrical engineering from Vanderbilt University and moved to St. Louis in 1990, where he eventually earned an M.B.A. from Washington University. He's currently the senior project manager for information technology at Edward Jones.
Martin, who also graduated from Vanderbilt with degrees in chemistry and molecular biology, earned a PhD in neuroscience from Washington University. But it was politics, not science, that eventually took his interest. After volunteering for political campaigns, Martin started to work for elected officials, including Slay, and eventually joined Senator Claire McCaskill's office, now as deputy chief of staff.
Meet the only lesbian couple to be married in St. Louis on the next page. Miranda Duschack & Mimo Davis
The happy couple with Mayor Francis Slay and Shane Cohn, the first openly gay man elected to St. Louis city government.
Miranda Duschack and Mimo Davis "married" in 2012, two years after the met, in a spiritual ceremony before 130 of their close friends and family. But the marriage wasn't legal in Missouri, and Davis had no intention of going elsewhere for validation.
"People would say to us, 'Are you going to Iowa to get the license?'" Davis says. "I was like, 'Why would I go to Iowa when I live in St. Louis? Why don't we fight this battle right here?'"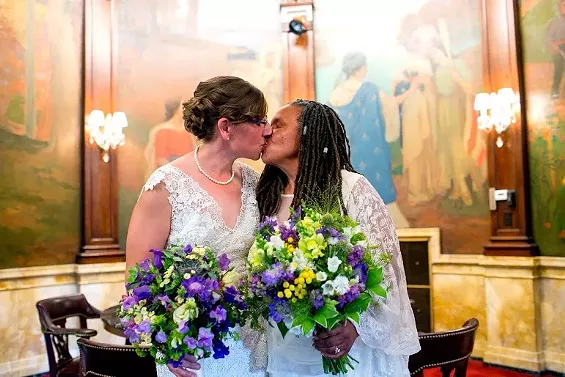 Courtesy Mayor Slay's Office
Miranda Duschack and Mimo Davis get hitched.
Davis won the battle Wednesday night with her and Duschack's legal marriage ceremony in the mayor's office, something a clearly emotional Davis called "a confirmation of a life."
"It wasn't so much about history, because ten years [from now], next week, no one is going to remember this was history," Davis says. "But it was bit for me because of us, because historically, I want to wake up in the morning and know I was on the right side.... When that torch was passed to me, when I had an opportunity to pick up that torch, I need to wake up every morning and know I took it and ran with it."
Duschack and Davis grow specialty-cut flowers at their urban St. Louis farm, Urban Buds: City Grown Flowers, which they sell at the Tower Grove Farmers' Market and to florists.
Duschack graduated from the Evergreen State College in Olympia, Washington, in 2003 with a dual bachelor's degree in sustainable agriculture and sociology. Davis has a master's in horticulture from North Carolina A&T University.
They live together in south St. Louis with their two dogs.
Last couple, on the last page! Bruce Yampolsky & Terry Garrett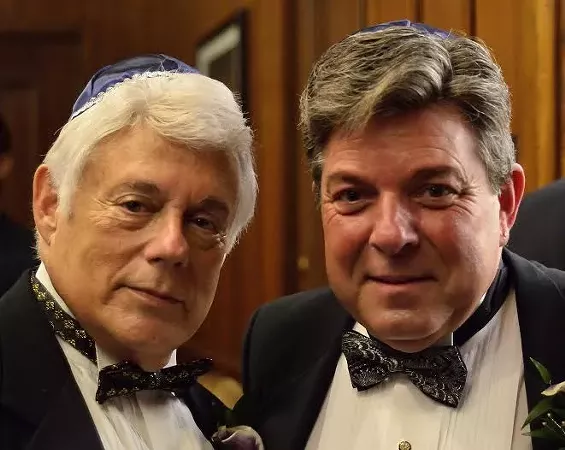 Before he was one of the first gay men legally married in Missouri, Bruce Yampolsky was the first openly gay elected official in the city of St. Louis as the former 28th Ward Democratic committeeman and finance chair for the Central City Democratic Committee.
Yampolsky and his husband, Terry Garrett, are both military veterans and native St. Louisans. Yampolsky served honorably in the U.S. Navy, and Garrett served honorably in the U.S. Army.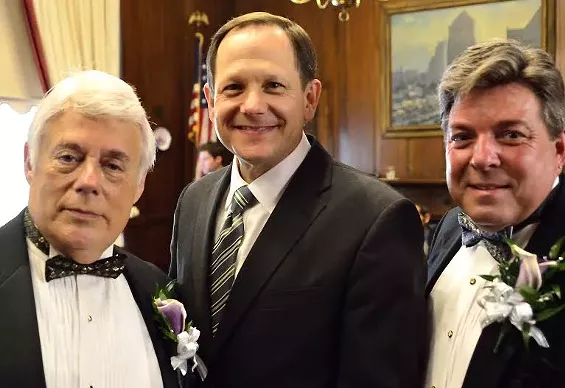 Bruce Yampolsky and Terry Garrett with Mayor Slay.
The couple is active in politics and gay-rights advocacy. Both attended the Democratic National Convention in 1992 and President Bill Clinton's inauguration.
They also volunteer with SAGE (Services and Advocacy for GLBT Elders) and with the Missouri Silver Haired Legislature. Yampolsky is the president of both organizations.
Follow Lindsay Toler on Twitter at @StLouisLindsay. E-mail the author at Lindsay.Toler@RiverfrontTimes.com.