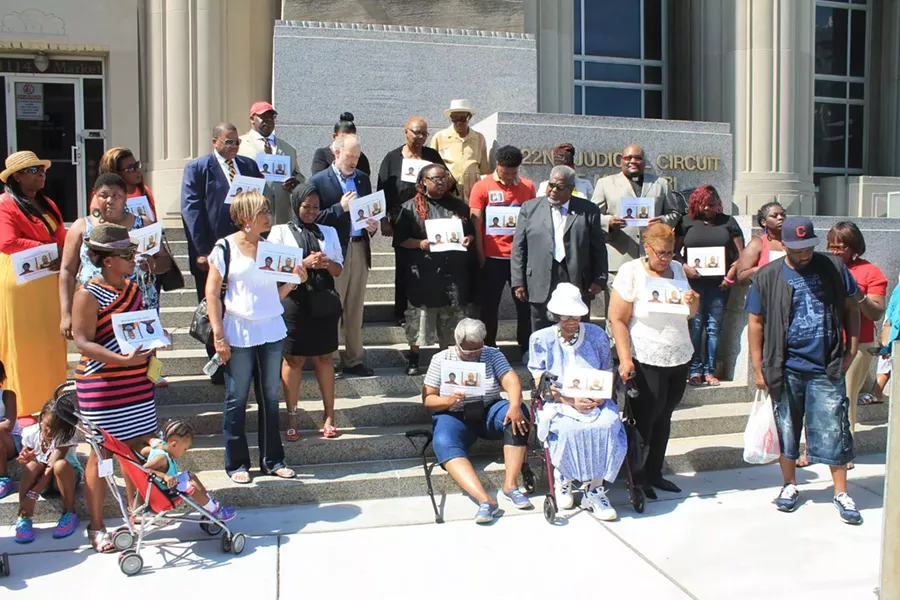 Ray Downs
Family and supporters of Anthony Williams pray outside the Circuit Court building.
Anthony Williams, the 34-year-old man who has been in prison since the age of fourteen for murder, had his conviction overturned by a judge who says he didn't get a fair trial. And on Thursday, Williams' family held a prayer vigil in front of the Circuit Court building to pray that Circuit Attorney Jennifer Joyce will choose not to re-prosecute him.
Cole County Circuit Judge Daniel Richard Green threw out Williams' conviction last week on constitutional grounds, saying that prosecutors hid evidence, including several eyewitnesses who said another person was responsible for the shooting. Joyce, who was not yet the Circuit Attorney during the original trial, has until July 3 to make her decision on whether her office will seek to retry Williams.
One of the people standing outside the courthouse was Anthony Robinson, Williams' son. Robinson was born a few months after his father was locked up. Now nineteen years old and a spitting image of his father, Robinson told reporters what he thinks St. Louis' top prosecutor should do.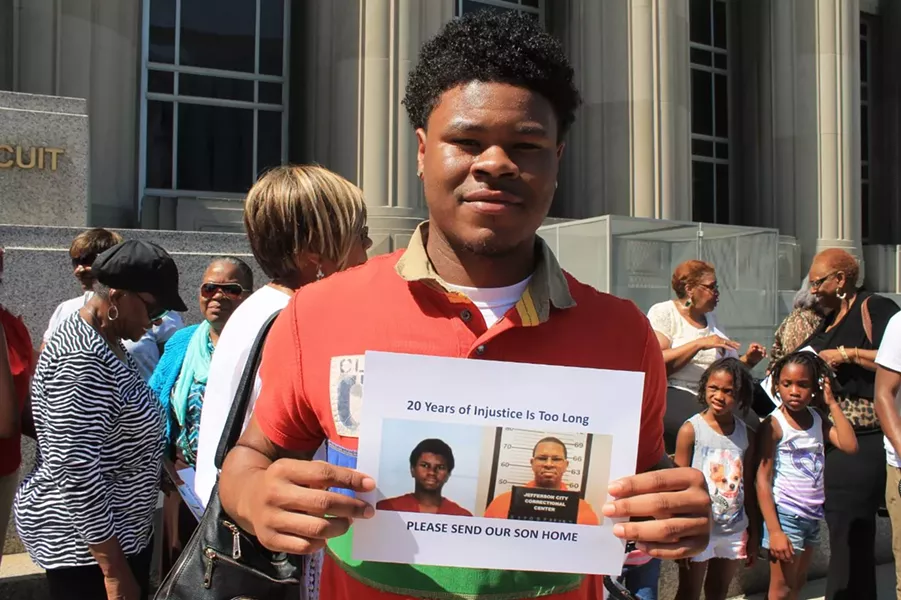 Ray Downs
Anthony Robinson was born a few months after his father was locked up.
"I'd tell her that it's time," says the Lincoln University sophomore. "It's better late than never. And it's a perfect time to make a wrong a right."
Williams was convicted of first-degree murder in the killing of Cortez Andrews, who was also fourteen, outside a dance hall on New Year's Eve 1993. A fight involving several teens broke out and somebody shot Andrews. A few weeks later, Williams was arrested for the murder. He was tried as an adult, lost his case, and given the mandatory sentence: life in prison without parole.
See also: Judge Throws Out Conviction of Man Imprisoned for 20 Years - Since the Age of 14
Williams lost each of his appeals, and it appeared that he would have to serve out his sentence. But in 2012 the Supreme Court ruled in Miller v. Alabama that mandatory life sentences for juveniles is cruel and unusual punishment and violates the eighth amendment. Williams' case was one of a handful of cases that would be considered for re-sentencing.
Bukowsky took on Williams' case in 2012. The Columbia-based lawyer was asked by the Missouri Public Defender's Office to consider taking on one of the cases affected by Miller v. Alabama. After looking through the options, Bukowsky says she was most compelled by Williams.
She also noticed that the murder, although tragic for the victim and his family, wasn't as violent as other crimes where juveniles have been sentenced to life, such as a kid who was convicted of murdering an elderly couple and another who raped and murdered two teenage girls.
"It was the least heinous crime [out of the options]," Bukowsky says. "I was surprised he wasn't charged with murder second, given his age and because it happened during a fight."
That made the life without parole sentence stand out, especially for a fourteen-year-old.
Click on the next page to read more about Williams' case, as well as the prosecutor's rebuttal to allegations she withheld evidence...
"If anyone might not have got a fair shake, it would probably be a black kid in St. Louis," Bukowsky says.
At first, Bukowsky thought this was just an extreme sentence for a kid. But after looking closer, she became convinced Williams was innocent -- and that the prosecutors cheated to lock up a child.
"I think that they played by a different set of standards," she says. "I was appalled by some of the things that went throughout the trial. They were just bringing up all kinds of surprises to the defense. And here's this fourteen-year-old kid facing life without parole, and they're playing games and dirty tricks on him throughout the whole thing."
The prosecutors in the case -- Hope Whitehead and Barbara Peebles -- did not share crucial evidence with the defense, including three witnesses who said the shooter was somebody other than Williams. One of those witnesses was the victim's identical twin brother.
Other evidence not shared includes the fact that the other person identified as the shooter by eyewitnesses was briefly detained by police on the scene, as well as a 911 call that would have cast more doubt on Williams' guilt.
Whitehead responded to allegations that her team withheld evidence with a strong rebuttal in the St. Louis American.
"I unequivocally deny withholding any evidence, 'willfully or inadvertently,'" she writes. "As a black female, mother of two sons, living in the city of St. Louis, I gain nothing from withholding evidence. I don't want a jury to convict the wrong shooter and leave the real shooter walking in my community."
Whitehead adds, "After numerous appeals over a 20-year period, I do not know why this judge made the ruling he did. I was never summoned to testify. No one asked me about any evidentiary issues during these appeals."
Bukowsky, meanwhile, also blames Williams' original defense attorney, Terence Niehoff, for not doing enough for his client -- and she hasn't minced words. See also: Terry Niehoff, one of the city's top criminal-defense lawyers, makes his money the old-fashioned way -- he earns it, one client at a time
"He was the absolute worst defense attorney I've ever seen," Bukowsky said on the Gary Nolan radio show in February.
One of the gripes she has with Niehoff's performance was that he never called a single eyewitness to the stand, including several boys who would have testified that Williams was not the shooter, in a case that relied almost exclusively on eyewitness accounts.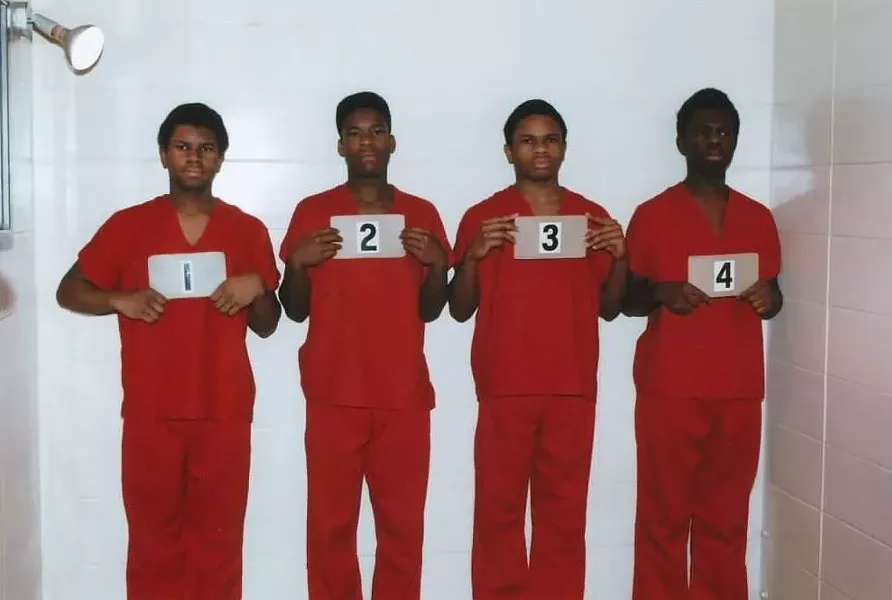 facebook.com/freeanthonywilliams
Anthony Williams in a four-person lineup.
But Niehoff tells us that he didn't call those eyewitnesses to the stand because he thought they'd be detrimental to Williams.
"They came across as a little thuggish," Niehoff says. "Some had gang affiliations and that would have come out. If you do that, it weakens your case, and the jury would think you're lying."
Niehoff also says that his decision was found to be appropriate during appeals that argued Williams had ineffective assistance of counsel.
"It was adjudicated twice that Mr. Williams received effective assistance of counsel, both by the circuit court and also in the federal courts," Niehof says.
In addition, a review of the case required another judge to hear testimonies from the witnesses who weren't called to decide whether Niehoff made a "reasonable" decision not to call them to the stand.
"A judge heard them and had to make a decision whether or not my decision was reasonable under professional, reasonable standards, and found that it was," he says.
For Bukowsky, the problems with the prosecutors and defense attorney in the original trial was exacerbated by what she sees as a lack of investigation into the murder. She says the investigative report were thin -- about twenty pages -- and had several inaccuracies, including a witness statement which the witness apparently denied ever making.
See also: Man Sues Police for Imprisoning Him for the Wrong Crime. Twice.
"I don't know why they were so reckless with one fourteen-year-old's life and did such a pitiful investigation into one fourteen-year-old's death," Bukowsky says.
For Robinson, it hasn't been easy to grow up with a father who can only be seen during short intervals on the weekend.
"You have to go to these different cities where he is to visit him for an hour or two, and then it's back to reality: He's not at home, he's not here," Robinson says. "And then another week goes by, we might go back and see him for another hour or two, and then it's back to that same reality."
With the appeals and the hearings leaning towards Williams' release, the past year has been stressful for Williams' family, but Robinson is optimistic about the outcome.
"It's like a roller-coaster. At one moment, we think he's coming come, and then the next moment..." Robinson's voice trails off as he shrugs. He continues: "But we're ready to get off that roller-coaster. It seems like everything is going good, everything is gonna take that right turn."
Follow Ray Downs on Twitter:
E-mail him at Ray.Downs@RiverfrontTimes.com.