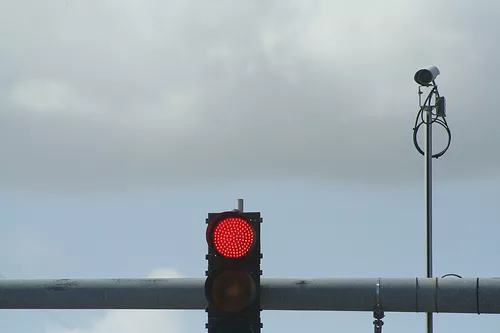 Sorry, St. Louis, but these probably aren't going away anytime soon.
After rejecting seven other red-light-camera cases, the Missouri Supreme Court has agreed to take the case against St. Louis and decide once and for all how the city should run its traffic-camera program.
The court isn't likely to eliminate the city's red light camera program, like a circuit court judge tried to do in February. Rather, the city expects the high court to clarify the state's muddled approach to the cameras.
"Conflicting Missouri Court of Appeals rulings have led to confusion on the proper enforcement of red-light cameras," says Deputy City Counselor Michael Garvin. "We are pleased the Supreme Court is willing to clarify the situation."
See also: Can This Simple Letter Get You Out of Paying a Red-Light or Speeding Camera Ticket?
The case, Tupper v. the City of St. Louis, comes from two women who were ticketed by red-light cameras even though they weren't driving the offending cars at the time.
Judge Steven Ohmer invalidated St. Louis' red-light-camera program earlier this year but then changed the ruling to allow the city to operate red-light cameras during the appeals process. Since then, all the fines collected from red-light runners have been held in escrow.
The state's highest court hasn't taken all the red-light-camera cases that have come its way, but it agreed in May to hear a speed-camera case from KMOX radio host Charlie Brennan.
St. Louis has unwaveringly defended its use of red-light cameras to catch drivers without dispatching officers to wait at intersections. The number of citations issued in intersections with cameras decreased 63 percent from May 2007 to November 2013, according to the city. More than 80 percent of drivers who get a ticket do not get a second one.
See also: Red Light Cameras Capture St. Louis' Worst Car Crashes of 2013: Video
"I believe that the cameras are a valuable public-safety tool," says St. Louis Metropolitan Police Chief Sam Dotson. "Red-light safety cameras have saved lives, reduced crashes and improved driving behavior in St. Louis and across the state."
Plus, the cameras are a real moneymaker. The city brought in $32 million in red-light tickets as of February, minus the $10.2 million that goes to the camera operators, American Traffic Solutions, according to the St. Louis Business Journal.
Follow Lindsay Toler on Twitter at @StLouisLindsay. E-mail the author at Lindsay.Toler@RiverfrontTimes.com.