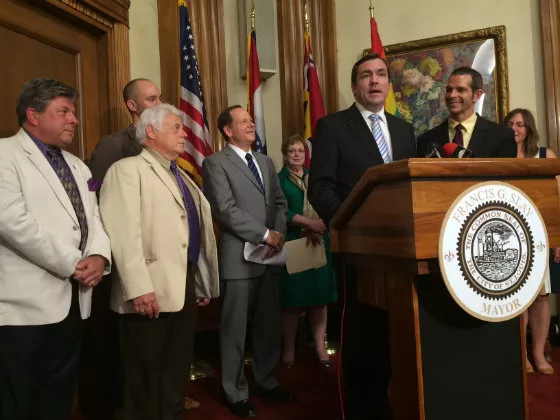 Tod Martin and his new husband David Gray at City Hall. | Lindsay Toler
Update 10:30 a.m.: The other shoe drops -- Attorney General Chris Koster responds to the city's actions. See update below.
If any city in Missouri is going to directly challenge the state's ten-year-old constitutional ban on same-sex marriage, it's St. Louis.
That was the message from St. Louis mayor Francis Slay Wednesday night when four gay couples married in his office, invoking what's sure to be a lengthy legal battle from Attorney General Chris Koster.
Slay says St. Louis' gay couples shouldn't have to "wait forever for a wave of tolerance to sweep up the Mississippi River." Since restricting the right to marry violates the U.S. Constitution, Slay says, he ordered the city's recorder of deeds to issue marriage licenses in spite of the Missouri Constitution's explicit ban against same-sex marriage.
Before she signed the marriage certificates, Sharon Carpenter, recorder of deeds for St. Louis city, asked for legal opinions from Winston Calvert, city counselor, and from Michael Wolff, dean as Saint Louis University Law School. Both lawyers told Carpenter that it's her duty as a public official to uphold the U.S. Constitution over the state's if Missouri's rules are found to be discriminatory.
"Many of Missouri's prior attempts to interfere with the freedom to marry have been invalidated as unconstitutional," including bans on interracial marriage and interfering with prisoners' rights to marry, Calvert told Carpenter. "Courts throughout the country have invalidated state marriage laws like Missouri's by holding that there is not even a rational basis -- much less an "important" reason -- for a state to discriminate against gay men and lesbians by denying them the right to marry."
See also: ACLU And Eight Gay Couples Sue Missouri Over Same-Sex Marriage Ban
Richard Eaton and John Durnell married Wednesday night after a 39-year engagement. Three other couples were also married: Tod Martin and David Gray (together 22 years), Miranda Duschack and Mimo Davis (four years), and Bruce Yampolsky and Tarry Garrett (30 years).
Here's a video profile of Eaton and Durnell's nuptials -- warning, it's a tearjerker:
John + Richard from Rue De La Vie on Vimeo.
"As state court after state court has deemed barring couples to marry under the law unconstitutional, it is time to make a stand," says Carpenter. "It is time to show that the people of St. Louis support equality and will fight for it. This is not a decision I have made lightly, but it is a right that must be defended. St. Louis stands with those who stand for love."
Slay has long been an advocate for allowing same-sex marriage. Just this week he co-signed a resolution with the U.S. Conference of Mayors supporting the freedom to marry.
See also: Mayor Francis Slay Says LGBT Issues Will Be a Priority in Historic Fourth Term
"Make no mistake about it, I, and all of us standing here, are doing this to force the issue and to get the law settled for everyone who wants to get married in the state of Missouri," Slay says. "If we weren't doing this, no other city in Missouri would."
In related news, yesterday the federal appeals court in Denver struck down as unconstitutional Utah's ban on same-sex marriages.
Update 10:30 a.m.: Here is a statement from AG Chris Koster's office -- unsurprisingly he's asking the marriages be halted.
While I personally support the goal of marriage equality, my duty as Attorney General is to defend the laws of the state of Missouri. While many people in Missouri have changed their minds regarding marriage equality, Missourians have yet to change their constitution.

Cases currently pending in Jefferson City and Kansas City regarding the constitutionality of Missouri's ban against same-sex marriage will be decided in the coming months. Regardless of my personal support for marriage equality, such vital questions cannot be decided by local county officials acting in contravention of state law.

Therefore, I have asked the St. Louis Circuit Court to prevent the St. Louis City Recorder of Deeds from issuing such marriage licenses until this matter can be resolved by our state's judiciary. This question will likely be fully answered by our Missouri courts within the next 12-18 months.
Follow Lindsay Toler on Twitter at @StLouisLindsay. E-mail the author at Lindsay.Toler@RiverfrontTimes.com.