These guys have a clear case of World Cup fever.
Uh oh, you don't look so good. You aren't feeling well, huh? Looks like you've come down with Soccer-itis. Time to call in to work.
Now that that's done, let's talk about the only cure for the fever you've caught: watching the U.S. take on Germany in the 2014 FIFA World Cup at 11 a.m. Thursday. If you're feeling guilty about taking time off work to watch the game, we have a few motivational reminders:
1. We could win.
America hasn't exactly been playing well, but we're clutch when it counts -- like when John Brooks headed in that winning goal against Ghana in the 86th minute. In a major tournament like this, momentum and drive matter just as much as technical skill, and U.S. players are showing again and again that they believe they've earned a spot in the next round of the World Cup.
If we win or draw, we automatically advance to the knockout stage. And we really could win -- not because we're better than Germany, but because this is sports and ANYTHING IS POSSIBLE.
See also: Vedad Ibisevic, Who Grew Up in St. Louis, Scores Bosnia's First-Ever World Cup Goal
2. We could advance to the next round even if we lose.
The math gets really confusing, but depending on how many goals the U.S., Germany, Ghana and Portugal score today, the U.S. could make it to the round of sixteen, even with a loss. Rather than list them out, here's a handy chart:
3. We could also get spanked.
It won't be fun to watch America get schooled by the Germans in a blowout game, but if that happens, you owe it to your country to witness it. We're all in this together.
4. Germany will put up a fight.
The Germans want to advance as badly as the U.S. does, and they especially want to beat America's coach, German-born Jurgen Klinsmann. Tension is building, and it could make for some explosive soccer. England and Spain are already out, and Germany doesn't want to be the next Western European sports powerhouse eliminated.
5. There are plenty of amazing places in St. Louis to watch the game.
Lindsay Toler
The outdoor bar at the Amsterdam Tavern.
If you're willing to get there early, there's no better place to watch the U.S. men's national soccer team play than the Amsterdam Tavern. It's like Game 6 of the 2011 World Series every time. If we win, expect to get covered in beer.
If you're not die-hard enough to join in at the Amsterdam (don't worry, few are), we have some other suggestions:
See also: The 7 Best Places to Watch the 2014 World Cup in St. Louis
6. St. Louis, and the country, will be watching.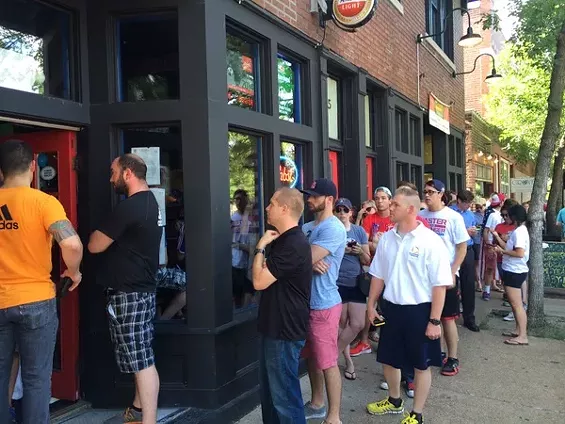 Lindsay Toler
The beginning of the line at the Amsterdam Tavern for the first U.S. World Cup game.
More St. Louisans watched the U.S. World Cup game against Portugal on Sunday than watched the Cardinals game. That's impressive. Across the country,
26 million Americans watched Sunday's game
, which is an astronomically huge number for soccer viewership in the U.S.
7. There's lots of eye candy.
In addition to being stellar athletes, some of these soccer players are downright lust-worthy. Buzzfeed has so many listicles objectifying these athletes' strapped bods that it inspired a listicle all its own.
Obviously, Daily RFT is rooting for America to win today...but we're also rooting for the Germans to take their shirts off. A scroll through their Instagrams may show why:
8. It'll make you a better employee.
If your boss catches you at the Amsterdam today when you were supposed to call in sick, just point him or her to this Forbes article "Watching the World Cup Will Increase Office Productivity." Neal Taparia, CEO of Imagine Easy Solutions, says watching the tournament is good for morale and a great icebreaker for talking with clients. So you're not skipping work -- you're investing in results-oriented production!
Follow Lindsay Toler on Twitter at @StLouisLindsay. E-mail the author at Lindsay.Toler@RiverfrontTimes.com.