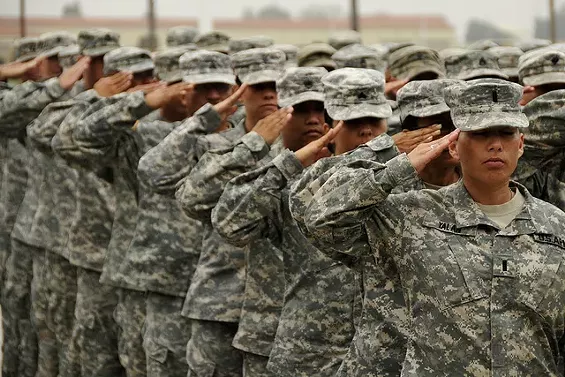 CAGuard via Flickr
A gay pride event for soldiers at Fort Leonard Wood launched an anti-LGBT tirade from a local journalist.
For the first time ever, Fort Leonard Wood, a military base in Missouri's Ozarks region, is hosting an LGBTQ Pride event -- something that would have been unthinkable (and illegal) in the days of Don't Ask, Don't Tell.
But you won't hear about it from the Pulaski County Daily, the small-town paper that covers the base.
Why? Three reasons:
Because owner and reporter Darrell Maurina doesn't approve of homosexuality. Because Maurina refuses to anger his mostly conservative readership with a story they don't want to read anyway.
But also -- and this is downright scary -- because after years of closely covering the base, he strongly believes the military will punish any soldiers who come out in the media as gay.
See also: "Don't Ask, Don't Tell" Is Dead. How Did Our Congresspeople Vote?
"I will tell you straight up, in the real world, anybody who is perceived for whatever reason as not with the picture, not a team player, not just with sexuality but with many things, any time somebody is viewed as being out of step with the mission -- you run the risk of a sergeant or a commander who may not look on you as favorably as he should," Maurina tells Daily RFT.
"There are so many things you can do to harm people's careers without officially stating the reason. No matter what the regulation says, sometimes if they're looking for a reason not to like you, they can find a reason even if the official reason is not allowed.... A commander in the army has so much more power than a boss has in the business world."
Maurina's allegation that military brass punish gay soldiers in a post-Don't Ask, Don't Tell world is worrying, especially because the commander in chief of the U.S. Army has done so much to advance gay rights that the media has taken to calling him America's first gay president. But it's particularly terrifying from Fort Leonard Wood, which kicked more gay soldiers out of the military in 2006 than any other base, according to the Associated Press.
Maurina insists that even in 2014, coming out as gay can damage a soldier's career -- especially in the county formerly represented by Ike Skelton, the U.S. Representative who helped craft Don't Ask, Don't Tell.
"I don't see a reason to take a small event that probably most people would never have paid much attention to and turn it into an event that will get far more attention than it would have gotten before I show up," Maurina continues. "How does that help people who want to see more lesbians in the military? What it does do is, it hurts people and prevents them from being able to publicly advocate their viewpoints."
Why did Maurina even make his feelings about gay people public? And why is he so against homosexuality? Find out on page two. Maurina never needed to make these feelings public, but a stray question on his Facebook wall launched him into an honest tirade, starting with this geographical notion he posted on his wall: "Promoting 'Gay Pride' in Pulaski County: This isn't San Francisco."
Maurina says he has "religiously based objections to homosexual practice," though he admits that gay soldiers -- like Command Sgt. Maj. Teresa Duncan, who is speaking at the base's pride event -- should have the right to their identity according to the law.
"They won, end of issue," he says. "They have the right to their views. They have the right to advocate their views. They won several years ago, and therefore I have no problem whatsoever with this sergeant major advocating what our law says she has the right to advocate."
See also: Ike Skelton: Overturning "Don't Ask, Don't Tell" Not Family Friendly
Maurina knew opening up about his feelings on LGBTQ rights would be contentious and inflammatory. So why did he?
Maurina tells Daily RFT that he has two types of readers: ultra-conservative, not gay-friendly military officials, department of defense civilians, spouses and townsfolk who would revolt if he wrote about an LGBTQ event; and liberal, gay or straight-ally readers who understand a reporter can disagree with the subjects he or she covers.
Maurina says he knows what would have happened had he covered the event. "It would have been mean. It would have been nasty. And I would have gotten hammered. I'd rather have it this way, where I'm dealing with people who will listen to me."
Maurina's insultingly infantilizing view of his readership aside, it appears he "got hammered" anyway by people fighting back against his stance on covering the pride event. His Facebook post explaining his reasoning has more than 1,000 comments -- including from Pulaski County residents who say they have no problem with gay pride.
"You can pick and choose all you want, but it lessens your credibility as a journalist," comments Phil Herndon, whose Facebook profile says he's from Dixon. "But go ahead. Sit behind your computer. Judge on her choice, not her voice, and continue to represent just one side. It's the journalism America has grown used to anyway. You should be eager to report unbiased news so the public can make its own decision, or did you forget what reporters do?"
In the end, Maurina says he's still not sure if he'll cover Fort Leonard Wood's LGBTQ pride event. As he's said all along, he'll cover it if other journalists do.
After all, the event's speaker, a command sergeant major and soldier for 23 years, deserves the respect she's earned, Maurnia says.
"I may not agree with the command sergeant major's lifestyle choice, but I respect her choice to join the U.S. Army, and she deserves to be commended for doing that and for following the rules under Don't Ask, Don't Tell that let her get to her current rank."
The Fort Leonard Wood Pride Month Celebration Luncheon will start at 11:30 a.m. Monday, June 30, at the Fort Leonard Wood USO Club. Tickets are $10. For more info, call 573-569-0601.
Follow Lindsay Toler on Twitter at @StLouisLindsay. E-mail the author at Lindsay.Toler@RiverfrontTimes.com.