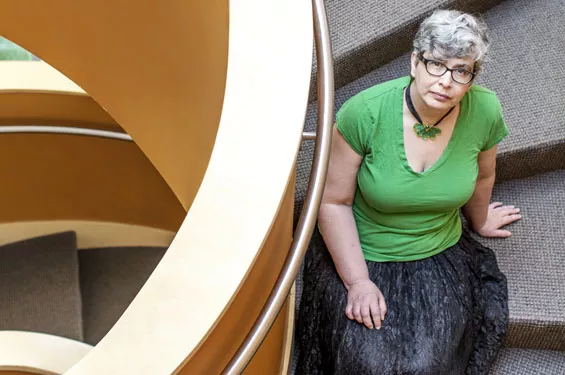 Jennifer Silverberg
St. Louis mother and first-time novelist Ann Leckie has already won two of science fiction's most prestigious awards this year.
Ann Leckie shuffles the stack of rejection letters she has spread across a small wooden table. Seated in an engulfing armchair in the foyer of the Webster University library, the gray-haired 48-year-old peers down at them through a set of bookish, black-framed glasses. She's soft-spoken and almost shy, but there are subtle hints that she is not a typical suburban mother of two — like her glittery, bright-orange lacquered toenails under the table, for example.
"This one's my favorite," Leckie whispers at a library-appropriate volume. She slips out a sheet bearing the all-caps letterhead of Analog Science Fiction and Fact.
"'Dear Mr. Leckie,'" she recites. "'Thank you for giving us the opportunity of looking at this manuscript, but I have found it not quite suitable to our present needs.'"
She laughs.
"I'm sure it was just a typo," she says.
Back then Leckie was struggling to publish anything, anywhere; it was a time when her few successes included a non-bylined bodice-ripper for True Confessions called "He's My Lover On The Telephone But I've Never Seen His Face." She penned many of these early works at one of the sunlit tables on the third floor of Webster University's library.
"My rule," Leckie says, "was that when I got a rejection, I had to send the piece back out the same day. I always knew the next place it was going to go when it was rejected."
Leckie — who has lived in St. Louis almost her entire life — has the luxury of laughing at these past failures. That's because her 2013 debut novel, Ancillary Justice, is one of the most critically acclaimed science-fiction books to come out in recent history and she's poised to become the genre's next big star. Leckie estimates it has sold 30,000 copies so far, and it's been translated into ten languages.
Athena Scalzi
Sci-fi blogger and author John Scalzi is a big fan of Leckie.
"Part of it has to do with who she is," says John Scalzi, author of the popular science-fiction blog Whatever. "She is Ann Leckie, she's a woman, a mother who spent time raising her kids. She has the background in music. All of that came together to create a voice that is unique. That's one of the reasons Ancillary Justice is doing so damn well with the awards this year. Everybody gets it. This is a singular voice."
Just five weeks ago Leckie walked onstage in a San Jose Marriot to receive the Nebula Award for Best Novel, an honor that's been stamped on the covers of science fiction's greatest works for the past half century. The Science Fiction & Fantasy Writers of America, the preeminent literary society in the United States for the genres, selects the winners by membership vote every spring. Just a couple of weeks before that, Leckie's UK agent accepted the Arthur C. Clarke Award on her behalf at the Royal Society in London. A panel of judges named her book the best novel published in England in 2013.
"I can talk easily about what I did yesterday morning or what I had for dinner last night.... But when I get to the part about winning the Clarke, I mostly just say, 'Oh, my God' a lot, with an occasional, 'Holy fuck,'" Leckie wrote that night on her blog.
Next, Ancillary Justice is up for a Hugo Award, which will be voted on by the members of the World Science Fiction Convention in August. Founded in 1953, the Hugo is the oldest and arguably most prestigious mark a science-fiction novel can attain.
The Nebula, Arthur C. Clarke and Hugo awards are the Triple Crown of science-fiction writing. If Ancillary Justice claims the Hugo, it will become the first novel to win all three. After years toiling in obscurity, Leckie's given up trying to wrap her mind around how quickly she and her gun-slinging, galaxy-traversing heroine, Breq, have climbed to critical and popular adoration.
"It's like lightning striking," she says.
Even without the Hugo, Ancillary Justice — a so-called "space opera," a term for sweeping intergalactic epics like Star Wars — has received glowing praise for its deftly feminist approach to language and treatment of gender. The book has drawn comparisons to the best works of Ursula K. Le Guin, C.J. Cherryh and Iain M. Banks. Leckie's publisher, Orbit Books, has already signed her to complete a trilogy set in the same universe.
Leckie's success — and the fact that it was achieved with a novel that not only has a strong female protagonist, but also refers to all of its characters, male or female, as "she" — comes at an interesting time. Barely a year ago the science-fiction community was tearing itself apart over sexism allegations. Seemingly in response, the 2013 Nebula Awards marked the first time in its nearly 50-year history that all of the winners were women.
Despite that fact, Leckie knows this is not the only time that her literary community has struggled internally with issues of gender and equality.
"Sometimes I feel kind of cynical about it," she admits. "I would love to think that this is a sign of critical mass."
Like many literary genres, science fiction is facing a rolling identity crisis concerning how it treats the growing number of women in its ranks. On one hand, the genre was arguably created by Mary Shelley's Frankenstein in 1818. However, the golden age of science fiction is considered the 1940s and '50s, when Issac Asimov, Arthur C. Clarke and Robert Heinlein — who was the first recipient of SFWA's "Grand Master" title, author of Stranger in a Strange Land and a native Missourian — wrote of indomitable heroes fighting galactic conflicts. The canonized, celebrated authors of this era were decidedly white and male.
The first Nebula was given to Frank Herbert's Dune in 1966. Over the next thirteen years, only two awards for Best Novel went to a woman — both to Ursula K. Le Guin. That trend began to change in the late 1980s as more and more women began publishing. Since 2000 the gender split for Nebula winners, which is also awarded for novellas and short stories, has been about 50-50. But that hardly means we've arrived at a post-sexism literary world.
"There were a lot of male writers out there who were really excellent feminists in 1975. But it's not 1975 anymore," says Scalzi, a Hugo Award winner and former president of the SFWA. "So what happens is, people had a tendency to believe that once something happens then it's settled, and we can all move forward. But nothing is ever settled."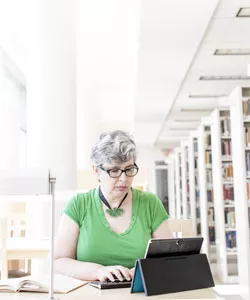 The rising number of women and minority writers is forcing science fiction to challenge itself, says Nora Jemisin, a finalist for the Nebula and Hugo awards many times over. By way of her blog and convention appearances, Jemisin frequently calls on writers and fans to confront the genre's inequality toward women and minorities.
"Science fiction and fantasy, like most geek fields, have for decades shielded themselves from discussions of bigotry by saying, 'Hey, we're the ones who got beat up in high school, we're the excluded ones,'" she says. "That was a blatant lie."
Geek camaraderie may have also created a culture that is uncritical of itself, says author Steven Gould, who's approaching his second year as president of SFWA.
"We have a long history of trying to be very accepting, and by accepting I mean tolerant of each other," Gould says. "But sometimes that meant we were tolerant of behaviors that we probably should not have been."
The results have been ugly. A handful of recent, well-publicized reports of men groping or stalking women at conventions — like Readercon and WisCon, the feminist science-fiction convention — mobilized many organizations, including SFWA, to institute their own anti-harassment policies. But the problem persists. Leckie herself was alarmed to see a "serial harasser" who'd been previously banned from other conventions for his behavior freely wandering the floor at this year's WisCon.
"Today's discussions feel like replays, like we're going over the same ground over and over again," she says. "I would love to be able to say that the all-women slate of Nebula winners for fiction was some sign of dawn of equality and utopia for everyone to come. Certainly, it's a hopeful sign."
If you're going to do something that crazy, save it for when it will make a difference. —Ancillary Justice
Ancillary Justice is a multi-narrative beast of a novel. The plot follows Breq, the last survivor of a 2,000-year-old troop carrier called the Justice of Toren. Actually, in a way, Breq is the Justice of Toren — she was an artificial intelligence living within the ship filled with officers and soldiers. Along with its human crew, the Justice of Toren transported thousands of human corpses, or "ancillaries," which can be revived under control of the ship's AI. Breq reanimated and was inhabiting one of these dead soldiers when the Justice of Toren was blown to smithereens. The book follows Breq in her vengeful quest to find out who destroyed her ship, haunted by the memory of her crew "whose every breath, every twitch of every muscle, was known to me."
The opening chapters also reveal the novel's other twist, which is that Breq's culture, the Radchaai, do not distinguish gender. All the characters are by default a "she," like in this passage when Breq enters a none-too-friendly tavern on a frozen, human-inhabited world: "I turned to look at her, to study her face. She was taller than most Nilters, but fat and pale as any of them. She outbulked me, but I was taller, and I was also considerably stronger than I looked.... She was probably male, to judge from the angular mazelike patterns quilting her shirt."
"I just thought, 'Wouldn't it be cool to have a society that really, genuinely doesn't care about gender? That they have it, but it's just genuinely irrelevant? That would be kind of neat!'" says Leckie. "I had a lot of people say to me, who would have reason to know, 'You will never be able to sell this because of the pronouns.'"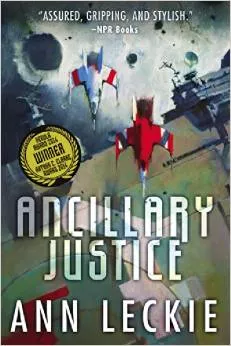 This complex, gender-bending world sprang from the mind of a former Catholic who says her religious parents were not always so keen on their daughter's nerdy predilections.
"My parents were not thrilled about the science-fiction thing," she says. "They were hoping I would outgrow it."
Leckie was born in 1966 in Toledo, Ohio. When she was one year old, her parents, both chemists, left Ohio for a two-family flat on Hartford Street in Tower Grove.
Leckie's parents always hoped she would become a writer but imagined she would pen "real literature." And they had some hang-ups about what it meant to be a female sci-fi fan.
"Of course I was a Star Trek fan," Leckie recalls. "I had bought this great big poster of Captain Kirk. I was going to put it up in my room, and my parents told me this horrible cautionary tale about a guy, a grad student who was a big Star Trek fan who wanted to put up a poster of Kirk in his living room. His new wife didn't like it."
The moral of the story, Leckie remembers, was that she should be careful about waving her nerd flag too high.
"Maybe I wouldn't find anyone who would want to marry me," she says bemusedly.
Yet for her fourteenth birthday, her parents bought a Brian Aldiss-edited anthology called Space Opera. They had "resigned themselves," she says, to her passion for the genre.
Leckie escaped the bullying and isolation she experienced in elementary school by binging on Andre Norton's young-adult novels, tales with space battles and wizards and sorcery. By the time she enrolled in Rosati-Kain High School she'd learned that her favorite author was born Alice Mary Norton. She began writing under the pen name "Andre" in 1936 to better appeal to adolescent male readers.
"It is interesting," Leckie says. "When you read something you think is by a guy and you discover it's not, it's a strange kind of experience. It's like there was a shift."
Leckie graduated from Washington University in 1989 with a degree in music, but what followed was a string of jobs that had little to do with her education. She became a waitress and hostess at the university's faculty club for nine years — likely where she perfected her frequent, disarmingly warm smile — before bouncing between temp jobs, even pulling a stint on a land-surveying crew. She married her husband David Harre in 1996, and they bought a house in Shrewsbury. (As it turns out, he is a huge Star Trek fan.)
Leckie gave birth to daughter Aiden in 1996, and then a son, Gowen, in 2000 and opted to stay home with them, though she also picked up part-time work as a substitute lunch lady. It turned out that motherhood inspired her to start writing — in a manner of speaking.
"I never actually really sat down and tried in earnest to be a writer until I'd been home with my kids a couple years and I felt like my brains were leaking out my ears," she says. "I love my kids, but it's really tough to spend all day with nobody but your kids to talk to, and especially when they're not talking yet. So I had to do something."
Leckie's first attempt at a novel came in November 2002. She was inspired by National Novel Writing Month — or NaNoWriMo — a yearly online writing initiative that communally motivates people to write a novel in just 30 days. Leckie successfully sketched the first outlines of the Radchaai empire in that exercise. The result — the earliest incarnation of what would become Ancillary Justice — is currently imprisoned in a desk drawer.
"It's very rough," says Leckie.
In 2005 she applied and was accepted to the prestigious Clarion West Writers Workshop, a six-week science-fiction and fantasy writing program in Seattle that accepts only eighteen students per year.
"That was a big decision she made to go there and leave us here in St. Louis for a while," says Harre, Leckie's husband. "That was something that let me know she was serious about this. [I just had to] jump in and support her."
Leckie and her classmates studied under legendary feminist science-fiction author and MacArthur Fellowship recipient Octavia Butler. After returning home, she began to write the novel that would eventually become Ancillary Justice.
"I would go back to it and abandon it, back to it and abandon it," she says, reflecting on the next six years wrangling the novel's complex narratives and heady themes. "It took me a long time to get up the courage to write it."
She began shopping around the finished product in 2012 and found an agent relatively quickly. Orbit Books snapped the novel up. But just before the deal was inked, Leckie says, her agent came to her with some suggested revisions. One of them was to ditch the confusing pronouns.
"I was like, 'No, whatever happens, I'm not going to change that. That's a deal breaker,'" she says. "I sent him this big, long e-mail, and he was like 'Oh. All right.'"
The novel hit shelves in October 2013 and almost immediately began to make waves.
"When I read Ancillary Justice with all the revisions in, it was the first book that I have read by one of my friends where I really felt like this could be part of a canon," says Rachel Swirsky, a fellow Clarion attendee and a 2013 Nebula winner. "It has the same feeling of weight as those very important early feminist books, like [Margaret Atwood's] The Handmaid's Tale. It's got that quality."
Leckie dedicated it to her parents.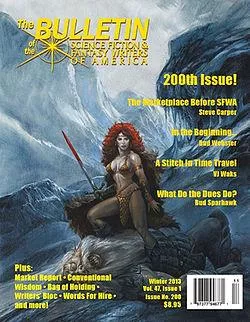 The cover that sparked a war over sexism in the sci-fi writer community.
In January 2013 the members of the Science Fiction & Fantasy Writers of America found (what for some) was an unpleasant surprise in their mailboxes: the 200th issue of the organization's flagship publication, The Bulletin. It wasn't so much the magazine itself that was disturbing as what was on the cover: an illustration of a female warrior in a chain-mail bikini. She's posed straddling the corpse of a freshly slain snow giant, wearing a vaguely sexual expression. It looks like the cover of a 1960s fantasy novel.
"When I got that issue I wondered if I had gone back in time," wrote fantasy and horror author Silvia Moreno-Garcia in a blog post responding to the cover. "For an official magazine of a professional writers association, couldn't we get, I dunno, something a bit more modern? More here and now? Less babes and chain mail?"
Ultimately, however, the content of the issue raised far more hackles than its cover. In their long-running joint column, Barry Malzberg and Mike Resnick — who both began their lauded careers as science-fiction writers and editors in the late 1960s — waxed nostalgic about the great "lady editors" they had known in decades past. At one point, Malzberg brought up an editor named Beatrice Mahaffey.
"She was competent, unpretentious, and beauty pageant gorgeous," he wrote. Resnick followed a few paragraphs later, concluding, "Anyone who's seen photos of Bea from the 1950s knows she was a knockout as a young woman."
"Which has what to do with her editing, Resnick?" tweeted one female SFWA member in response. "WHAT YEAR IS THIS?! Seriously, this SFWA Bulletin has me all backwards."
That feeling only intensified with the following issue, which included a baffling column praising Barbie as a lasting role model for girls: "Barbie got her college degree, but she never acted as if it was something owed to her, or that Ken ever tried to deny her. She has always been a role model for young girls...because she maintained her quiet dignity the way a woman should."
The situation reached a head with the cataclysmic May 2013 issue of The Bulletin, which contained an indignant non-pology from Malzberg and Resnick, calling the negative response to their column censorship and their critics "liberal fascists." Resnick: "All we did was appear in a magazine with a warrior woman on the cover, and mention that a woman who edited a science fiction magazine 65 years ago was beautiful."
The reaction was swift and wrathful. Fantasy writer, editor and active SFWA member E. Catherine Tobler resigned from the organization, explaining her actions in a blog post titled, "Dear SFWA."
"There was never a call for suppression. There was a call for respect," she fumed. "There arose the notion that women are people too; that, in a piece focusing on editors, one might speak of editing ability, of anthologies and magazines assembled, and not how one looked in a bathing suit. Surely such content didn't belong in a piece about editors? Were these such radical thoughts?"
Annaliese Moyer
Former SFWA vice president and Hugo Award winner Mary Robinette Kowal.
Former SFWA vice president and Hugo Award winner Mary Robinette Kowal wrote of the two columnists, "They have no power over women's roles in SF, not the way things used to be. But they do have the power to make an organization that I love look unwelcoming. They have the power to make people feel shut out."
In response to the outcry, then-SFWA president Scalzi announced a task force to examine how The Bulletin could be a more "valuable and useful part of the SFWA member experience." Then, The Bulletin's female editor, Jean Rabe, resigned (she declined to comment for this article). Scalzi announced the publication would be put on a six-month hiatus. Resnick and Malzberg were canned.
At the time of the fallout, Leckie was the official SFWA secretary, though her position granted her no editorial control of the magazine. She declined to comment directly on the turmoil (as did Scalzi). But it's clear she has some opinions on the matter.
"There is obviously a group that feels it's totally professional for the outward-facing magazine of the organization to contain a chat of how great it is that lady editors look hot in bikinis," she says carefully. "And then there's a number of writers who don't feel that's even remotely professional or appropriate."
Other women in the community aren't as restrained about the debacle.
"I don't see a light at the end of the tunnel any time soon. At this point I think we're about to go into the worst of it," says Nora Jemisin. "If I may be melodramatic, all this anger and discussion reflects a struggle for the soul of the organization, which is in turn reflective of a greater struggle for the soul of the genre."
As the controversy raged on — reaching a particularly low point when a long-time SFWA member called Jemisin, who is African American, an "ignorant half savage" —
Ancillary Justice
was building steam. National Public Radio called it "gripping and stylish" and "an absorbing thousand-year history, a poignant personal journey, and a welcome addition to the genre."
"It's not every day a debut novel by an author you'd never heard of before derails your entire afternoon with its brilliance," raved Tor.com's Liz Bourke in her review, ranking the book among the best space operas ever written.
The Gawker-owned science and science-fiction blog i09 dubbed it the "mind-blowing space opera you've been needing," and the Guardian called it "thrilling, moving and awe-inspiring."
Jennifer Silverberg
Leckie is finishing the second part of the trilogy, Ancillary Sword. It's due out this fall.
Four months after its release, the book began collecting award nominations. Then it started winning. First, in March, it won the 2013 Kitschies Golden Tentacle award for best debut novel. Next it took the award for Best Novel from the British Science Fiction Association. From there, Ancillary Justice was off to the races — and the Nebulas.
The effects of last summer's SFWA shake-up couldn't have been more clear than at the Nebula ceremony on May 17, 2014. The emcee was a woman — something many of the authors in attendance took note of — and she wore a tuxedo. The event was layered with milestones: SFWA named Samuel Delany its 30th Grand Master, the first black and openly gay recipient of the honor. Frank M. Robinson, another openly gay science-fiction writer whose résumé includes penning speeches for Harvey Milk, was also honored that night. Then the female authors began to win.
"There are certainly going to be those muttering darkly about a 'feminist cabal' that voted en masse to make a point," says Scalzi. "I think that is stupid and not actually what happened. I think what actually happened was we had a lot of excellent writing this year by women in science fiction and fantasy. All the women won because they deserved to win."
At the tail end of the night, the audience sat quietly and expectantly in the darkened ballroom. Stan Schmidt, an elderly, dour-looking editor made his way to the podium. Schmidt edited Analog Science Fiction and Fact from 1978 to 2012. In 2007 he penned a rejection letter addressed to "Mr. Leckie." This time, from the podium, he got her name right.
"The Nebula for a novel goes to Ancillary Justice, by Ann Leckie," he read, launching the crowd into thunderous applause.
Hugging her Clarion friends and fellow female winners all the way, Leckie — dressed in a shimmering red gown — ascended the stage and took the block of transparent Lucite, embedded with a spiraling glitter nebula and gemstone planets.
"It's an astonishing thing to find that something you've written has connected with other readers," she told the crowd. "I am beyond delighted and amazed. Thank you all so, so much."
Today, Leckie is back in St. Louis and writing full-time. Last week, she sent her editors the final proof of the second book of the trilogy, Ancillary Sword. It's slated to be in bookstores in October. She'll travel to London in August for the Hugo Award ceremony.
She says she's as surprised by her own success as she is by the fact that it occurred in conjunction with so much controversy about gender and the treatment of women in sci-fi.
"It's part of the reason I was so astonished at the novel's reception, because I knew about all these conversations and arguments," she says, leaning back in the orange wingback chair in the Webster University library, her old rejection letters in front of her.
She says she hopes at the very least she can inspire other science-fiction authors to think differently about the role of female characters and about gender in general.
"What I hope is that publishers and editors say, 'Well, Ancillary Justice did pretty well, maybe we can take a risk.' And what I really hope is that a bunch of writers look at my book and say, 'She didn't go far enough.'"