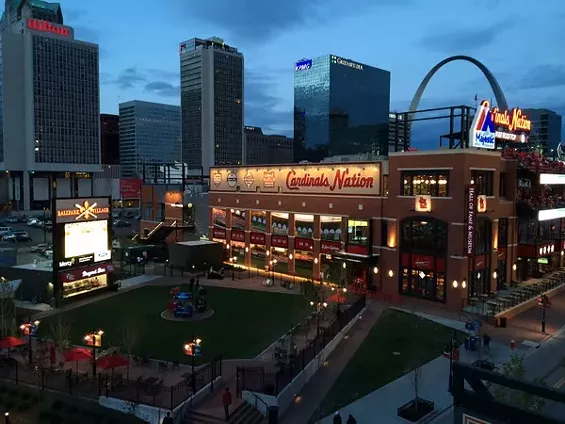 Lindsay Toler
The robbers attacked their victims between Ballpark Village and the Hilton St. Louis at the Ballpark.
Ballpark Village has become one of downtown's most bustling late-night areas, but four armed men tried to take advantage of that early Monday morning by robbing revelers at gunpoint.
Four gunmen -- including one in a gray hooded sweatshirt -- driving a red, mid-1990s model Chevrolet Blazer and temporary Illinois tags stuck-up and robbed several people in a ten-minute span around 12:30 a.m. Monday morning, according to police.
See also: Ballpark Village's Late Night Dress Code Basically Bans All of St. Louis
The first call came at 12:24 a.m. from a man and woman reporting a robbery in the 2100 block of Lucas Avenue, according to the St. Louis Post-Dispatch.
Then, police got two more calls for help. At 12:31 a.m., five men walking along Broadway near Ballpark Village reported they were robbed by three men, one who was holding a pistol. Four minutes later, a man and his girlfriend reported a robbery by gunmen matching the same description in the 2000 block of Delmar Boulevard, about a six-minute drive northwest through downtown from Ballpark Village.
Police haven't released many details on the robberies yet, but Daily RFT will update this story as more information and the police reports become available.
Follow Lindsay Toler on Twitter at @StLouisLindsay. E-mail the author at Lindsay.Toler@RiverfrontTimes.com.