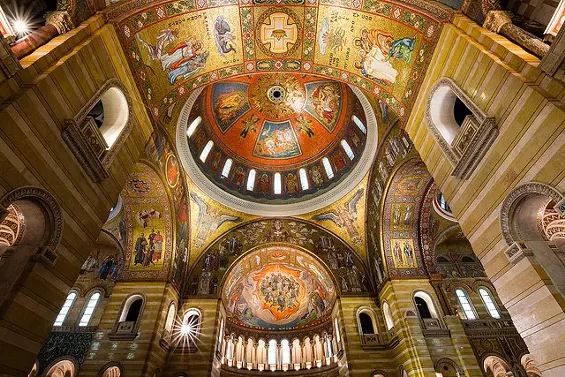 Inside the Cathedral Basilica.
The Cathedral Basilica's breathtaking beauty and world-class mosaics propelled the 100-year-old cathedral to become the top landmark in St. Louis and the 11th best in the country, according to travel site TripAdvisor.
Here in St. Louis, the basilica beat out Forest Park, the Fox Theatre, the Missouri Botanical Garden, the City Museum, Busch Stadium and every other local tourist attraction thanks to TripAdvisors' users, who review each local landmark. Cathedral Basilica also ranked No. 11 on a list of U.S. landmarks, coming in behind No. 10, Washington D.C.'s Korean War Veterans Memorial, and No. 12, the Brooklyn Bridge.
See also: Saint Louis Zoo Named No. 2 in USA Today Poll, No. 1 in Our Hearts
TripAdvisor analyzed the quantity and quality of user reviews for landmarks nationwide over the last year to make its lists. That means the rankings are largely based on what visitors and tourists said about the cathedral online, not on critical reviews or ticket sales.
The Cathedral Basilica, home to one of the largest collections of mosaics in the western hemisphere, is celebrating its 100th anniversary this year. Construction ran from 1907 to 1914, and craftsmen installed the final mosaic in 1988.
"As we celebrate the 100th anniversary of the Cathedral, we are humbled that the Cathedral Basilica of Saint Louis has been named the 11th best landmark in the country, and ranked No. 1 landmark in St. Louis," says Nicole Heerlein, communications specialist for the cathedral. "We are grateful to all who have visited and provided such glowing reviews. We look forward to welcoming all future visitors in our next 100 years."
Despite its impressive grandeur, the cathedral is famously more popular with religious tourists than with everyday St. Louisans, though locals flocked there in January 2013 to say their last goodbyes to Stan "The Man" Musial after his death.
Masses, tours, a gift shop and the mosaic museum are all open and available daily.
Follow Lindsay Toler on Twitter at @StLouisLindsay. E-mail the author at Lindsay.Toler@RiverfrontTimes.com.