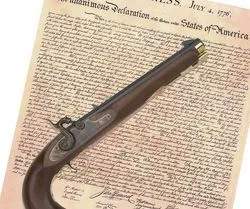 A proposed Missouri constitutional amendment would beef up state gun laws to match the "unalienable" rights in the Declaration of Independence, and that's setting off alarm bells with St. Louis Police Chief Sam Dotson and Circuit Attorney Jennifer Joyce.
Both have filed lawsuits targeting state legislators for misrepresenting the amendment on the August 5 primary election ballot. The ballot includes the question: "Shall the Missouri Constitution be amended to include a declaration that the right to keep and bear arms is a unalienable right and that the state government is obligated to uphold that right?"
"It doesn't tell voters that 140 years of law is going to be wiped out," says attorney Burt Newman, who filed Joyce's motion on Wednesday. "People have a right to know."
See also: Police Nab Suspects in Merciless Nerf Gun Drive-By Shooting
The problem is that the actual constitutional amendment, Senate Joint Resolution 36, does a lot more than instruct Missouri to declare its eternal love for existing state gun rights: If the amendment passes, the right to bear arms in Missouri would include concealed carry and "ammunition, and accessories typical to the normal function of such arms."
However, Newman says, the most troubling part of SJR 36 is the provision that would apply a "strict scrutiny" level of protection to all gun laws, meaning that anyone trying to strike down or regulate existing gun rights would face the highest level of legal opposition from Missouri judges. But neither this detail nor the words "strict scrutiny" are anywhere to be found in the question posed to voters on the ballot.
"It doesn't point out to voters the seriousness of this amendment and how it's going to elevate gun laws to a status that is almost beyond any right we have as citizens," says Newman. He expects most voters would look at the ballot's question and assume it simply reaffirmed Missouri's present laws.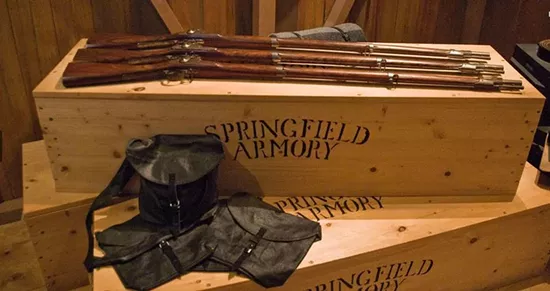 Flickr/RonCogswell
Missourians didn't need "unalienable" state gun rights in the 1870s, back when these rifles were cutting edge.
The ballot measure's truth-in-advertising problems have attracted high-level opposition among the state's criminal justice officials as well as gun regulation activists. Jackson County Prosecutor Jean Peters Baker also joined Joyce's lawsuit this week, while St. Louis Metropolitan Police's Dotson filed similar motions last week alongside Rebecca Morgan, a member of the Missouri chapter of Moms Demand Action for Gun Sense in America.
Dotson's lawsuit points out that when SJR 36 didn't include the "strict scrutiny" provision when it was introduced, but the bill's sponsor, Republican Senator Kurt Schaeffer, didn't update the ballot question after it was added later in committee.
The lawsuit also suggests people could assume that Missouri has no existing law protecting the right to bear arms:
The right to keep and bear arms is a long-established right in the Missouri Constitution's Bill of Rights, and the summary statement will mislead voters to believe that there is no current right to keep and bear arms in the Missouri Constitution...Government is already required to follow the Missouri Constitution - the proposed amendment changes nothing in that regard. The inclusion of that statement in the summary statement is misleading.
The lawsuits don't challenge the amendment on the merits, because it's not really possible to legally fight against a public vote that's already been passed by the legislature.
However, if Missourians do pass this amendment, all gun laws -- including proposed laws, like the one that would eliminate cities' ability to ban open carry -- would become "unalienable" rights protected by the court's powerful measure of strict scrutiny. If an open-carry law passes, Newman says, we're basically stuck with it.
"If this amendment becomes law," he cautions, "the state of Missouri would have a wide-open field for gun laws, probably unsurpassed by any other state in the union."
Follow Danny Wicentowski on Twitter at @D_Towski. E-mail the author at Danny.Wicentowski@RiverfrontTimes.com