US Postal Service
Weed's here!
Police in St. Ann claim that legalized marijuana in other states are causing a big influx of weed to come into the area. But even if that's true, is it really a bad thing?
Stories like this pop-up around the country every few weeks. And ever since marijuana laws have progressed more towards sanity in states like Colorado and Washington, the threat that more weed will come into places where it's not legal has been a common complaint for people opposed to legalization. But whether or not legal weed in Colorado is making its way to St. Louis through the mail, it's never really explained why this is worse than illegal weed getting here from other places.
In fact, despite that whole federal crime for mailing controlled substances over the postal service, it's probably better. Much better for these five reasons:
1. Getting Weed in the Mail Is Safer Than Getting Weed On the Street
When it comes to obtaining illegal substances, there's always a risk something can go wrong as a result of the product's prohibition, whether it's something extreme like getting shot during a SWAT raid or simply getting some really bad weed that gives you a headache for the rest of the day.
And because weed is illegal in Missouri, obtaining it makes yourself open to more risks. But getting weed in the mail? It's illegal, sure, but the product is safe, professionally-grown and brought directly to your door. That's even less risky than buying a bag from your trusted green-thumbed neighbor -- because growing and selling marijuana is a serious felony in Missouri and SWAT teams really do bust down doors and shoot guns for a little weed.
See also: Video Released of Columbia Cops Shooting "Aggressive" Dogs in Marijuana Raid
2. Mail-Ordered Weed Would Help Keep the Post Office in Business
US Postal Service
Weed mailed by the pound = $$$ for the Postal Service
Despite the cost of stamps rising every other week, the post office manages to lose a lot of money. In 2013, the USPS was $5 billion in the hole. No wonder it's always talked about being on the verge of collapsing, which would sadly result in the loss of thousands of the last, decent-paying blue-collar jobs in America.
But one way to prevent your mail-person from having to go work for Walmart for $8 an hour would be sending weed in the mail.
Mailing a 10-pound brick from Denver to St. Louis costs between $28 and $73, depending on how fast you want it. That's a pretty good take for the USPS, and would likely help the rain, sleet, or snow people stay open.
See also: A Dog-Eat-Mailman World and City Health Director Wearing MilkBone Underwear 3. Importing Legal Weed from Colorado Keeps Jobs in America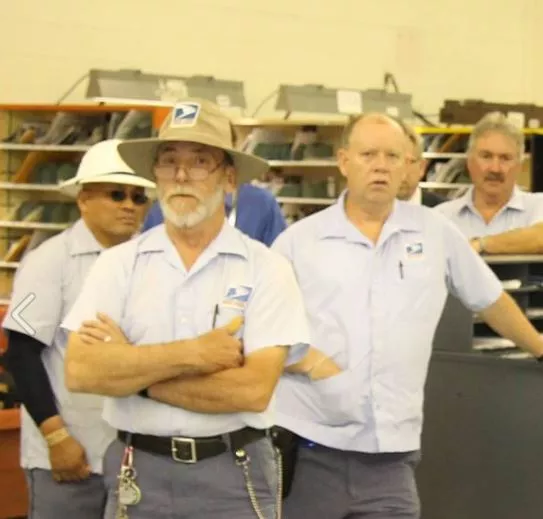 US Postal Service
Don't fire these guys, please.
A lot of weed still comes from Mexico -- about $20 billion worth each year. It's grown, packaged, and shipped from south of the border, which has created many jobs. But as the more weed-friendly states changed their laws, some of those jobs have moved to places like Colorado, Washington, and California. Missouri is still losing out because of its laws, but mail-ordering weed would be one way for Missourians to help grow a nascent, billion-dollar industry that helps farmers and keep good jobs in America.
It's like buying a Ford instead of a Nissan -- it's patriotic.
Click on the next page for more about mailed weed...
See also: Record rainfall has created a dung dilemma for Missouri farmers
4. Getting Packages in the Mail is Fun and Even Funner When it's Weed
This reason needs no explanation.
5. Mail-Delivered Weed Prevents Awkward Conversations with That Guy You Don't Really Like
Not everybody likes their weed dealer. He or she might be a good person and you don't really have anything against them, but maybe you just don't click and you'd rather just get your stuff and go. But that would be rude. And you need to maintain this relationship, so you stay, talk about the weather or civil engineering, and just feel weird for 20 minutes. And of course, there's always the possibility your weed dealer guilt-trips you into staying to smoke a joint, witness a murder, and then flee for your life from crooked cops and drug lords.
But mail-delivered weed? That allows you to indulge your anti-social smoker fantasies with no awkwardness and no hurt feelings whatsoever.
Too bad it's illegal.
See also: Meet Jeff Mizanskey, Missouri's Only Inmate Sentenced to Death in Prison for Pot
Follow Ray Downs on Twitter:
E-mail him at [email protected].