Only New York Yankees fans are less likely than St. Louis Cardinals fans to jump off their team's bandwagon during a losing season or to jump back on after a few wins, according to researchers at Emory University.
The three-part 2014 MLB Fan Analysis aims baseball's penchant for statistics at the fans, ranking each team in terms fan equity, or the measure of a fan base's intensity controlling for market size or team performance.
Unsurprisingly, the study's researchers, Mike Lewis and Manish Tripathi, find plenty of evidence of what they call "superior fan support" from St. Louis fans, the self-described best fans in baseball. The Cardinals are in the top five teams (along with New York, Boston, Chicago and Philadelphia) whose dedicated fans fill stadium seats despite their team's record or the ticket price.
See also: It's Official: Study Says St. Louis Cardinals Fans Are The Best in Baseball
The Cardinals are also one of two teams with extremely positive, stable support from fans on Twitter, according to the study's analysis of social-media sentiment over two years.
"Our analysis suggests that the Atlanta and St. Louis teams have enviable fan bases," the study says. "Braves and Cardinals fans are both very happy and stable. Whatever these teams are doing, the end result is fans that adore their teams and tend not to vary in their feelings. These are fans that love their teams and mostly overlook their club's faults."
(Not all Cardinals fans are that way. There are plenty of homophobic, racist and offensive people among the best fans in baseball.)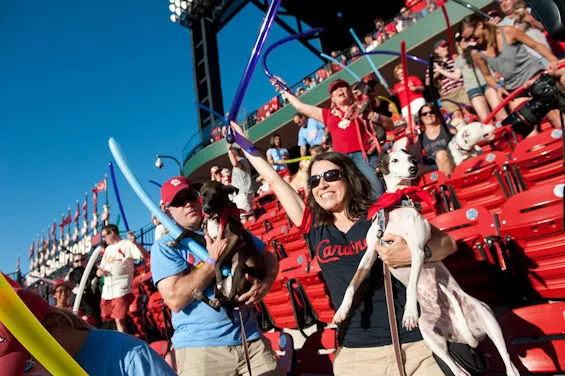 Jon Gitchoff
Even our dogs are great Cardinals fans.
But the study doesn't stop there. Researchers drill down into just how much fans demand from their teams by analyzing how sensitive fans are to winning or losing streaks. Here's how the study defines "win sensitivity":
The win elasticity provides a measure of the importance of quality in driving demand. For example, if the statistical model finds that a team's demand is unrelated to winning rate, then the implication is that fans have so much of a preference for the team that winning and losing don't matter. For a weaker team (brand) the model would produce a strong relationship between demand and winning.
The Yankees and the Cardinals are the two teams whose fan bases aren't affected by wins or losses; they'll show up either way, the study says.
See also: Ten Ways to Act Like an Unrepentant Cardinals Fan and BFIB
That's not the case in Philadelphia.
"This fits the stereotype of Philadelphia fans as aggressive, demanding fans that are willing to cheer injuries and boo Santa," the study says. "The numbers say that Philadelphia fans require their team to perform or they won't show up."
Here's the full ranking:
Follow Lindsay Toler on Twitter at @StLouisLindsay. E-mail the author at Lindsay.Toler@RiverfrontTimes.com.