Photos: Tom Carlson
George Essig has represented the U.S. in three Boomerang World Cups.
A recent Saturday morning finds George Essig in one of his favorite spots: a wide-open field at Buder Park in west St. Louis County. In adjacent fields, children play Little League ball and hobbyists fly model aircraft. Essig makes sure they're a safe distance away.
Surveying the landscape from beneath a Mizzou cap, Essig pulls a protective sleeve over his right elbow and slips a work glove over his left hand. He plucks a handful of grass from the ground and lets it fall, testing the wind direction like a golfer lining up a long drive. Nodding approvingly to himself, the 44-year-old father of two opens the toolbox on wheels that he's rolled with him into the center of the ball field.
Inside are dozens of boomerangs tucked into expanding file folders. There are zigzag-shaped boomerangs made by craftsmen in Germany; propellerlike devices designed for a variety of specialized maneuvers; and classic wooden boomerangs that could serve as props for an Australian beer ad or a Crocodile Dundee flick. For today's outing, Essig chooses a plastic three-blade model designed for maximum velocity.
With a grunt, Essig hurls the device, sending it out in a blindingly fast circle of about 30 yards. A quick second later the boomerang lands in Essig's gloved hand with a smack. "If the wind wasn't up I could throw a faster one," he says, somewhat sheepishly. Over the next several hours Essig will carry on, practicing all sorts of throws. He'll lob boomerangs straight up in the air to see how long he can keep them aloft. He'll perform trick catches behind his back, under one leg and kicked off of one foot like a Hacky Sack. He'll toss two boomerangs at once, catching one first and jamming it between his teeth like a Hollywood swashbuckler so that his hands are free to catch the second. Essig practices like this for hours two or three times a week. He has to if he wants to remain a member of the vaunted United States Boomerang Team and one of the best boomerang hurlers in North America.
"George is a rock, man," says Steve Kavanaugh, who captained Essig and five other Americans this April at the World Boomerang Cup in Perth, Australia. "He has consistently put a lot of hard work into improving both his skill in throwing, as well as his competition kit. He was one of the horses on the team. He certainly throws more than his proportion."
Not bad for a guy whose entry into the sport arrived by chance just a few years ago. It began in the spring of 2005, following a harsh winter much like the one that gripped the nation this year. Essig, a lifelong resident of Fenton, was undergoing a difficult period in his job as a Web developer and was in desperate need of an outlet.
"I got stressed out at work, and I found out the thing that made me feel better was exercise," Essig recalls. "But exercise has to be fun. I don't like 'chore' exercise, like lifting weights."
Essig thought he'd found the workout that suited him perfectly when he and his family spent an afternoon tossing a Frisbee back and forth. But while Essig wanted more, his wife and daughters quickly tired of the game. Later Essig found himself in a Target, standing in front of a plastic boomerang and having an aha moment.
"I was like, 'I could throw that by myself.'"
The boomerang, however, does not yield its secrets easily.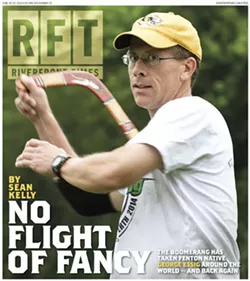 "You can learn the basics in, like, fifteen minutes if you know someone who's knowledgeable and willing to teach you," says Essig, who had to rely on the Internet to figure out the basics. After a couple of months on his own, he heard of St. Louis' annual boomerang tournament -- the Gateway Classic. It's there that he would discover other boomerang addicts, including the man who would become his mentor in the sport, Bob Leifeld.
"The first thing I remember about George," says Leifeld, "is that he had to leave the tournament after only a couple of events because he'd promised his wife he would be home before noon. Our tournaments are all-day affairs."
Soon, though, Leifeld's protégé was the most dedicated thrower around.
"George is an analyst of the boomerang," says Leifeld. "When the other guys are talking about going to get beer or something, he'll be picking somebody's brain, like, 'Why did you throw it like that? What if the airfoil were blunter? What if the holes were bigger?'"
And with Leifeld as his boomerang Yoda, Essig's game took flight. He began entering more and more competitions and expanding the collection of boomerangs in his toolbox. The better he got at the sport, the more physically fit he became as well. Essig eventually shed nearly twenty pounds solely by throwing and catching his boomerangs, an activity that's not unlike hurling a baseball for hours at a time.
"It works every part of your body except for your non-throwing arm," claims Essig, whose compact frame resembles that of a middle reliever. "It really works your legs and abdominals. I've had soreness all over my body before, my legs, my lower back, my shoulder, my elbow."
Within a couple of years of competing and practicing, Essig made the U.S. Boomerang Team. He has now flown overseas on three occasions (Italy in 2010, Brazil in 2012 and Australia in 2014) to represent the United States in the biennial World Boomerang Cup, a contest that features the best international competition from around the globe. The tournament grades teams of players in a multitude of ways, including how quickly they can get the boomerang to return to them, how long they can keep it in the air and how accurately they can get the boomerang to return to them.
This year, Essig's fifth-place finish in the U.S. championship qualifying tournament earned him a spot on the United States' second team. Competing in the World Cup in Australia, Essig and the five other teammates on the B-squad, nicknamed the "Legion of Boom," played above their expectations, clinching a fifth-place finish against teams comprising of players from thirteen nations. The A-squad for the United States, meanwhile, placed third overall.
Those unfamiliar with the international boomerang competition might think that the Americans would be overjoyed with such an outcome. In truth, the result was rather disappointing. Since the World Boomerang Cup's inception in 1987, the Americans have brought home "Uncle Toby" (the WBC trophy named after an Australian cereal company that first sponsored the tournament) a record ten times.
Keeping track of all the tournaments from home -- and broadcasting the results on Facebook -- is Essig's wife of nineteen years, Robyn. Yes, her husband's obsession means he's often away from home competing or practicing (and the cost of all the travel and those boomerangs isn't cheap), but Robyn sees the boomerang as an "active, healthy hobby." A hobby, by the way, that she takes credit for introducing to her husband.
"I wouldn't play Frisbee with him when the girls were young," says Robyn. "So he got a boomerang and said, 'I don't need you anymore.'"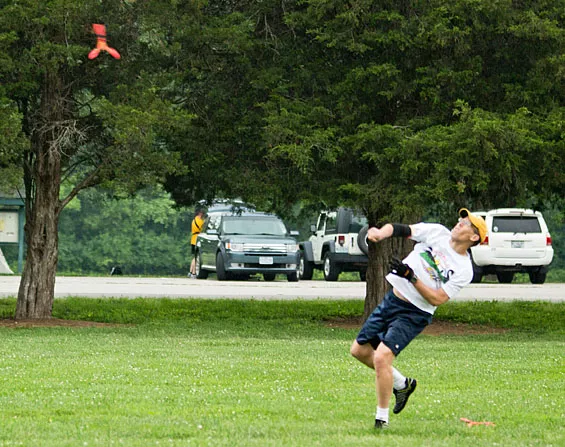 The pigskin still rules in Canton, Ohio, home of the Pro Football Hall of Fame, but Gary Broadbent is doing his best to change that. The Canton resident may be the world's foremost expert on boomerangs and is arguably the game's biggest fan. Broadbent, a 52-year-old motivational speaker, outfits himself daily with boomerang rings, boomerang necklaces, boomerang belts and boomerang hats. His personalized license plate reads "B-Rangs," and he has what may be the world's largest private collection of boomerangs, some 15,000 and counting. Nothing compares to the boomerang, claims Broadbent. And its history, dating back at least 12,000 years, is nothing short of incredible.
Early humans the world over used "throwing sticks," a precursor of boomerangs, to fell and injure wild game. But it was the Aborigines of Australia who transformed these heavy hunting weapons into lightweight devices that would return to roughly the same spot from which they were thrown.
"Those early throwing sticks weighed two to four pounds. You wouldn't want them coming back to you," Broadbent explains. "Then came a better hunting instrument: the bow and arrow. But that invention never made it to the remote island of Australia. So the Aborigines kept using the throwing sticks called 'kylies' that they'd make out of curved tree roots. And over time these big heavy sticks began to get worn away. And if the top is convex and the bottom is flat, they'd take flight when thrown horizontally, and you could hit birds with them. But throw them vertically and they'd come back to you -- a magic stick."
The physics behind the boomerang involves torque, aerodynamic lift and something called gyroscopic precession, which forces the device to turn as it spins through the air. And while that science was likely lost on the ancient Aborigines, it's easy to argue that their mastery of the boomerang was the world's first controlled flight -- occurring thousands and thousands of years before the Wright brothers took to air. "Boomerangs were the most amazing primitive tool ever made," boasts Broadbent.
Gradually, boomerangs became more about recreation than hunting. Now, in modern-day competitions, the definition of a boomerang is fairly loose. It cannot have any sort of "catching aid," like a strap or handle that makes it easier to nab upon its return, and competition rules also prohibit metal boomerangs. Wooden models are dangerous enough.
"I've seen some people get concussions," notes Essig.
Over the last couple of decades, boomerangs have greatly advanced with technology. Many are now made out of plastic and foam (some are even crafted of carbon fiber) and come decorated in a kaleidoscope of vivid paint jobs. At competitions, players are more likely to throw a propellerlike boomerang than the quintessential winglike device. Four- and five-blade boomerangs, meanwhile, allow the boomerang to remain suspended in air for long periods of time.
Between throws, competitors "tune" their boomerangs, some of which can cost upward of $150, to adjust for things like wind speed and direction -- modifying the aircraft to get the desired results.
"I put tape on them, rubber bands, flaps, taped-on coins that add weight," says Essig. "You can move them around and adjust the drag and distance and stuff."
Back at home, Essig will do more complicated adjustments, like drilling holes in the boomerang or even heating it up in the microwave to bend the blades just right. Essig's best event, the Australian Round, in which the goal is to get the boomerang to return exactly to the spot from which it's thrown, requires the use of a narrow, V-shaped boomerang. Essig has multiple devices for this event, including a "Fuzzy" -- a handmade model from German boomerang enthusiast Axel Heckner.
"Essig really has great boomerangs," confirms Legion of Boom captain Steve Kavanaugh, who has borrowed from Essig's kit a time or two.
"He let me throw his Axel Heckner Fuzzy, and it was godlike, came slicing right back," says Kavanaugh, who has only one gripe about the Fuzzy: "[Essig] won't let me buy it from him." Competitors for the Gateway Classic start rolling into Konarcik Park in Waterloo, Illinois, early on the morning of Saturday, May 24. During its heyday in the 1980s the tourney was held in Forest Park, and it had a budget big enough to fly in Australian rock bands to entertain players and fans. Today the annual event is more on par with a family reunion, with the Memorial Day weekend allowing the nation's close-knit boomerang tribe -- people like Betsylew Miale-Gix, a lawyer from Seattle, and Mark Legg, a boomerang salesman up from Florida -- extra time to assemble.
Organizing this year's Gateway Classic, as he's done for 27 years, is Essig's mentor Bob Leifeld, who's known in boomerang circles as "Chicago Bob," despite not having lived in the Windy City for years.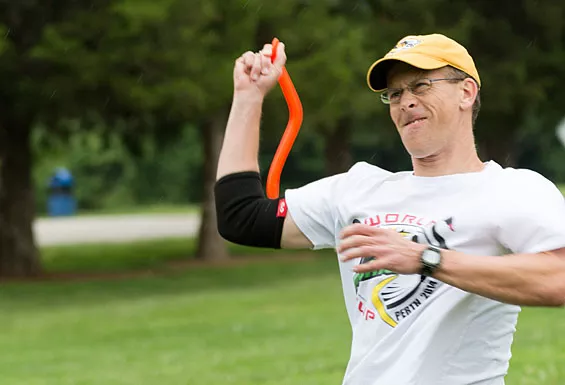 "We're not really starting on time," Leifeld announces to no one's surprise when the scheduled opening time comes and goes. Back at Leifeld's home in Belleville, a group that's driven in from Ohio and pitched tents in his back yard is still finishing up breakfast. Play finally begins midmorning with all the cutthroat competition of a frisbee-golf tourney. When not throwing, the players take turns serving as judges. Clipboards in hand, they call out tips about wind direction and help players locate boomerangs lost in the clouds. There are no spectators, only other competitors waiting their turn from the sidelines.
Later in the day, they'll tap a keg in the shade next to someone's car.
"That's a good throw!" Essig calls, almost as soon as a fellow contestant releases his boomerang.
When the thrower misses his catch, others call out with: "That's the throw you want to have, though. That was right where you needed it to be. Good job."
By the time the accuracy competition gets under way later in the day, Essig is neck and neck with 26-year-old Logan Broadbent, the son of boomerang historian and fanatic Gary Broadbent. The accuracy event challenges participants to land their boomerangs within a bull's-eye on the ground. Essig does well with his ten throws, but he can't best Logan, who plays for the U.S. team's A-squad. Still, Essig scores a personal best in the event, earning 79 points out of 100. He'll end the tournament with an overall fourth-place finish, and is sent home with one of Leifeld's handmade certificates placed in a dollar-store picture frame.
Considering that most of the seventeen players in the Gateway Classic are just as dedicated to the sport as Essig, the fourth-place prize isn't too shabby. Still, there's a sense that he may be nearing his peak just a decade after first picking up the sport.
"When you have a really intense hobby, it gets harder and harder and takes more and more energy to improve," says Essig, who knows that age and mobility will ultimately impact his game. But when that day comes, he has no plans of hanging up his boomerangs. He'll continue to throw for exercise, he says, because it's both fun and relaxing. And, really, that's all he ever wanted out of the sport in the first place.
"I know it's really obscure," he says of his boomerang obsession. "People think, 'OK, there's a bunch of strange people who get together and make stuff up.' But it's real. Boomerangs really work. And I've met a lot of people and traveled across the country and the world because of that."