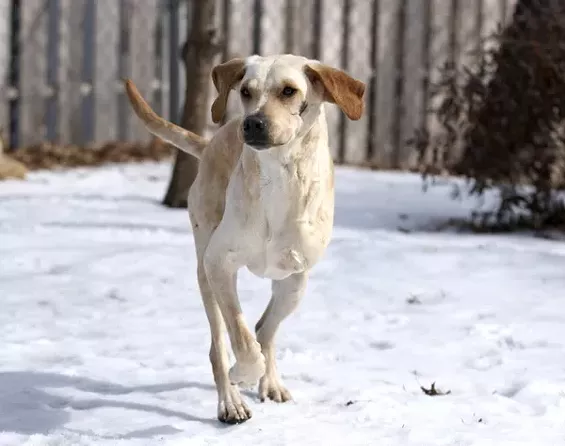 Mike Bizelli
The real-life Marshall.
Since the first casting call, producers for the movie Marshall the Miracle Dog have described it as very St. Louis.
The story is based on a real dog rescued from a Missouri hoarder, healed by a veterinarian at the Humane Society of Missouri and adopted by a St. Louis woman.
"This is truly a St. Louis film," says Cyndi Willenbrock, who adopted Marshall and also serves as a producer for the movie starring Sinbad, Shannon Elizabeth and Matthew Settle. "One hundred percent of our investment came from the region, students from throughout the area are cast as extras, and Notifi Records owner Ira DeWitt's great soundtrack includes St. Louis up-and-comers. There is so much talent here."
See also: Sinbad Plays a Coach in New Movie Filming in St. Louis, Marshall the Miracle Dog
After producers started filming across the Mississippi River in Edwardsville, Illinois, Daily RFT couldn't help but wonder what other famous flicks are set in the Metro East.
After all, there have been plenty of movies shot right here in St. Louis, such as Up in the Air with George Clooney and Planes, Trains & Automobiles with Steve Martin. But what about our neighbors?
Here are four movies we found shot east of St. Louis in Illinois:
1. In the Heat of the Night Sparta, Illinois, a town about 50 miles southeast of St. Louis, became Sparta, Mississippi, for the Oscar-winning movie In the Heat of the Night. Sidney Poitier feared filming in the South when klansmen nearly ran him off the road during a 1964 trip to Greenville, Mississippi, so director Norman Jewison promised him they wouldn't film anywhere unsafe for Poitier. The railroad depot seen in the film still stands and now houses an art museum that sells copies of the movie.
Three more (mostly terrible) movies on page 2! 2. Dreamer Dreamer was supposed to be the Rocky of bowling movies but ended up as a 93-minute lesson on what to do when your thumb is bleeding from over-bowling. (Answer: Rub raw potato on it.) Tim Matheson, whom you may know better as "Otter" in National Lampoon's Animal House, pursues his dream of bowling professionally, even while his girlfriend is less than supportive. As for the Alton, Illinois, bowling alley where the movie was filmed, a movie reviewer for the New York Times says the only "ambiance" it offers is a prejudiced portrayal of two Hispanic characters shown as "stupid, shiftless and lazy."
3. U.S. Marshals Tommy Lee Jones returns as Lieutenant Samuel Girard in this 1998 sequel to The Fugitive. He hunts inmate Wesley Snipes, who (spoiler alert!) turns out to be innocent, when he escapes after a plane crash shot outside Bay City, Illinois, near the Ohio River. The plane used in the movie now makes for exciting scuba diving in Mermet Springs, an hour's drive east of Cape Girardeau.
4. 23 Minutes to Sunrise St. Louis director ripped up Sauget, Illinois' Route 3 Diner to film this drama intertwining the lives of four couples for his film 23 Minutes to Sunrise, but the diner still managed to carry on business as usual. It also helped to have a member of the eponymous Sauget family on set: Judee Sauget was one of the producers on the movie filmed in the town named after her family and helped score the diner, a police car and other props from her son, then the town's mayor.
Follow Lindsay Toler on Twitter at @StLouisLindsay. E-mail the author at Lindsay.Toler@RiverfrontTimes.com.