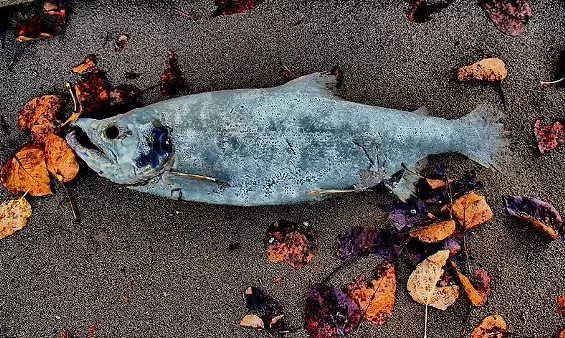 Todd Gordon Brown/Wikimedia
Tyson Foods can't just go and kill every single fish in an entire Missouri creek and get away with it -- at least, that's what Attorney General Chris Koster says.
Koster has filed a lawsuit against the factory-meat giant for causing a large amount of Alimet -- an ammonia-based chemical -- to get into the city of Monett's wastewater treatment facility, which then dumped the water into Clear Creek, resulting in the massive fish kill and a pungent odor that emanated from the water for days.
The lawsuit includes six counts against Tyson for "pollution of state waters and violations of Missouri's hazardous waste laws," according to a press release from Koster's office. Here are those counts:
Causing Pollution to the Waters of the State

Violation of Water Quality Standards

Violation of Pretreatment Regulations

Violation of Hazardous Waste Generator Standards

Operating a Hazardous Waste Facility Without a Permit

Claim for Natural Resource Damages and Cost Recovery for the State's Damages, Costs, and Expenses
See also: Tyson Foods Chemicals Seeped into Creek, Killed All the Fish
The first five counts carry a maximum penalty of $10,000 for each day the violation occurred. If Tyson is hit with the maximum penalty for the thirteen-day period for which the violations are believed to have occurred, the most the company will pay will be $650,000 in addition to whatever the costs for the state's damages amount to.
Tyson is expected to make $37 billion in sales this year.
"Missouri's waterways are among our state's most important natural resources," Koster says. "Tyson's conduct threatened the vitality of Clear Creek as a resource for Southwest Missouri. Tyson Foods must be held accountable for dumping pollution into the waterways of Southwest Missouri, and this conduct must not happen again."
The incident began on May 16, when a Tyson feed plant in Aurora, about thirteen miles east of Monett, had a chemical leak. The ammonia-based chemical Alimet was leaking into one of its containments and, per company protocol, the water was taken to its Monett facility to get "properly treated" in order for the water to be safely dumped into the municipal sewage system.
See also: Here's How Tyson Foods' Ammonia Waste Killed All the Fish in an Entire Creek
But according to an e-mail from Tyson to the DNR, the driver of the truck containing the Alimet told the pretreatment operator in Monett that his truck contained "animal fat." The pretreatment operator then began disposing of what he thought was animal fat. But that's not how you're supposed to deal with Alimet.
Tyson says it was no more than ten minutes before they realized that it was pumping large amounts of Alimet into Monett's wastewater treatment facility (WWTF). But the city's WWTF wasn't equipped to handle however much ammonia was sent to it within those ten minutes, so when it discharged that water into Clear Creek three days later, everything began to die.
Tyson Foods spokesperson Dan Fogleman tells the Springfield News-Leader that the company is very sorry.
"We want to apologize to the people of this area because mistakes were made," Fogleman says.
Click on the next page to read the lawsuit and Koster's official statement...
Chris Koster Statement on Tyson
Follow Ray Downs on Twitter:
E-mail him at [email protected].