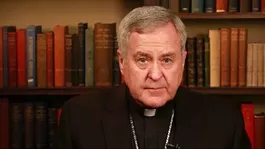 Archbishop Carlson just "misunderstood" that kiddie rape question.
Archbishop Robert Carlson has had a bad month. But St. Louis' holiest man has faith that if he makes the right excuse, a miracle will happen and it'll all just go away.
For the second time in a week, the public relations wizards at the St. Louis Archdiocese have sought to address the uproar that came as a result of Carlson saying in a deposition that he could not remember if he knew sexually abusing a child was a crime during his time at the Minneapolis-St. Paul Archdiocese during the 70's and 80's.
After the deposition was released, the Archdiocese issued a press release that accused the plaintiff's lawyers of taking Carlson's comments out of context and then blamed the media for eating it up.
But on Friday, Carlson put out a video statement in which he says that he simply misunderstood the question, and that's why he said he didn't know sexually abusing a child was a crime.
"In the deposition last month, I misunderstood a series of questions that were presented to me," Carlson says in the video. "I wish to clarify that situation now."
See also: Archbishop Robert J. Carlson Can't Remember If He Knew Raping Kids Is a Crime
He continues: "I fully understand, and have understood for my entire adult life, as I stated in other sections of this same deposition, sexual abuse is a grave evil and a criminal offense. I reiterate my commitment to protect children from sexual abuse. I support mandatory child abuse reporting laws, to which the Archdiocese strictly adheres."
However, Carlson never explains why he said -- multiple times -- that he "doesn't remember" if he knew that an adult having sex with a child was a crime, which was the root of the controversy last week. Carlson also fails to explain why he said "I don't remember" 193 times during the deposition, including questions of whether he called the police on priests accused of sexual abuse, including Thomas Adamson, who openly admits to molesting "several" boys as he was shuffled in between parishes at the behest of Carlson amidst the sex abuse allegations during the '70s and '80s.
See also: Archbishop Carlson: My "I Can't Remember" Comments Were Just Taken Out of Context
Follow Ray Downs on Twitter:
E-mail him at Ray.Downs@RiverfrontTimes.com.