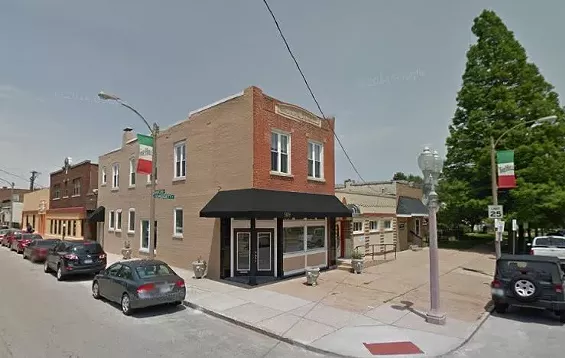 Google Maps
Princeton Partnership LLC, in the Hill neighborhood in St. Louis.
Two Missouri insurance brokers pleaded guilty to stealing $3 million from elderly victims in a six-year fraud the U.S. Attorney's office calls a Ponzi scheme.
From their offices in the Hill neighborhood in St. Louis, Robert Palmer, 45, of Kansas City, Missouri, and Mark Driver, 50, of St. Louis, stole their customers' real estate, stocks, and life insurance annuities and used them to pay for their business or for personal items, according to the U.S. Attorney's office. They also used the money to pay off old customers who falsely believed they were seeing returns on their investments.
See also: St. Louis Funeral Scam: Father, Son Plead Guilty In $600 Million Ponzi Scheme
Palmer and Driver, who ran Princeton Partnership LLC at Marconi Street and Daggett Avenue -- face four felony charges of mail and wire fraud, each of which carries a maximum penalty of 20 years in prison and/or fines up to $250,000.
Here's how the scheme worked:
- In 2004, Palmer convinced a family who had received money from the death of an elderly aunt to transfer some or all of that money to Princeton Partnership.
- In 2005, Palmer took money from an elderly woman and her family by saying he would invest her money into a real estate investment for her benefit.
- From 2006 to 2010, Palmer convinced two elderly sisters to transfer their investment funds over to Princeton so he could make investments with the money. The sisters transferred that money and control of their stock holdings. Palmer and Driver sold and liquidated the stocks and spent the money on themselves and their business. Later, they also convinced one sister to liquidate a life insurance policy and give the money to Princeton Partnership.
- In 2006, Driver convinced an elderly woman to invest her privately held funds in four life insurance annuities through Princeton Partnership. A few years later, he told her to liquidate three of them and give the money to Driver under the false representation that he would invest it to her benefit.
- From 2007 to 2009, Driver took investment funds and control of stock from an elderly woman.
Palmer and Driver will be sentenced in September. The FBI, the Postal Inspection Service and the Missouri Secretary of State's Office investigated the case.
Follow Lindsay Toler on Twitter at @StLouisLindsay. E-mail the author at Lindsay.Toler@RiverfrontTimes.com.