Photos courtesy of Theresa Sonnenschein, unless noted
The Peter Mathews Memorial Skate Park.
The Peter Mathews Memorial Skate Park, St. Louis' first legally sanctioned skate park, is almost finished.
St. Louis was one of the few major American cities without a free, public spot for skating until a band of local skateboarders changed everything. The group, a 501(c)(3) nonprofit known as the Kingshighway Vigilante Transitions (KHVT), held community meetings and fundraisers, earned support from local politicians, found a gardening club to partner with and even got a leading skate-park building company to volunteer to build the south-city park for free. And KHVT's work thus far has impressed a man who knows a thing or two about pouring concrete: St. Louis streets director Todd Waelterman.
See also: St. Louis' First Legal Skate Park to Break Ground Soon; KHVT Still Raising Funds
"These are no dummies," says Waelterman. "I've been very proud of them."
KHVT earned a nod from Popular Mechanics in 2011. The group was named a hometown hero for showing the rest of us "Ten Ways to Change the World (Starting in Your Own Backyard.)"
The entrepreneurial skateboarders, along with supporters and volunteers, have come a long way toward making their new skate park into a reality. In the last few weeks, they've gone from this:
To this:
KHVT had to look for a new (and preferably legal) place to skate when the group's guerilla skate park under the Kingshighway bridge started to fall down around their heads. The bridge is scheduled to be demolished soon.
See also: KHVT: St. Louis Film Explores Kingshighway Bridge Skatepark Before Its Demise (VIDEO)
But the fact that St. Louis even had a DIY skate park was a sign that the city was prime for a legal, maintained, professionally built skatepark like the one under construction at 4415 Morganford Road.
"Basically, just a bunch of skaters got together and built a park and asked forgiveness later," Bryan Bedwell, the chairman of the board of directors for KHVT told Daily RFT just before the group broke ground. "That shows there's a need for it."
KHVT is still raising money to pay for the park. Organizers have raised more than $2,800 toward their $5,000 goal.
Theresa Sonnenschein, who lives near the new skate park, says the park provides a much-needed outlet for children in the neighborhood.
"They have nothing to do but walk in the middle of the street," Sonnenschein tells Daily RFT. "I'm so glad they are doing this."
To donate to the Peter Mathews Memorial Skate Park, visit KHVT's GoFundMe site.
See more photos on page 2.
Team Pain, a company from Florida that builds skate parks all over the country, told KHVT it would build the park for St. Louis for free if KHTV could get land, supplies and volunteers.
"Skate parks cost thousands and thousands of dollars, but [Team Pain] loves us, and they are behind us, because we are one of the few major cities that doesn't have a free public skate park," Bedwell says. "They can't stand it. They think it's a travesty."
Skateboarders are already practicing their moves on the park's new ramps, which have progressed from this a few weeks ago...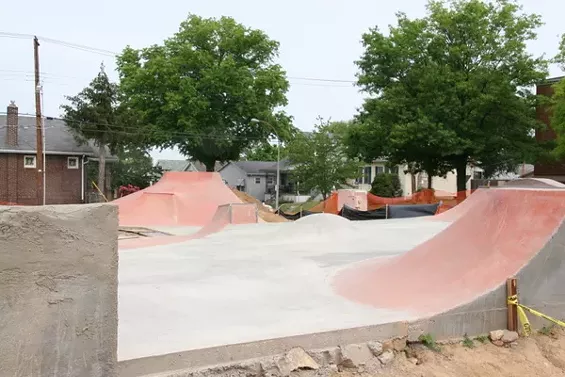 ...to this: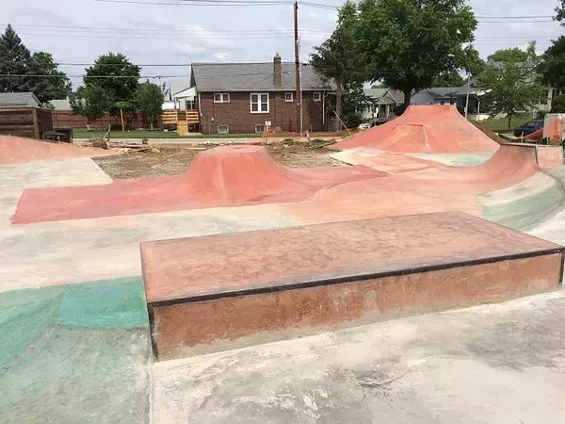 KHVT also applied for and won a matching $5,000 grant from the Tony Hawk Foundation, which funds parks across the country. Usually, the foundation requires cities to have professional builders on-call before awarding funds, but KHVT's promise of volunteer labor won them the money.
Check out even more photos of St. Louis' first legal skatepark on the next page.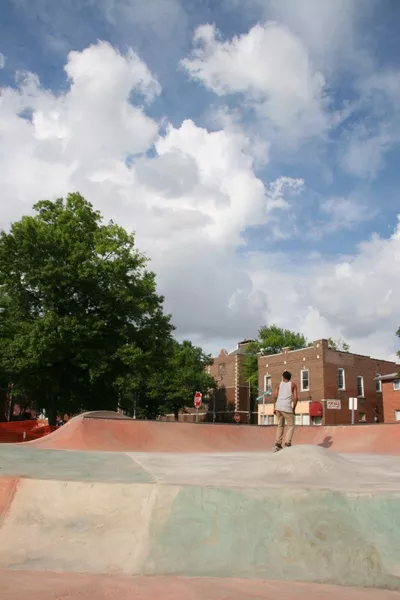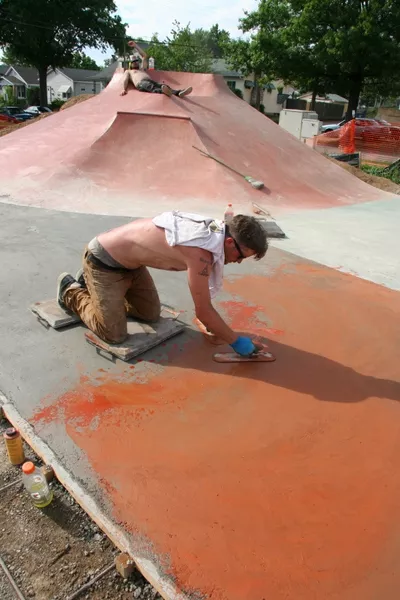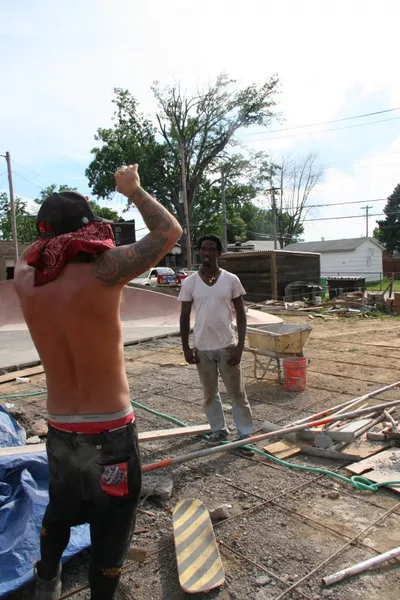 Follow Lindsay Toler on Twitter at @StLouisLindsay. E-mail the author at Lindsay.Toler@RiverfrontTimes.com.