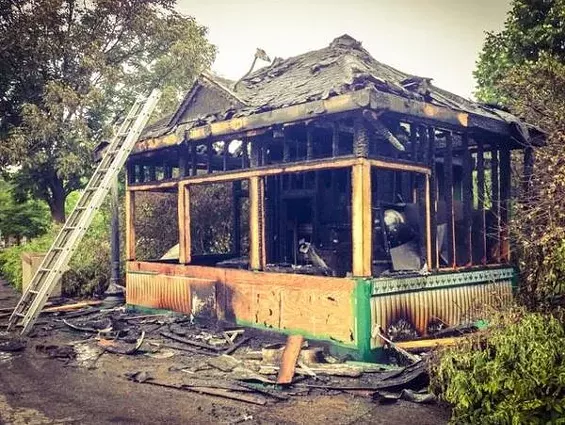 The only casualty in this fire is the Kettle Corn.
No people or humans were hurt when a Kettle Corn snack stand at the Saint Louis Zoo caught fire Monday afternoon.
St. Louis Fire Department firefighters quickly extinguished the blaze, which Gregg Favre, the Command Staff Officer for the fire department, said was fueled by propane.
Photos by Lindsay Toler
Firefighters at the south entrance to the zoo.
See also: Out of Hibernation: 17 Beautiful Photos of Saint Louis Zoo Animals Basking in the Sun
The zoo was not evacuated, but zoo employees blocked off the area near the south entrance where the refreshment stand is located. Families trying to enter the zoo from the south parking lot had to wait until officials gave the all-clear, but people at the north entrance were able to enter and exit as normal.
The fire severely damaged the stand.
Firefighters with gear and oxygen tanks walk back to the firetruck once the blaze is put out.
And since no one and nothing was hurt, it was easy to have a little chuckle over the whole thing: Not any more, Chris Davis. Not anymore.
Follow Lindsay Toler on Twitter at @StLouisLindsay. E-mail the author at Lindsay.Toler@RiverfrontTimes.com.