Scottrade Center: The sixth best place to watch Hockey in the U.S., says Stadium Journey Magazine.
Die-hard fans, an exciting atmosphere and relatively cheap snacks and tickets make Scottrade Center the sixth best hockey stadium in the country, says Stadium Journey Magazine.
The magazine ranked the home of the St. Louis Blues at No. 6 between the New York Rangers' Madison Square Garden (No. 7) and the Philadelphia Flyers' Wells Fargo Center (No. 5). Xcel Energy Center in St. Paul, Minnesota, topped the chart at No. 1. United Center, home of the Chicago Blackhawks, is No. 9.
See also: Twitter Confusion: St. Louis Blues Hashtag Looks Gay But Isn't
"By delivering a successful on-ice product, there are higher expectations of the off-ice product, and the Blues have built a satisfying experience," writes Dennis Morrell for Stadium Journey Magazine. "The enjoyment of attending Blues games keeps getting better and better, and if you are fortunate to attend an NHL game in St. Louis, you will see just how rewarding it is."
Overall, St. Louis earned a score of 4.4 out of 5 for its top-tier hockey stadium. Here's how the Scottrade Center ranked in each category, on a scale of 0 to 5: -Food and beverage: 4 out of 5 -Atmosphere: 5 -The neighborhood: 3 -The fans: 5 -Access: 5 -Return on investment: 4 -Extras: 4
The fervor of Blues fans helped propel the Scottrade Center to its No. 6 spot.
"A few things describe the three generations of Blues' fans, but chief among them is 'intense loyalty,'" says Morrell. "Through thick and thin, Blues fans have supported their club, of course, more fervently since the team has been highly competitive the last few years."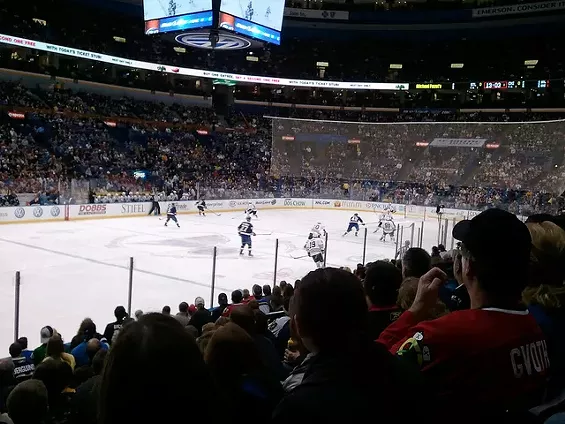 And it helps that Scottrade's prices aren't too steep.
"You will come away with good value when you see the Blues at Scottrade Center," Morrell says. "Park on the street, walk a short distance to the arena, save a little for the bottomless souvenir soda cup, and sit in the $29 seats, and you are in great shape. Although with team success comes the likelihood of increased prices, it still is a good value, and it always has been."
While the magazine was keen on St. Louis' home ice, Morrell had a stern warning for out-of-town fans about another local landmark.
"Although it might seem like there would be, please know there is no reason to go inside historic Union Station," Morrell warns. "Avoid it all costs. The once busy transportation hub and more recently shopping and dining areas are pretty much abandoned now. While there is hope to revive the space, it will not come before you visit within the next five years."
Follow Lindsay Toler on Twitter at @StLouisLindsay. E-mail the author at Lindsay.Toler@RiverfrontTimes.com.