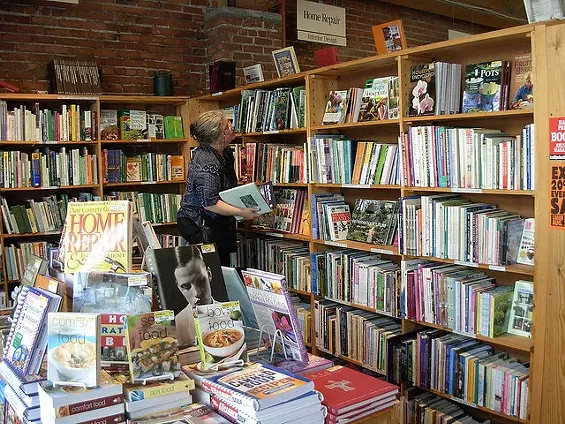 Half Price Books is opening in Chesterfield.
The Archive is gone. So is A-1 Book Exchange. The Book House was thrown out of its gorgeous, historic location and is valiantly making do in an originally decrepit space. Even Left Bank Books had to close its downtown location.
It's been a rough seven months for St. Louis' readers of non-ebooks.
So Daily RFT took it as a wonderful sign from the literary gods that Half Price Books, the discount-book and -music seller, has opened a store -- a real, live, bricks-and-mortar store -- in Chesterfield.
See also: St. Louis is America's 9th Most Literate City
This video is crazy promotional, but at least it gives you an idea of what a Half Price Books looks like:
The independent bookstore started in 1972 in an old Dallas laundromat and has grown to 120 stores in sixteen states. Chesterfield's location is St. Louis' first; the store already has branches in Kansas City and Independence.
The Chesterfield Half Price Books -- at 1664 Clarkson Road across from Trader Joe's and next to Saint Louis Bread Co. -- will hold a grand opening June 5 through 8. The first 100 people through the doors at 9 a.m. Thursday through Sunday will get a free tote bag and $5 gift card.
And for all you teachers and librarians out there, don't forget to ask for a card for 10 percent off all purchases.
Follow Lindsay Toler on Twitter at @StLouisLindsay. E-mail the author at Lindsay.Toler@RiverfrontTimes.com.