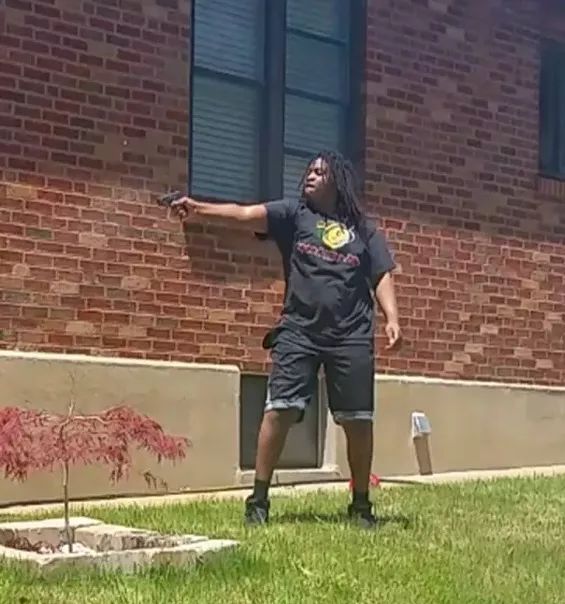 SLMPD
Do you know where this man is? St. Louis Metropolitan police would like a word with him.
The St. Louis Metropolitan Police Department is asking for help identifying a suspect they say shot three men during a brawl in south city's Tower Grove neighborhood.
The suspect and two friends got into a fistfight with two rivals at 12:36 p.m. on May 23 in the 4400 block of Tholozan Avenue. A 22-year-old man tried to break up the fight, but the suspect pulled out a gun and started shooting, striking the man in the leg.
See also: Man Applies for Job at Car Wash Before Robbing It, Shooting Employee: Police
Both men involved in the fight against the gunman were shot, and police say all three injuries were not life-threatening. A 23-year-old man was shot in the abdomen, and a nineteen-year-old man was shot in the leg.
Police said the men had fought each other before.
"It's not a random shooting," says Major Gerald Leyshock to the St. Louis Post-Dispatch. "It's not a gangland-style shooting. This is a failure to have any conflict resolution in a neighborhood that's normally very quiet."
CrimeStoppers is offering a $1,000 reward to anyone who can identify the shooter and lead to his arrest. Police described the suspect as between eighteen and twenty years old with a heavy build and long dreadlocks.
SLMPD
Police also released this image of the suspect.
The gunman fled the Tower Grove South neighborhood on foot through an alley, where police found a firearm.
Call 866-371-TIPS to anonymously report information about the shooter to police.
Here is the full report from police:
Incident: Assault 1st (Shooting)

Location: 4400 block of Tholozan

Date/Time:5/23/14 @ 12:36

Victim/Suspect #1: 20-year old Asian male

Victim #2: 19-year old black male

Victim/Suspect #3: 23-year old Asian male

Victim/Suspect #4: 19-year old Asian male

Victim #5: 22-year old Hispanic male

Suspect #1: Black male, 18-20-years old, heavy build, long dreadlocks, wearing a dark blue shirt and shorts

Victim/Suspect #1, Victim #2 and Suspect #1, who is unknown, were exiting a vehicle as they were approached by Victim/Suspect #3 and Victim/Suspect #4. A physical altercation erupted at which time Victim #5 attempted to break up the fight. Suspect #1 produced a firearm and began firing shots. Victim #5 suffered a gunshot wound to the leg, Victim/Suspect #3 suffered a gunshot wound to the abdomen and Victim/Suspect #4 suffered a gunshot to the leg. All three were conveyed to a hospital and listed as stable. Suspect #1 fled the area on foot traveling east through an alley. A firearm was recovered on the scene. The investigation is ongoing.
Follow Lindsay Toler on Twitter at @StLouisLindsay. E-mail the author at Lindsay.Toler@RiverfrontTimes.com.