Flickr/JerameyJannene
If there is a hell, it probably looks like a parking lot.
It's no secret that St. Louis has car problems. On one hand, many drivers here are schmucks who ignore turning lanes and treat pedestrians like Mario Kart powerups. This summer, however, it's parking infrastructure that's put city officials and Fair St. Louis organizers into a panic.
The construction of the new Gateway Arch grounds has already forced Fair St. Louis to relocate to Forest Park, and last month the city announced that all street parking in Forest Park would be completely closed during the festival (July 3-5). As for the city itself, the treasurer's office is hiring an outside consultant to sort out of the mess of meters and parking downtown.
So in preparation for what could be the most parking-afflicted summer in recent memory, we present the eight worst places to park in St. Louis city and county. (If you've got your own list of horrible parking spots, let us know in the comments section.)
See also: St. Louis Has the 8th Worst Potholes in the U.S.
1. Forest Park As mentioned above, the city's decision to block off all the free street parking in Forest Park has thrown Fair St. Louis into a scramble. Festival spokeswoman Julie Hauser says a comprehensive parking plan will be released soon, but we can't imagine anything that can avert the imminent parking massacre for Forest Park's tens of thousands of visitors this Independence Day weekend.
To be clear, we're not saying that it's normally a joy to park at the art museum or the zoo: The winding roads with bumper-to-bumper traffic and filled-to-capacity parking lots can turn any weekend-afternoon outing into an endless journey of torture. Not only does it royally suck, but chances are you have a screaming child in tow to make the experience all the more awful.
2. Brentwood Promenade Another parking nightmare, the Brentwood Promenade contains a handful of family-friendly stores like Target, Trader Joe's and Bed Bath & Beyond. Weekday shoppers can find a bounty of open parking spaces, but as the weekend arrives it becomes hell on earth. No amount of cheap Target flatware is worth the pain of navigating the madness of the Promenade's continent-sized parking lot on a Saturday. Our advice? Order some pizza and let someone else risk vehicular hippie-slaughter for a bag of organic Tuscan kale from Trader Joe's.
Continue for more terrible places to park.
Google Maps
A concrete parking garage riding a Papa John's -- isn't urban architecture great?
3. Creepy Parking Garages Parking garages tend to embody a whole bunch of terrible things all at the same time, and St. Louis' downtown garages are no exception. With missing wayfaring signage, temperamental payment machines, randomly locked elevator doors and sketchy lighting, garages like this one at Tucker Boulevard and Locust Street turn the simple task of finding your car into a horror movie.
4. St. Louis County Courthouse The surface lot next to the St. Louis County Courthouse in Clayton functions like its own special criminal justice system -- but here everyone is presumed guilty. On weekdays there are always a half dozen cars circling like vultures, waiting for someone to leave. No one ever leaves.
See also: Black Drivers Still Get Pulled Over More in Missouri, St. Louis: Attorney General
Jon Gitchoff
Avoiding banana people during Mardi Gras: Just part of a normal St. Louis commute.
5. Street Festivals and Arena Concerts We love St. Louis for hosting to so many wild festivals and concerts, but it makes life hard on drivers trying to get from point A to B without leaving a trail of bodies behind them. Soulard during Mardi Gras gets particularly bad with streets closed off and drunkards lurching to and fro. And if you're planning on seeing a show at the Verizon Wireless Amphitheater, don't worry about the parking getting in -- worry about getting out. Escaping from that lot can take more than hour. We recommend packing snacks and a bottle you can pee into.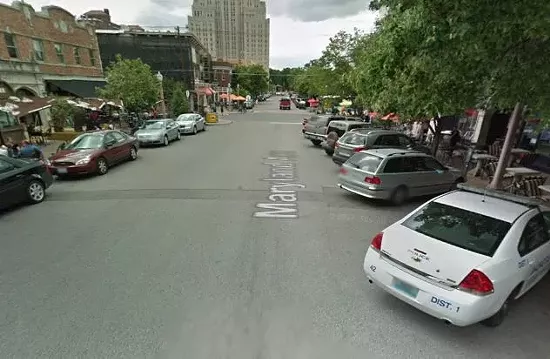 6. Central West End Want to grab some lunch here during a weekday? Maybe happy hour and dinner on a Friday or Saturday night? Good luck with that.
7. The Grove It may be home to trendy venues and bars, but parking in the Grove can quickly turn from placid to horrendous. With the Demo, Ready Room and the Gramophone sharing the same stretch of Manchester Avenue and the new Urban Chestnut Brewery buffering a residential neighborhood, you're more likely to find an envelope filled with cash than a reasonable parking spot.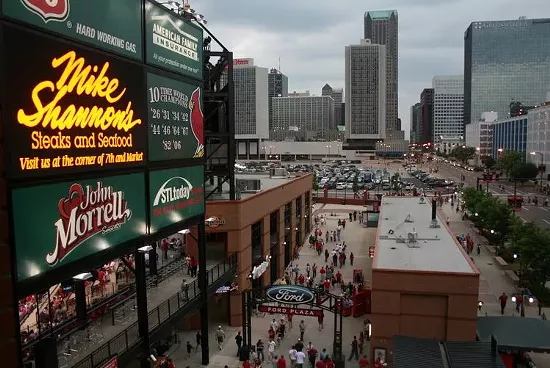 8. Cardinals Games The fans may be the most loyal in all of baseball, but searching for a parking spot from within a sea of red and white jerseys would make Tony La Russa himself curse Fredbird's name.
Follow Danny Wicentowski on Twitter at @D_Towski. E-mail the author at Danny.Wicentowski@RiverfrontTimes.com