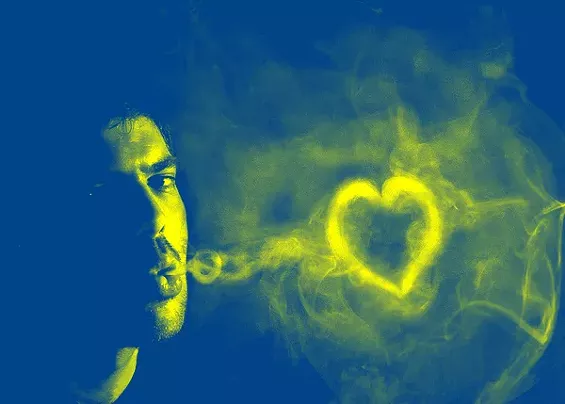 "Roses are red/weed is green/You're the prettiest stoner/I've ever seen."
Marijuana may not be legal in Missouri, but it can still help you find love.
The new dating website My420Mate.com launched in April (on 4/20, naturally) to connect marijuana users looking for romance, but who don't want to have the awkward "Do you smoke?" conversation.
"Some people might think it's just a dating site for hippies or stoners," says Jay Lindberg, 30, the St. Louis-based entrepreneur who cofounded the site. "This website is for people from all walks of life, from the medical-marijuana patients to casual smokers to business professionals who may be in the cannabis lifestyle but they keep it out of their professional life.
"This is a way they can connect with a potential spouse that is also accepting of their lifestyle."
See also: Invisible Girlfriend: New St. Louis Tech Startup Promises Believable Fake Love
Lindberg says he and his Los Angeles-based cofounder, Miguel Lozano, came up with the idea for a 420-themed dating site as more states legalized marijuana and as online dating apps continued to tagain popularity.
"I saw a lot of opportunity to capitalize on two industries with this one concept," Lindberg says. Since launch, the number of new users has quadrupled, with new tokers looking for love signing up every day, Lindberg says.
Lindberg sees the site as the Match.com -- not the Tinder or Grindr -- of weed-friendly dating sites.
"It's not for the one-night hookups," Lindberg tells Daily RFT. "This is more about finding a mate, someone you actually click with."
The site's motto points to its orientation toward long-term love: "Plant your seed and watch your love grow."
Lindberg also says the site isn't about campaigning for marijuana legalization.
"Obviously, it's a community of people who support [legalizing marijuana], but the goal isn't to change any laws," Lindberg says. "The main goal is just to connect people with others to help people find their mate."
See also: Girls Ask Guys: St. Louis Startup Will Answer All Your Embarrassing Sex, Dating Questions
Lindberg and Lozano will be touring marijuana industry trade shows, such as the Cannabis Cup in Denver, to market their dating site, but don't expect to see them in Missouri anytime soon.
"The [marijuana] industry hasn't really taken off in St. Louis quite yet," Lindberg says. But just across the river, Illinois is legalizing medical marijuana. "We are definitely keeping an eye out there for events we can take part in."
To use My420Mate.com, sign up for a free profile on the website, and then download the app for iPhone or Android.
Follow Lindsay Toler on Twitter at @StLouisLindsay. E-mail the author at Lindsay.Toler@RiverfrontTimes.com.