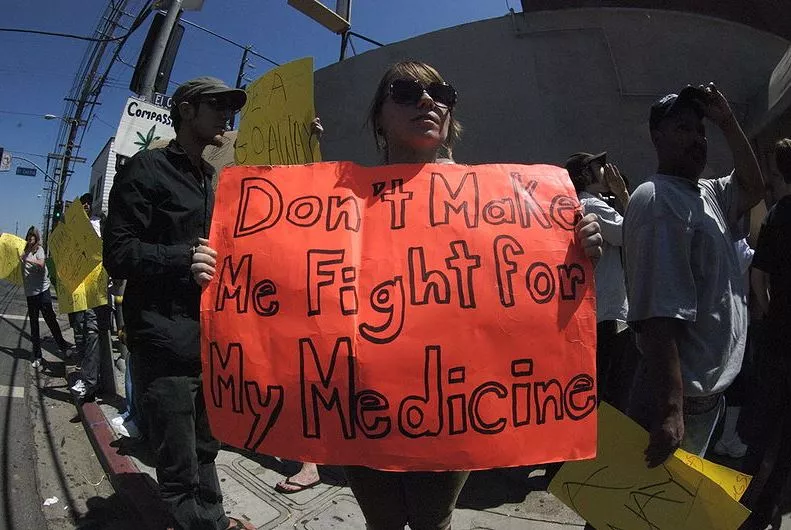 wikimedia/shay showden
Activists protest DEA raids on medical marijuana facilities in California.
In what is being hailed as a historic step forward for marijuana law reform, the U.S. Congress has voted in favor of an amendment that could end Drug Enforcement Agency raids on medical marijuana facilities -- but don't give much credit to Missouri's representatives.
Twenty-one states have laws to allow marijuana for medicinal use, but the drug is still illegal under federal law and the DEA conducts regular raids on facilities that produce or sell it. However, California Republican Dana Rohrenbacher's amendment, which passed 219 to 189, prohibits the Department of Justice, including the DEA, from spending funds to obstruct states from implementing their own marijuana laws.
Of the 219 "yes" votes, 49 were Republican -- the highest vote count from the GOP for similar legislation (different versions of this bill have been proposed seven times since 2003, according to the Marijuana Policy Project).
However, Missouri's Republicans weren't a big part of this momentous swing in favor of reform. Six of the Show-Me state's eight representatives are Republican and only one voted in favor of it: Rep. Blaine Luetkemeyer, a Republican from Missouri's 3rd District, which includes Chesterfield, O'Fallon, and Jefferson City.
Three representatives did not vote. They are Republican Vicky Hartzler and Democrats Lacy Clay and Emanuel Cleaver.
See also: Sen. McCaskill: If Pot is Legal "Kids Will Get Handed Joints Like They Get Handed Beers"
And the rest of Missouri's Republicans voted "no." They are: Ann Wagner, Sam Graves, Billy Long, and Jason Smith.
Here's the full text of the amendment:
AMENDMENT TO H.R. 4660, AS REPORTED (CJS APPROPRIATIONS) OFFERED BY MR. ROHRABACHER OF CALIFORNIA

At the end of the bill (before the short title), insert the following:

1 SEC. ll. None of the funds made available in this

2 Act to the Department of Justice may be used, with re-

3 spect to the States of Alabama, Alaska, Arizona, Cali-

4 fornia, Colorado, Connecticut, Delaware, District of Co-

5 lumbia, Florida, Hawaii, Illinois, Iowa, Kentucky, Maine,

6 Maryland, Massachusetts, Michigan, Minnesota, Mis-

7 sissippi, Missouri, Montana, Nevada, New Hampshire,

8 New Jersey, New Mexico, Oregon, Rhode Island, South

9 Carolina, Tennessee, Utah, Vermont, Washington, and

10 Wisconsin, to prevent such States from implementing their

11 own State laws that authorize the use, distribution, pos-

12 session, or cultivation of medical marijuana.
Click on the next page for more information on the amendment and how Missouri voted...
Missouri's tally shouldn't come as much of a surprise. Even though the amendment was sponsored by a Republican and much media focus has been given to the 49 Republicans who voted for it, the GOP largely voted against it, so medical marijuana is still an issue that hasn't been embraced by conservatives. Of the "yes" votes, 170 were from Democrats and 49 were from Republicans. Of the "no" votes, 172 were from Republicans and 17 were from Democrats. However, both of Missouri's Democrats -- Clay and Cleaver -- didn't cast a vote, so they can't be given any credit.
Nonetheless, marijuana reform advocates see the vote count as a positive sign.
See also: Even Country Music Is Ready for Marijuana Legalization
"This measure passed because it received more support from Republicans than ever before," says Dan Riffle, the director of federal polices for the Marijuana Policy Project. "It is refreshing to see conservatives in Congress sticking to their conservative principles when it comes to marijuana policy. Republicans increasingly recognize that marijuana prohibition is a failed Big Government program that infringes on states' rights."
Tom Angell, founder of Marijuana Majority, says that he believes an important reason for the change in lawmakers' attitudes on medical marijuana is due to the medical marijuana movement this year. In several states, including Missouri, medical marijuana patients lobbied lawmakers to approve the drug to treat illnesses, most notably severe forms of epilepsy.
"This year's huge vote increase can largely be attributed to the fact that lawmakers only recently began hearing the moving stories of the many children whose severe seizures are only relieved by marijuana," Angell tells Daily RFT. "Being able to list these CBD states in the amendment text meant that more members of Congress that represent these states voted yes than otherwise would have. Counting these states, 60 percent of the U.S. population lives in a place where state law disagrees with federal law."
As for Rep. Luetkemeyer -- Missouri's lone "yes" vote -- his decision might not have been the same as early as last year, when he expressed his reservation about changing medical marijuana laws in a letter to a constituent.
H.R.2306, the Ending Federal Marijuana Prohibition Act of 2011, would remove marijuana from the list of Schedule I controlled substances, which defines substances as possessing "a high potential for abuse" and "no currently accepted medical use in treatment." In fact, it would completely remove marijuana from any schedule of controlled substance, thus eliminating federal regulation of the drug. It would allow states to choose how they wished to tax, regulate and/or criminalize marijuana, while diminishing the federal government's role in the management of marijuana imports from foreign countries and the prohibition of transportation of the drug from a state with marijuana legalization to a state with marijuana prohibition...

Secondly, unlike alcohol, which includes labels identifying its strength and a proper testing mechanism that measures an individual's blood alcohol content, marijuana has none of these safe guards or needed technology. For example, a law enforcement officer can easily administer a test to determine intoxication by blood alcohol content level, but no universally accepted test is available to determine the level of influence an individual is under after using marijuana.

While I appreciate your views on this issue, I must strongly disagree.
Of course, simply voting to end medical marijuana raids is not the same as voting in favor of changing laws for medical marijuana use, but it does indicate a different approach.
The same can't really be said for the rest of the state's representatives when it comes to marijuana reform.
See also: Cannabis Oil Bill: Step Forward for Medical Marijuana or Just a Way to Stall Progress?
Follow Ray Downs on Twitter:
E-mail him at Ray.Downs@RiverfrontTimes.com.