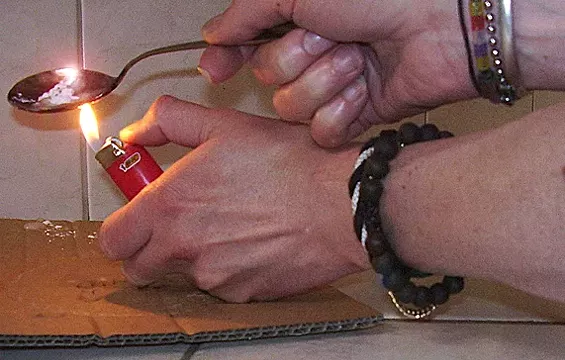 wikimedia/hendrike
Doing heroin just makes good economic sense.
A new study conducted by Wash. U. says that an increasing number of drug addicts simply can't afford fancy painkillers like Vicodin and OxyContin anymore, so they're switching to a cheaper alternative: heroin.
Dr. Theodore J. Cicero and his team based the findings on data collected between 2010 and 2013 from 150 drug-treatment centers across the country, which included surveys completed by 9,000 painkiller addicts. They found that 2,800 of these patients said heroin was their primary drug. But the researchers found that in many cases, it wasn't because the patients wanted it.
"Heroin has now been cleverly marketed by dealers as a cheaper and more accessible alternative," Cicero, a psychiatrist who studies opioid addiction, tells Daily RFT. "Interestingly, most people don't want heroin as their drug of choice, but can't afford their preferred opioid of choice."
See also: Are Mexican Drug Cartels "Marketing" Heroin to Pain-Killer Addicts in St. Louis?
Cicero notes that the street value of painkillers like OxyContin can reach $1 per milligram. And with an average dose being between 30 and 60 milligrams, getting high off these drugs is a pricey endeavor.
Meanwhile, the price of heroin runs for about $10 a shot. So it's a pretty easy choice for many addicts.
Although abusing painkillers is not necessarily better than abusing heroin, Cicero says that a drawback of using the latter is that, unlike with pills, it's nearly impossible to know the dosage.

"People who take the pills know how much they're taking because it's usually clearly marked on the pill," Cicero says. "But with heroin, there's just no way of determining the potency."
Economics plays the biggest role in the increase of heroin use, but it's not the only factor. New pill forms designed to combat abuse make it more difficult to dissolve pills to shoot up or crush them to snort. Also -- and this might be the biggest factor after economics -- is that the stigma of heroin use is not as negative as it used to be.
See also: Judge Who Bought Heroin "Daily" Faces 18 Months; His Dealer Gets 10 Years
The suburban youth who would steal their parents' painkillers and would justify their addiction by telling themselves, "At least I'm not using heroin" are no longer opposed to chasing the dragon because their friends are doing it, too.
"It used to be you have to drive to the inner city, but now the dealers are a whole new breed of people: white, middle-class kids with plenty of supply," Cicero says. "It's a whole new scene."
Of course, people in the St. Charles area already know this. Heroin use has been a topic of concern there for the past few years as overdose incidents have risen. The average user today is 23, white, and from a suburban or rural area. This is in contrast to past decades when the average user was a minority from the inner city. And now that a new group of people are heroin, the issue is getting more attention, Cicero explains.
See also: Heroin: O'Fallon Mom Speaks of Daughter's Overdose, Rallies Against "The Silent Killer"
"Heroin use is becoming more of a mainstream problem," he says. "It used to be an element of the city that used to be easy to ignore in a cynical sort of way. Now, however, it's become a problem in white suburban areas. But it should have been a concern all along."
Follow Ray Downs on Twitter:
E-mail him at Ray.Downs@RiverfrontTimes.com.