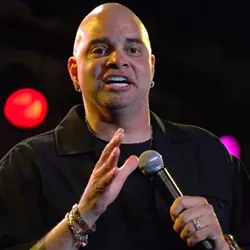 jcrawford3505 on Flickr
Sinbad will play the coach of the boy who rescues Marshall the miracle dog.
If you ever had a crush on the hot dad from Gossip Girl, the uber-hot foreign exchange student from American Pie or (we're not judging) Sinbad, you're in luck. A new movie filming in St. Louis brings all three of those actors -- and even more you've only slightly heard of -- to town.
Marshall the Miracle Dog, a family-friendly romp about a rescue dog who "rescues" the hearts of the humans around him, announced its cast list this week. Almost three-quarters of the actors and extras are from St. Louis or have connections to the Lou, which is hardly a surprise given that more than 2,000 St. Louis residents attended the open casting call last month.
"This is truly a St. Louis film," says Cyndi Willenbrock, who adopted the real-life Marshall and also serves as a producer for the movie. "One hundred percent of our investment came from the region, students from throughout the area are cast as extras and Notifi Records owner Ira DeWitt's great soundtrack includes St. Louis up-and-comers. There is so much talent here."
See also: Actors, Extras Needed For St. Louis Movie Marshall the Miracle Dog
In the story of Marshall the Miracle Dog, Finn, a twelve-year-old boy bullied at his new school, rescues Marshall, a spirited dog held in deplorable conditions by a hoarder.
Mike Bizelli
The real-life Marshall.
Adorable child actor and captain of his elementary school chess team Lucas Carroll will play Finn. He's already acted in two Hollywood movies, The Informant! and Noah.
For Finn's mother, Cynthia, directors cast Shannon Elizabeth, who is famous for being a Maxim cover girl and for this scene in American Pie:
Sinbad makes his post-Celebrity Apprentice comeback by playing Finn's coach, Coach Penner. St. Louis Comedian Greg Warren joins him as Assistant Coach Larry.
Marshall the Miracle Dog is based on a real rescue dog who really is named Marshall. In 2010, the real-life Marshall was rescued from a hoarder who had so many dogs that her children asked Animal Planet to tell her story on Confessions: Animal Hoarding.
Visit NBCNews.com for breaking news, world news, and news about the economy
The 80 other dogs on the property attacked Marshall, probably over a scarcity of food, before he was rescued. He was covered in bite marks and had a broken front leg. A hole the size of a tennis ball opened in the side of his face.
Marshall lost his front leg, but Dr. Stephen Schwartz, a veterinarian at the Humane Society of Missouri, announced the pup was healthy enough to be adopted. Schwartz posed with Marshall for a video. When Willenbrock saw the video on YouTube, she knew she wanted to bring Marshall home with her:
Matthew Settle, who plays cool dad Rufus Humphrey on Gossip Girl and Captain Ronald Speirs on the HBO miniseries Band of Brothers, is in the role of the veterinarian, named Doc Henry, in the movie.
Lauren Holly -- a.k.a. the sweet Mary Swanson from Dumb and Dumber -- plays the hoarder, Susan, and St. Louis comedian Bill Chott plays her husband.
Filming begins June 2.
Follow Lindsay Toler on Twitter at @StLouisLindsay. E-mail the author at Lindsay.Toler@RiverfrontTimes.com.