A very special film is celebrating its 25th anniversary this year, and as far as we know, only one theater in the country will be throwing a party in its honor -- and it will happen right here in St. Louis.
This film isn't The Little Mermaid. It's not Driving Miss Daisy. It's not Bill & Ted's Excellent Adventure, though someone really should break out the party hats for that.
No, the memorable 1989 flick in question stars Patrick Swayze as a bar bouncer in a roadside Missour-uh bar who does a fine job of roughing up some corrupt businessmen. Naturally, we're talking about Road House, and the Moolah Theatre & Lounge is coordinating a big anniversary shindig for Friday and Saturday, May 30 and 31.
Moolah bartender Sean McElroy says the two-night event will center around midnight showings of the Swayze flick, which McElroy describes as "a redneck action film -- lots of guys drinking beer in a bar and then breaking those bottles and coming at somebody." And though 25 years is a major milestone for films, St. Louis appears to be the only city celebrating Road House's.
"As far as I can tell, this event is the only acknowledgement in the country for Road House's 25th anniversary," McElroy says. "I wanted to see what the other celebrations were going to be like and if ours would match up, but I couldn't find anything at all. After that, we thought, 'Well we absolutely have to do something now.'"
Really, it's apt that the nation's Road House party happens in Missouri. After all, the film's set here. The fictional bar Swayze protects -- the Double Deuce -- is located in Jasper, about 30 minutes north of Joplin in the southwest corner of the state. Moreover, McElroy says that a south-county bar now out of business had called itself the Double Deuce and even used a logo similar to the one for the bar in the movie.
McElroy and the Moolah team are planning a full themed weekend for its Road House event, with drink specials like ones served by the Double Deuce bar and pre-movie trivia with prizes such as theater passes, DVDs and drink tickets. But McElroy cautions fans that earning the loot won't be easy.
"Off the top of my head, I could write ten Road House trivia questions that would be too difficult for even a hard-core fan," says McElroy, who also plays bass in local LouFest-tapped band Pretty Little Empire. "People might want to do their homework."
Of course, costumes make any event more enjoyable, and the Moolah crew is encouraging theater patrons to dress like their favorite Road House characters. McElroy even has a few suggestions for those who will be seeing the flick for the first time.
"We're expecting a lot of mullet wigs," McElroy says with a smile. "For guys, try jeans and tight T-shirts and cowboy boots. For girls, mini skirts or anything an ex-Playboy model would wear in a trashy bar."
Despite the Moolah's enthusiasm, Road House isn't a movie that wowed critics when it was released in 1989; the film has a mediocre 40 percent approval rating on review aggregator Rotten Tomatoes and was nominated for five Golden Raspberry awards. But over the years, the film has developed a cult following, especially through the VHS and cable markets.
"When it first hit cable, it was the sort of thing that played constantly," says McElroy, who considers his first Road House viewing with his father as a bonding experience. "But I couldn't wait that long between showings to watch it. I must have rented this movie in the '90s a hundred times, easily."
But what's not to love? Road House features a post-Dirty Dancing Swayze in full leading-man mode, and the film stars other big-name actors from the era like Kelly Lynch, Sam Elliot and Ben Gazzara. And then there are the Playboy models, the monster trucks and the rock & roll. But the big draw these days are the catchphrases that have become part of the Road House lore.
Continue for more on Road House, plus why the Moolah prefers VHS to DVD.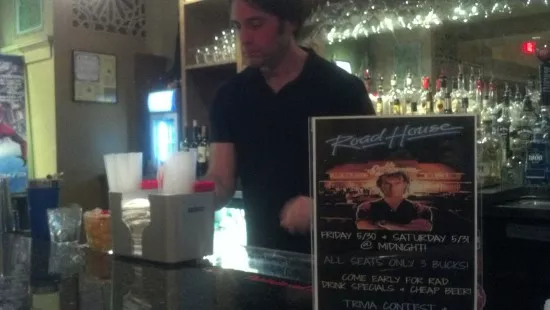 Allison Babka
Moolah bartender Sean McElroy fixes a drink.
"It's imminently quotable, just really sharply written and clever," McElroy says. "There's a guy I text every day, and it's nothing but Road House quotes."
And those quotes, of course, contain profound life lessons, like Swayze's lesson "Pain don't hurt."
"I've always been a big fan of the scene where Swayze gets a knife wound in his side during a fight and then drives himself to the hospital, where he meets Kelly Lynch," McElroy gushes. "He needs stitches, and she asks him if he wants any anesthesia. He refuses and says, 'Pain don't hurt.' If you could sum up the movie in three words, that would be it."
The Moolah is developing a reputation for catering to true movie lovers. The theater screens vintage films about two weekends per month -- Labyrinth and The Big Lebowski are recurring fan favorites -- and it coordinates themed drinks with whatever flick is playing.
"I would assume that people who come to the Moolah are film fans to begin with," McElroy says. "I can't think of any more beautifully put-together regular movie theater in the entire area."
But what draws fans to the Moolah again and again are the old, often obscure movies that play throughout the day in the bar. The building has several storage areas containing thousands of VHS films acquired over the years at thrift stores, and the staff's favorite movies are served up alongside local brews and fancy cocktails.
"As far as I'm concerned, we pretty much have everything worth watching from 1995 and older. All day long, we're watching old VHS tapes," McElroy says. "We have a DVD player, but it's not hooked up and hasn't been for a while. To me, there's a lot of stuff that doesn't look right unless it's on VHS."
But for now, McElroy and the Moolah team are concentrating on celebrating Road House in its full '80s action glory. Having watched the movie on VHS and cable over and over, McElroy is considered a Road House expert, but even he hasn't viewed it in a theater.
"It's a film I didn't seek out. It found me," McElroy says. "I've never seen Road House on the big screen, so this weekend is every bit as exciting for me as it is for anybody."
The Road House celebration will be held Friday and Saturday, May 30 and 31, at the Moolah Theatre, 3821 Lindell Boulevard. The movie will screen at midnight, with trivia and other events happening about 30 minutes prior. Cost is $3. Follow the event on Twitter with #RoadHouse25.
Follow Allison Babka on Twitter at @ambabka. Email the author at allison.babka@riverfronttimes.com.