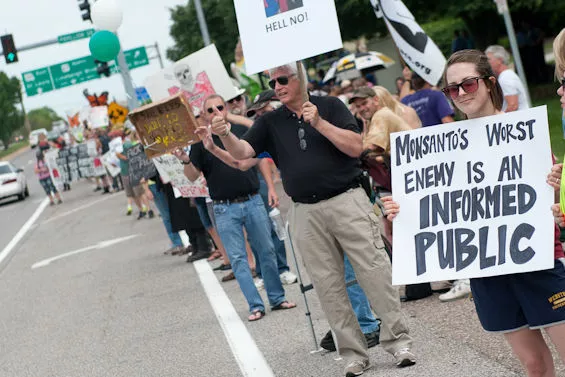 Photos by Jon Gitchoff
Protesters demonstrate on the road outside Monsanto's headquarters in Creve Coeur. SEE ALL PHOTOS HERE.
Hundreds of protesters demonstrated outside of Monsanto's corporate headquarters in west St. Louis County this weekend as part of an international march against the agrichemical giant.
The Creve Coeur protesters joined anti-Monsanto demonstrators staging protests in 47 states and 52 countries on Saturday, according to organizers. There were no arrests in St. Louis, the Creve Coeur Police told KSDK.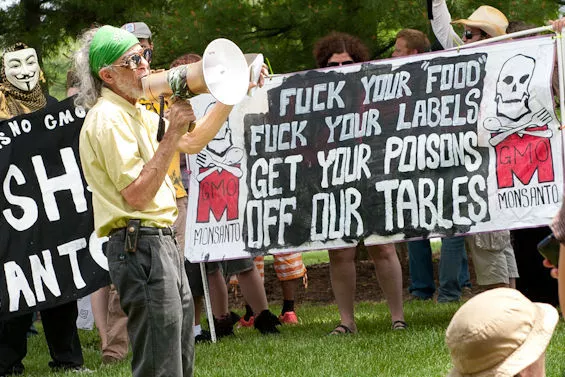 Protesters say they want Monsanto to stop or change the way they grow genetically modified crops, or GMOs. Foods that include GMO ingredients aren't always identified for shoppers, making them difficult to avoid. Protesters on Saturday urged officials to label foods that include GMOs while encouraging consumers to grow their own food rather than rely on altered products.
See also: 10 Protesters Arrested Outside Peabody Energy Shareholders Meeting in Clayton Hotel
"I believe that labeling [food with GMOs] is extremely important, because people should be able to decide if they want to eat GMOs or not," says Aubrey Yarbrough, an organic grower in High Ridge and member of GMO Free Midwest, to St. Louis Public Radio.
"GMOs are in 80 percent of our processed food that's not organic, and it's too new to know what the effects on human health will be."
More photos: The March Against Monsanto 2014
Many protesters brought signs protesting Monsanto's potential role in Colony Collapse Disorder, a new phenomenon where apparently healthy bee colonies die and disappear. Scientists believe Monsanto's new class of insecticides, which are applied to the seed of the plant, damage honey bees' nervous systems and cause death.
Here's what Monsanto says it's doing to protect bees:
This was the first year that protesters outside Monsanto in Creve Coeur couldn't pass out anti-GMO literature to cars on Olive Boulevard. The Creve Coeur City Council unanimously approved Police Chief Glenn Eidman's plan to prohibit people from protesting on the medium, although they can still protest from the shoulder in front of Monsanto's Headquarters.
See also: Creve Coeur City Council Votes to Ban Protests On Median in Front of Monsanto Headquarters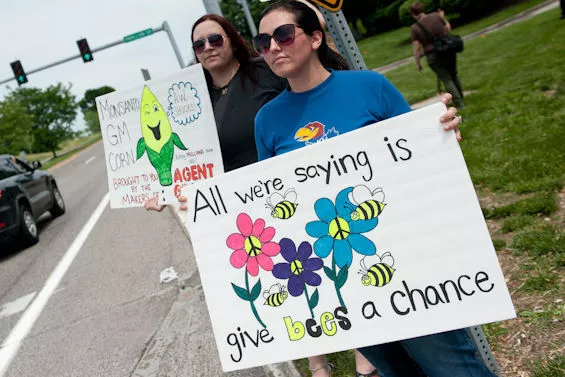 Monsanto released a statement welcoming protesters to make their voices heard:
We're also proud of our collaboration with farmers and partnering organizations that help make a more balanced meal accessible for everyone. Our goal is to help farmers do this using fewer resources and having a smaller impact on the environment. We know people have different points of view on these topics, and it's important that they're able to express and share them.
Follow Lindsay Toler on Twitter at @StLouisLindsay. E-mail the author at [email protected].