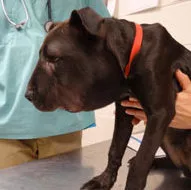 Humane Society of Missouri
Wilson's head swelled after his neck was tied with a bungee cord.
Missouri's animal-cruelty task force is still looking for the owner of a five-month-old puppy after the dog was found with a bungee cord wrapped so tightly around his neck that his head ballooned to the size of a soccer ball.
After five days under veterinary care, the black lab mix's head has shrunk back down to a normal size. If all goes well over the next two weeks, the puppy could be ready for adoption.
The Humane Society of Missouri posted a before-and-after photo of adorable Wilson (whom staff named after his volleyball-sized head) on Tuesday:
"We are monitoring him closely and giving him time to stabilize before we perform further examinations," says Mark Wright, director of shelter medicine at the Humane Society. "He is resting comfortably, and we are hopeful he will make a full recovery."
See also: Police: Chesterfield Cruella de Vil Was Behind Maltese Puppy Thefts in Missouri, Illinois
The Humane Society's Animal Cruelty Task Force found the stray, underweight puppy Thursday in a north-city back yard near Switzer Avenue and Riverview Boulevard. His head was grotesquely swollen, making it difficult for the dog to breathe or eat.
Wilson looks like a normal dog again after five days of veterinary care from the Humane Society.
If you know the whereabouts of Wilson's owner or abuser, call the task force at 314-647-4400.
Follow Lindsay Toler on Twitter at @StLouisLindsay. E-mail the author at [email protected].