Courtesy Gateway Greening
Volunteers for Gateway Greening under the arch.
All week long we're rolling out content from our Summer Guide 2014. In it you'll find all the best ways to enjoy the season in and around St. Louis. Click here to read the rest of the guide or pick it up in print at the red Riverfront Times box nearest you.
If you want to spend the summer getting drunk and watching baseball, that is your St. Louis right. But if you want to get up off of that thing and work for the city we want and dream of this summer, that is truly St. Louis values in action.
We've compiled a list of very different volunteer experiences, from working with dogs, to helping salvage reusable material from condemned buildings, to becoming a Summer Guide yourself by helping an immigrant settle into life in the Gateway City. What follows are six ways to make your summer in St. Louis truly unforgettable.
See also: St. Louis is the 9th Best Place in America to Own a Dog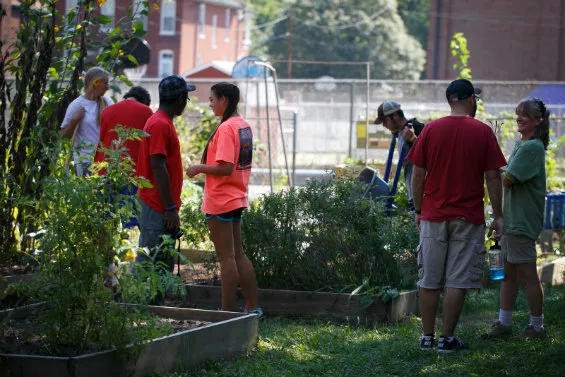 Courtesy Gateway Greening
Volunteers working in raised beds.
Garden a community Michelle Obama, eat your heart out. This year Gateway Greening (2211 Washington Avenue; 314-588-9600 or www.gatewaygreening.org) maintains a record 220 (and growing) community gardens across the city, and this urban aggie revolution wouldn't be possible without its thousands of volunteer gardeners. Annie Mayrose, the organization's outreach coordinator, says that urban gardens are about a lot more than hipster folly. "They beautify our city, reduce crime, increase property values, bring communities together," she says, citing studies that correlate these positive outcomes with the presence of community gardens. "Over time, all of these great things can happen in a neighborhood because a garden is there." Mayrose says that the organization, which is celebrating its 30th anniversary this year, is always looking for volunteers to pitch in on their own neighborhood gardens or help train and direct youngsters at one of the 90 youth-run gardens. This summer Gateway Greening is also trying out its first community garden run by senior citizens. Its website includes a map of community gardens, so it's easy to find the ones closest to your 'hood. Here, the fruits of your labor may be actual fruits.
House the homeless Carlos Restrepo is a communications specialist for Room at the Inn (3415 Bridgeland Drive, Bridgeton; 314-209-9198 or www.roomstl.org), a community-based nonprofit that provides emergency shelter for women and children. He says he and his colleagues have quickly learned that anyone can become homeless. Founded in 1993 by a group of nuns, Room at the Inn offers short-term lodging, meals and classes at its main facility in Bridgeton. About 60 faith congregations across St. Louis offer their buildings as "night sites" where volunteers take turns hosting families who have nowhere else to go. (A map of existing "night sites" is available on Room at the Inn's website.) Restrepo says that while St. Louis' outreach to the homeless is outstanding in winter, Room at the Inn often sees demand increase during the warmer months. "In the winter sometimes, people are more apt to help their friends and families, to keep them out of the cold," he explains. "But in summer people have fewer options. There's really a great need every day of the year." Room at the Inn is seeking additional facilities to serve as "night sites" (about once a month or just a handful of times a year) and individual volunteers who can coordinate activities, provide child care, teach Internet classes or résumé workshops, or just visit with clients.
After the jump: Did you know your dog could help make St. Louis a better place?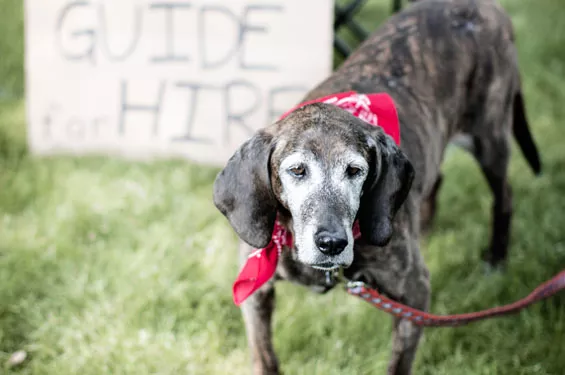 Jennifer Silverberg
Archie, Frankie Slayer the Party Mayor's official Party Dog, could volunteer were he not partying so hard.
Volunteer your dog Did your pup nurse you through a breakup, warm your little heart this chilly winter or make your grandmother squeal with delight? Then Fido could have what it takes to become a certified therapy dog. Canine Helpers Allow More Possibilities (4910 Parker Road, Florissant; 314-653-9466 or www.champdogs.org), or C.H.A.M.P. for short, is a nonprofit that offers visitation teams of pooches trained to provide affection and comfort to people who need it. With their owners, therapy dogs visit hospital patients, people with disabilities, at-risk youth, senior citizens and others who could use a little canine comfort. Executive director Pam Bolton says that something magical happens when someone going through a tough time gets to visit with a dog. "You can walk into a hospital room where someone is in so much pain, and they'll see one of our dogs and their faces will just light up instantly," she says. The best therapy dogs already have gentle, affectionate temperaments and basic obedience skills before they undergo the 40-hour training. Bolton says many other organizations want to be added to the roster of 60 facilities that their therapy dogs visit, but C.H.A.M.P. needs more volunteers and dogs to make it happen.
Salvage the city At Refab (4153 Bingham Avenue; 314-357-1392 or www.refabstl.org), work crews practice "sustainable deconstruction," that is, rescuing reusable materials from buildings that would have otherwise been indiscriminately demolished. The nonprofit model offers businesses with buildings that must come down an eco-friendly alternative to traditional demolition, and preservation lovers an opportunity to recycle and reuse viable materials. Low-income veterans get jobs at demo sites, and in the warehouse in south city, consumers fall in love with Refab's eclectic selection of affordable vintage fixtures, clawfoot tubs, retro lab equipment (salvaged from the old Mallinckrodt labs downtown), restaurant booths, gorgeous reclaimed lumber and countless other delights. The concept is ambitious, creative and uniquely St. Louis. Refab recruits volunteers to help out on their demolition crew, and they usually get first pick of the booty.
Next: How to help heal the Delmar divide or be a St. Louis ambassador.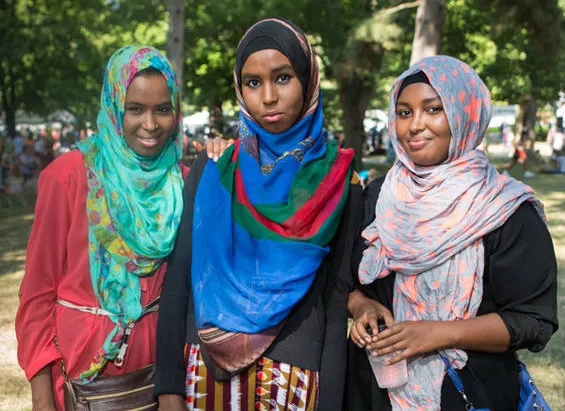 Theo Welling
Attendees at last year's Festival of Nations.
Become a St. Louis ambassador St. Louis is tough enough to navigate when you're just trying to figure out why everyone cares so much about your high school. And for our growing international population, this city — the new language, a different culture — is a whole new ball game, and it can take a lifetime to get anywhere close to the American dream. You can help welcome and support immigrants and refugees through volunteer opportunities with the International Institute (3654 South Grand Boulevard; 314-773-9090 or www.iistl.org), which was founded in 1919 to resettle refugees from World War I. Emily Ratchford, community-relations specialist at the nonprofit, says that the Institute is always looking for volunteers to serve as teachers' assistants and tutors in their English and citizenship classes, help new arrivals find job opportunities through résumé assistance and interview prep, and offer general support around their offices in Dutchtown. Ratchford says that volunteers benefit from the opportunity "by meeting people different than themselves and experience the kind of diversity that we believe is a great asset to our St. Louis community. We really rely on our roughly 120 active volunteers to provide the one-on-one attention to our students and clients that allows us to cater to their unique needs and challenges." International Institute draws its clientele from every corner of the world, so volunteering there might put you face-to-face with people from Papua New Guinea, Myanmar, Guatemala and Ukraine all in the same week. Every year the Institute hosts the popular Festival of Nations celebration in Tower Grove Park, and it welcomes volunteers to participate in that culinary and cultural extravaganza as well.
Bridge the Delmar divide North of Delmar Boulevard the median home value is $262,000 less than it is to the street's south. North of Delmar the population is 98 percent black; to the south it's 74 percent white. The median income is also some $32,000 lower. The inequality is staggering. If you want to give the north side some love this summer, consider volunteering at one of the city's oldest and most effective community organizations, Grace Hill Settlement House (2600 Hadley Street; 314-584-6900 or www.gracehill.org). It's a nonprofit founded in 1903 with a broad mandate to make neighborhoods on the north side better, and there is a need for volunteers to help staff Head Start preschool programs, participate in beautification efforts in the College Hill neighborhood, maintain a community park and coordinate children's activities at the weekly Whitaker Foundation Summer Concert Series. Volunteer coordinator Barbara Katsen says she is very flexible in accommodating potential volunteers' interests. "Our work with volunteer groups is based on hearing what they'd like to do — what kind of skills do they have, what kind of project they are interested in," she says. "We're always brainstorming together with staff and prospective volunteers."